"Gi-Pon" "Nyan Pai" introduction event filled with internal circumstances where GONZO's history of violent upheaval has been summarized in a chronological table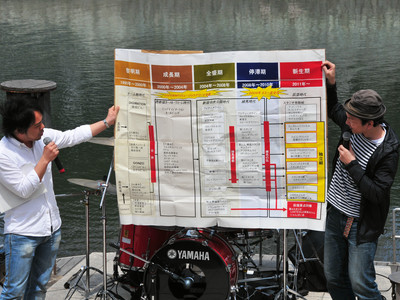 In the talk show where the GONZO staff tells about the new work"Hatsune Miku" character deja · KEI and GONZO made a completely original new work "Together"PV screening and production announcement was done, but in a separate frame from that, about the internal circumstances of GONZO that was regarded as a topic mainly on the net,KojimaA ridiculous corner where producers explain using hand - made chronology has been advanced.

Production circumstances of "Nyan Pai" which was the main theme of "Nyanpaia" got away in a row, and Kojima producer who became a navigator with a history as a navigator, said, "What we talked about at the event is" Urban legend " Although it was a lie, by the talk using the chronology summarized in detail of things full of handmade feeling, I was able to look back on the history of turbulence GONZO has been walking on.

The chronology and commentary which can also be called "GONZO Chronicle", and the new talk of "Kopihon" cast appeared from the following. Mr. Obe (left) and Ms. Sugiura (right) appear from GONZO, and the talk starts.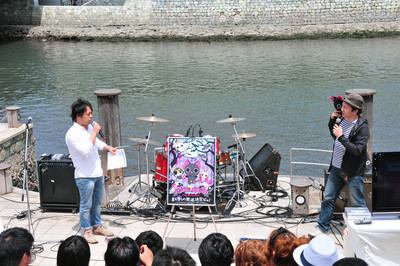 Ogata:
New work 'Nyaaaa'Is not like GONZO, but the atmosphere is quite different from past works, but from Ms. Sugiura in charge about the process of production.

Sugiura:
Although the title of "Nyan Pai" is to say "RELAXE" for the first time, if you talk about a real story, there was a friend at the manufacturer's manager in charge, and that is what inspired me to introduce with that connection.

Why are you going to do character things again with GONZO, but I have not had a long history of GONZO in about 5 to 6 years, but "Blue No. 6"Or"LAST EXILEI thought that it was a company with many grand episodes of magnificent atmosphere, such as " So, apart from those, I thought if I had to make something that you would love, I would not love the company. Because there were times when we were making noise about our company on 2 chances.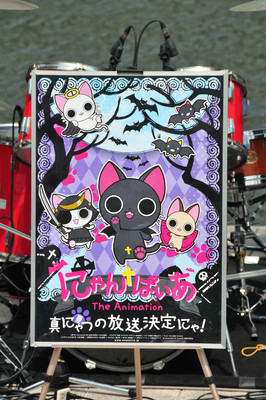 Ogata:
Have the dubbing of "Nyanpaa" already started?

Sugiura:
The first recording is over. I got excited when all four of the cast gathered.

We will be looking forward to seeing the main story, but I think that Casts gotten more of a spirit than usual.

Especially,Jun FukuyamaThere are very sightseeing episodes in "Naranashi" where Mr. san is saying, so please enjoy it. Besides, there are white cats that are always playing "Naranashi", but casts are named by that cat.

Ogata:
Almost everyone in the cast is with the office, is not it? Do you have unity?

Sugiura:
I have unity. Fukuyama's office "Axle OneI heard from people, but he is the only office different? At the after-recording scene, there was a scene where Mr. Fukuyama was driven to the edge only "Another company goes back!" (Laugh)

Ogata:
Is production good?

Sugiura:
Yes. It is going well.

Originally this work originated from Doujinshi, the original authorYukiusaAlthough he was not used as an animation process, there were some difficult times to communicate in various ways, but I am happy now. "Nyanpa" is currently an animated magazine of housewives and life shopsPASH!"I am doing the series in the next issue, it seems that you can post a dubbing report in the next issue.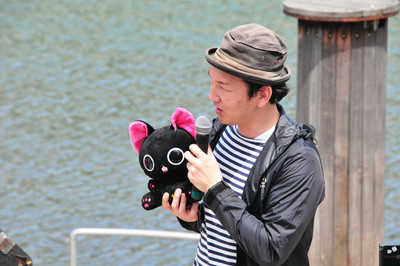 Ogata:
How is it going to be like the taste of animation?

Sugiura:
Basically, 4 cats including "Nyan Pai" will appear. The cats are all set as male, and the character "Masami-ha" that will be hidden by the male "Nyanpai" ......

Ogata:
…Ah,It's based thereWhat? (Laugh)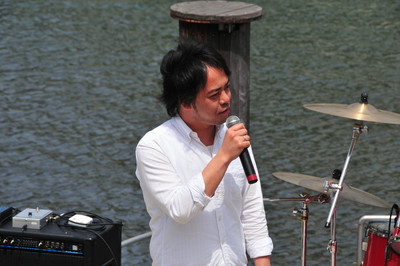 Sugiura:
"Masami-kyou" is a very carnivorous boy so it may be a reference character for people like you guys these days (lol)

"Nya tanashi" is a character that feels like a bit cold, and "Chagu Maru" is a younger brother that Ms. Misaki kept from Nyanpai, who is cute, but hungry. It is a story that such four cats fancy, it is a work that can be laughed very much.

Ogata:
Yesterday, from the day before yesterdayOfficial Twitter account on NyanpaiThere are things you would like to announce anything else?

Sugiura:
As I mentioned a little bit ago, the original author yukiusa pro debuted as a cartoonist and PASH from February 10! Mr. Mr. Mr. Mr. Mr. Mr. Mr. Mr. Mr. Mr. Mr. Mr. Mr. Mr. Mr. Mr. Mr. Mr. Mr. Mr. Mr. Mr. Mr. Mr. Mr. Mr. Mr. Mr. Mr. Mr. Mr. Since it is being introduced to the "character saga land" from the same publishing company in the form of a mistake searching, if you enjoy it before the main part.

Ogata:
Nyannya, will any additional information be revealed around the summer again?

Sugiura:
We will issue information one by one. Since goods are sold at all animate store, please check also there.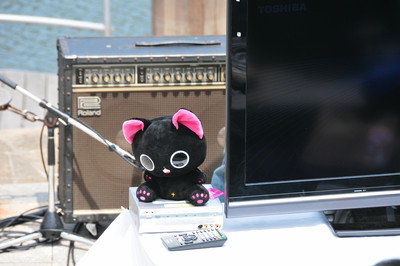 So, the story of Nyanpa is around here. Pleased to say "Nyanha", one thing.

Ogata:
Today there are new releases that everyone seems to be worried about, but as soon as I came here I was supposed to produce 3 animated cartoons and it seems to be "it is now" I think that there are some people, but I think I will try to trade the history of the company called GONZO here.

Gonzo staff brought from the side and handed it to the two on the stage, what a handmade chronology. Handmade feelings are overflowing.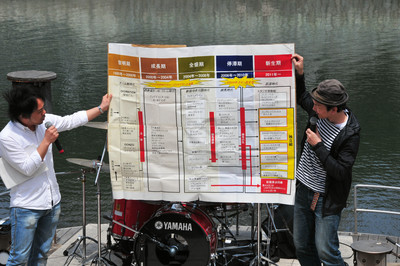 Ogata:
In reviewing history, I call people who are older than us, the one with the longest company history in this place. It is Mr. Kojima of GONZO producer.

Kojima:
Hello, this is a small island of GONZO. Today I'm basically going to talk about the technology, but if I would like to talk about it as an "urban legend" (laugh)

Actually GONZO was a company that will be 20 years since I finally made it, the creators first gathered and started off with an office and started up at Takadanobaba in Tokyo.

Ogata:
GAINAXIt was made out of members who passed through? It is a wonderful member.

Kojima:
JustNadiah of the Mystery of the SeaIt was made out of about the members that were over.

Sugiura:
Everyone is not left anymore now (laugh)

Kojima:
Shoji MurahamaStarted up everything, and then there was a merger. GONZO became a forerunner of digital animation by making "Blue No. 6", but in parallel at the same time "DigimationMeeting with the company called "Meeting the company", I got a meeting and it got me to be a merger as "We can do more amazing things if we get together." After merging, staying in Ogikubo,Gate keeper'sI worked on the TV series.

Sugiura:
Although I merged, I have heard stories that each other was bad. ...

Kojima:
No, I guess this time is better.

It takes time for new people to come together, and the teaming power has been solidified by making two TV series. Here, the "dawn (reimui) period" is over.

Next is "Growth Period". Here new ideas come out of the management team, moving to a building that once became a location of Tokyo Love Story in Nishi Shinjuku, I will start doing many TV series. "Fullmetal panic!",The final weapon she, Last Exile or something? Although I was making a high quality animation combining 3D and drawing, at the same time there are people who do not praise as long as there are people who praise me. Thank you very much for setting a lot of thread on "2channel" (lol)

From that point on, the story goes on to the scale of management. "Agito of Silver Hair"From the middle of the production, as the building split into two, the ventilation became worse, so the movement to organize the company in one building again occurred. This is "Chronology of Shinjuku Central Park" of the chronology, basically this is said to be the heyday. Of course, in the past history, though. It is hard to imagine from now that having five or six television series in a year.

The story of this area is talked based on the chronology, and it is the term written in it during the "○ ○ era".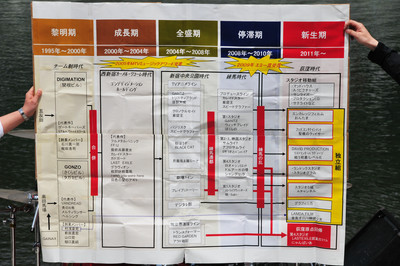 After that, we will compile the company in a building in Nerima. At this time each producer has "island" so to speak, the color of directors and their superiors will come to the work. "Gwanghwa King"Or"GANTZ","Ours","Romeo × Juliet","Strike Witches","Saki -There are such things.

Sugiura:
Samurai 7I think it is a work of the heyday, but I am in the direction of the "Nerima era".

Kojima:
Since I started making samurai 7 in the Shinjuku Central Park period, I also think that it can be said that it is a thing of the heyday because it is a work carried over even after Nerima's building move.

So here is the main.

Sugiura:
I want you to keep you slender from this neighborhood (laugh)

Kojima:
A lot of people got their skills in GONZO, so many people want to make new ones inside of them, from when it began to feel like wanting to hang out and want to adventure ... What is that ... anyway, It was a fierce turbulence, that one. It was like a civil war era.

Groups that were making "Strike Witches" and "Saki - Saki -", which were internally called the fifth studio, are independentStudio Five pairsActing as, now "A channel"I am making it. In a big place, "OntamaI am makingEncore film, "Quicer of the Stigmata"Or"Level E"I made the drawing ofHuz Entertainment. Actually, in the midst of Nerima 's turbulence, GONZO is divided into nine companies.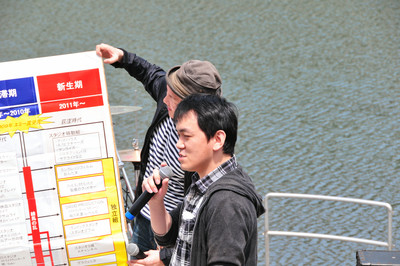 Ogata:
Since there is no capital relationship, it seems to be better to say that he nested ...

Kojima:
There were things that could be said to be "independent" and there were things that could be said to be so-called declaration of war.

Sugiura:
Well, well, everyone is doing great success.

Kojima:
After all, it is possible to separate into a person who intends to open up a new place and a hand of a person who increases the wasteland. And GONZO returns to Ogikubo again because it is returning to the origin point.

Sugiura:
Arrows stretched from founder, "Lambda filmWhat about the connection to '?

Kojima:
That is it, Murama Hama who was the representative director in 2009 has left GONZO.

Sugiura:
It is "an announcement that I quit on blogging".

Kojima:
...... Originally, I thought that blogs were supposed to be written additionally after officially announcing information, but the order was reversed.

Sugiura:
I also learned about Muramahama's quit from the blog.

Kojima:
From the very beginning GONZO thinks "to make content that will spirit the soul" was under the company, so I think that it would be fine if we treating in lambda.

Ogata:
Well, but this is a tremendous prosperity of rice growth, because there is a new century so I will try my best. Understanding that it is the Ogikubo group that is coming today (lol)

Here's a question from everyone, if you wish. ... I wonder if it is better not to.

Sugiura:
And that is to announce more new works today.

Ogata:
So, I would like to invite two people involved in the third GONZO new work "Koibaan". Mr. Matsuuri and Mr. Onuki of the producer.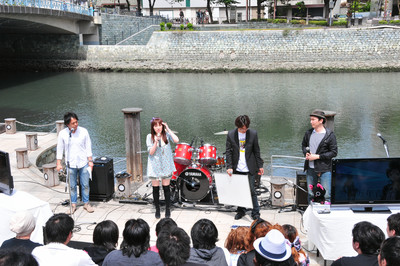 Matsuki
I am doing a work of a voice actorMatsuri Matsuis. NowadaysJewel Pet SunshineI am letting you Mr. Mizuki Hayono role.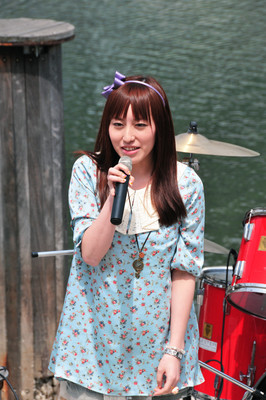 Oyuki:
daylightHe is doing a producer of animation with. I tried making it because I wanted to make such animation.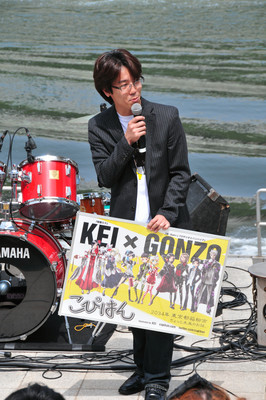 Ogata:
It is light (laugh) In the first place, what is the meaning of this "Konpi-na" title?

Oyuki:
What do you think?

Matsuki
Does this stand for baby? (Lol)

Oyuki:
I ate them a while ago, it was delicious, Tokushima burger.

So, it is meaningful, but if you say ... um ... ... it will be stupid.

Ogata:
KEI who is familiar with Hatsune Miku and GONZO collaboration has a new feeling.

Oyuki:
It may be the first time that you can cast with a video properly and talk.

Ogata:
The character seems to be rich in personality, but what kind of story line is it?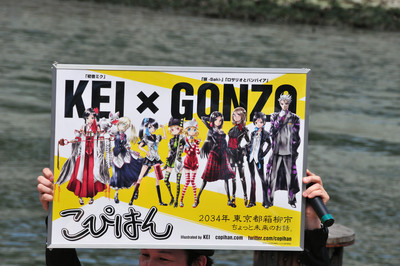 Oyuki:
Trying to write Tokyo in 2034. A story after only 23 years. Everyone, what do you think is going to happen in 23 years?

Ogata:
Well, I hope there is no more earthquake ... ...

Matsuki
I do not know.

Oyuki:
Maybe the car will not fly and the building will surely remain. But something has changed. I hope you will see such a future. I think that the world has changed a lot from 2000 to 2010, so what kind of thing is going on in 23 years is the story's line.

Ogata:
In the future to disclose more and more information. So what does this look like? Television Animation?

Oyuki:
What is good? (Lol)

Actually, I already serialized manga in monthly comic rush with the title "Konpihan" and I have KEI draw it. The protagonist is 2 people in the center of the panel.

Only one of them could not be the leading role in this, but everything else can be said to be the leading role. Matsukushi acts as a girl in the shrine maiden 's clothes called Tsuzama Asasushi, but she is also the lead role.

Matsuki
Is Asagi "do" the leading character?

Oyuki:
And, Asagi "also" is the leading figure.

I'm thinking of quitting taking the form of normal animation and thinking of doing something strange. Nothing is decided separately (laugh) But there are places that I can not quite say.

Ogata:
Let's ask the producer of Takaki of GONZO about actual production.

Takagi:
Nice to meet you, Takaki of GONZO. I'm doing my best for "Kappihan" now! I am doing my best by moving how charming characters are made and making it fun, but how are you "Last Exile - Silver Wing Fam -There was, and everyone poured the power there ... ....

However, it is this time to have fun making. I wonder if I can say such a thing (laugh) I think that it will be a fascinating thing. GONZO will have three colors, including a heavy "last exile" and a light "nyanpaia".

Oyuki:
Today, I wore "Kopihon" T-shirt (haha)

I have not done any animation yet, but only products have been made. It will be released in a limited way at the Gonzo booth of Machi ★ Asobi. Let me tell you the limit for the time being.

Takagi:
However, as we prepared a number, it is limited as far as inventory is concerned.

It is very convenient 3500 yen with a set with a telephone card. Please tell Movic about whether it is expensive or not (lol) PV also keeps sinking in the booth (of "Machi ★ Asobi vol.6" Shimachi board walk) and brings "Konpihin" flyer So please come by all means. By the way, the information on "Kopihon" is the first issue here.

Sugiura:
I'm sorry I could not show you at the screening last night. Because I think that some people who came home yesterday did not see it.

Takaki-san, for example, would you like to ask the drawing by Mr. Studio Goshiki or whom I mentioned earlier?

Takagi:
Nine companies from GONZO independently did not you? And there are 9 hero. Oh, now I got hit.

Hughes is good at tits and 5 pairs are good at underpants. It might be a good idea to have each company's Uri take advantage of such feeling.

Sugiura:
And everyone's original is GONZO (laugh)

Takagi:
Well, I think a bit.

Ogata:
Can not you tell the details about "Konpihan" yet?

Oyuki:
Since I will give out sort information very well, if you do not mind, if you can search by "Konpihan". There is also official Twitter so please follow me.

In addition, it is supposed to talk with these two people again at 5:00 am on May 5th at Studio Mouse's booth, so there may be a little special present if you come (something) Let's do it now, we will consult.

Takagi:
If you do not do it quickly, everyone is Makoto Shinkai - san (haha)
(Note: a talk show by Makoto Shinkai was scheduled immediately after the same venue)

Ogata:
Thank you GONZO, thank you for today.