I went to Visual Arts head office ahead of the release of the latest work "Rewrite"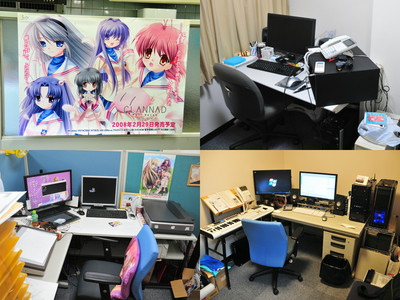 A major game makerVisual ArtsI went to the head office. "Visual Arts" has many brands under its umbrella, among them "Little Busters!"Kud Wafter"CLANNAD"AIR"KanonIs not the name of the key that made it widely known?

This time, I actually watch a development room and a proud proud studio in a company building, and even the latest work "RewriteMain staff ofHigamichiroMr.,Hayato UsagawaMr.,Shingji OriidoI also interviewed Ms.

Details of the ridge are from the following.
It is in Osaka city.Visual ArtsI will head to the building of. Arrived at the place I was taught.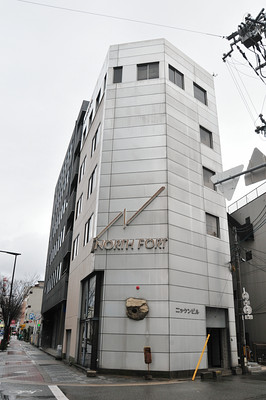 "NORTH FORT", indeed, if you were convinced that you were comparing yourself to the fortress of the game industry ...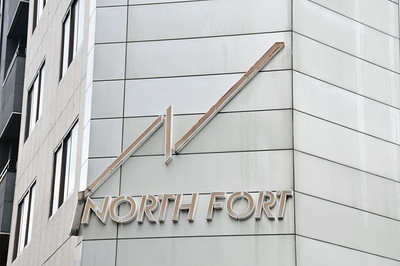 The next black building was visual arts. It is written "VA Dai-ichi Building" properly, and the name of the company is out.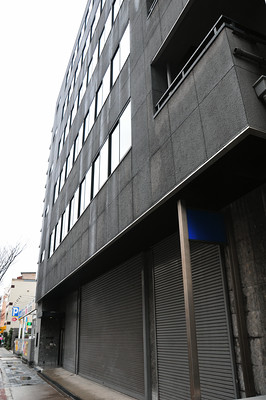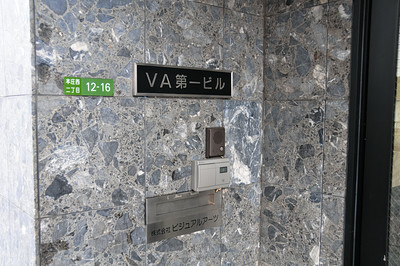 Sneak inside. It seems that the 2nd and 4th floors are development rooms, the 4th and 6th floor are studio.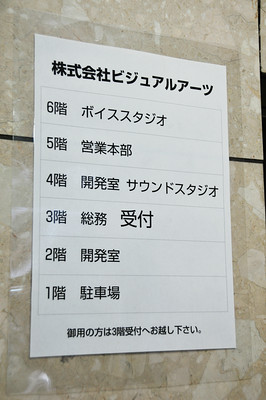 ◆4 th floor development room

First of all I bothered in the 4th floor development room. Just the work of "Rewrite" which is the latest work was heading for the final one.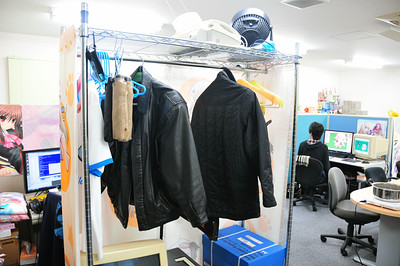 Suddenly the pot greets you ... ... but it is not a pot to eat something, it is used as a humidifier.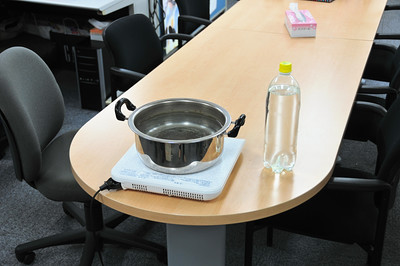 There is also a regular humidifier properly, but maybe the power is insufficient because the floor is wide.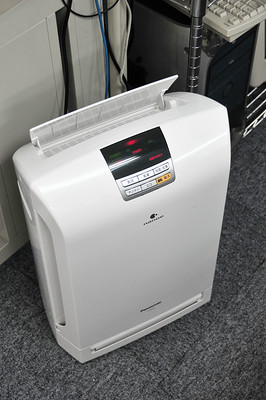 Because the air does not move in the upper part of the room, the circulator is active.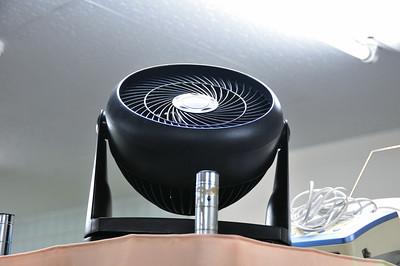 It is a table that I usually use for meetings etc.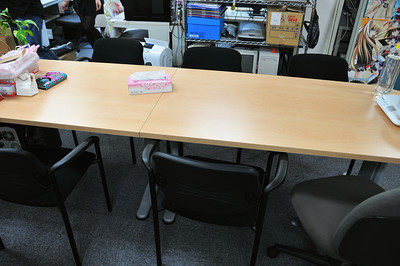 A front desk, a desk and a desk of staff are arranged.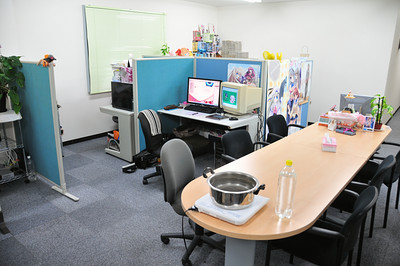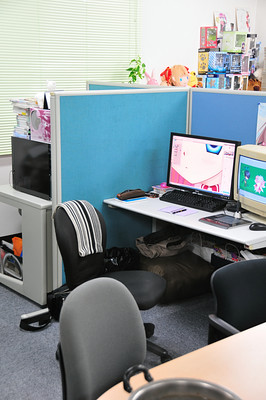 I found a magazine stacked high above the wall.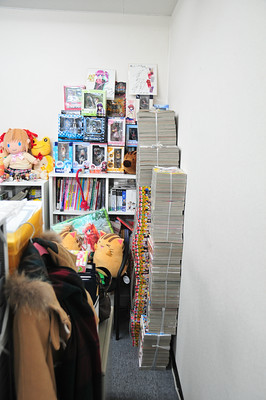 Many dolls and figures are also decorated.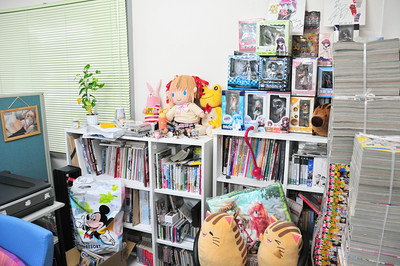 This seat was an original painter, and Rewrite also took charge of the planning draftHigamichiro'S seat.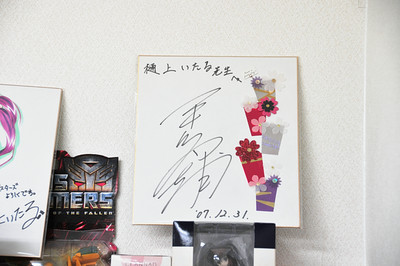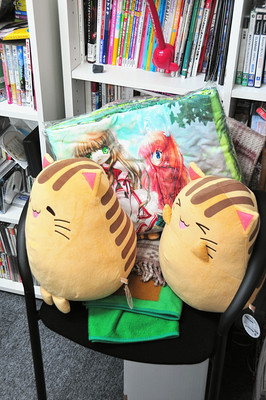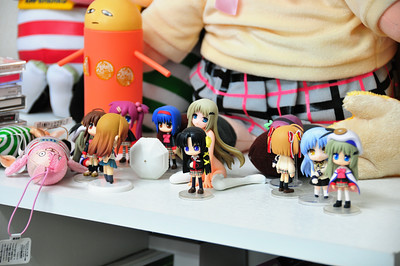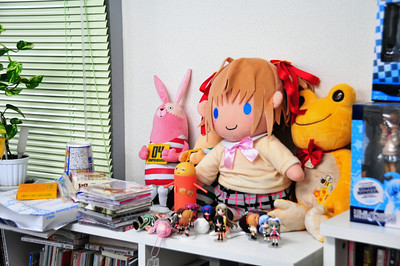 Mr. Higami is asked to participate in an interview after this.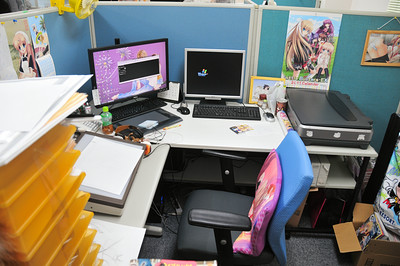 This is quite refreshing around the desk.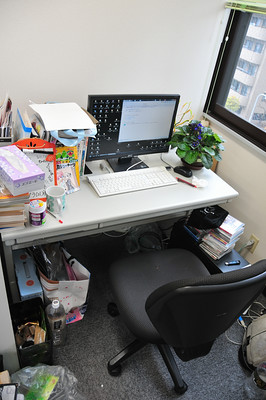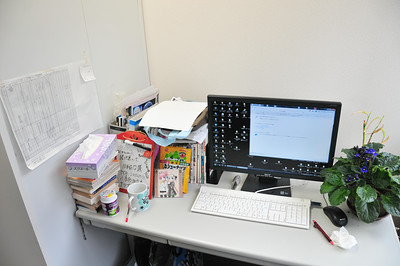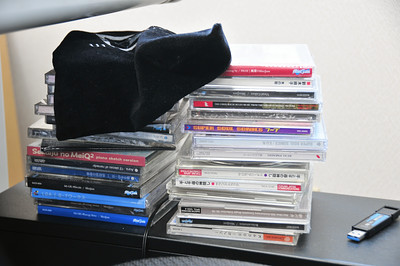 Is a high school textbook lined in a scenario document?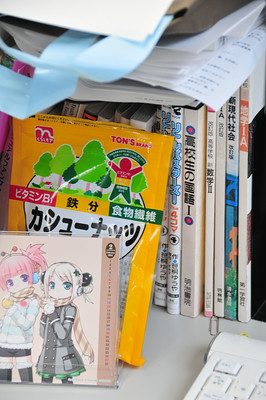 There are lots of mysterious messages such as "Please return immediately !!".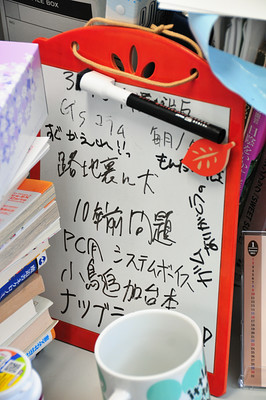 It is part of the scenario.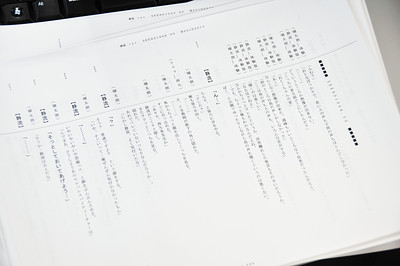 A poster and a calendar are crowded with office partitions.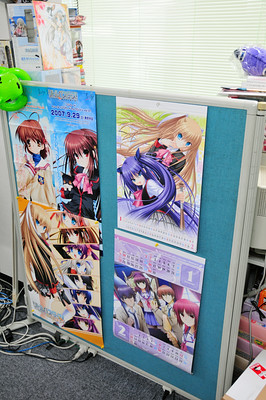 This desk is put in a boxed box for this as if it is being displayed.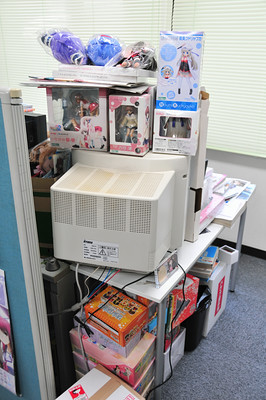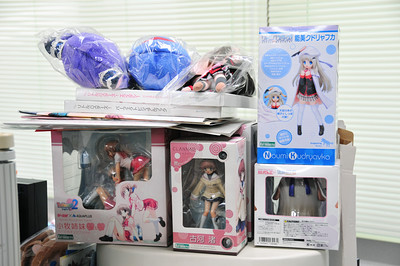 My legs are full of boxes and CDs as well.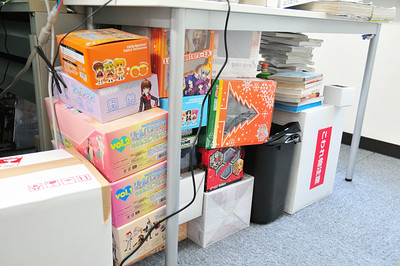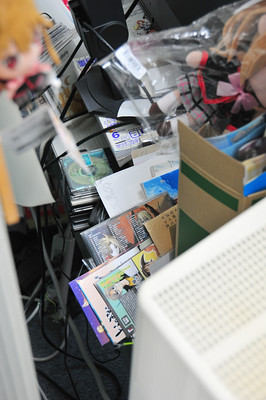 I tried looking into the seat ... ... This is quite a tower condition.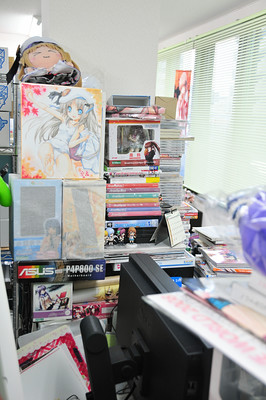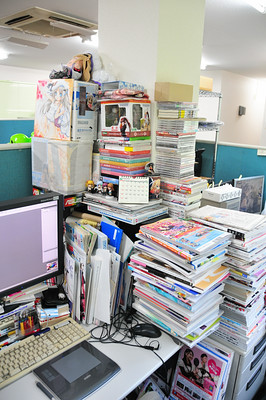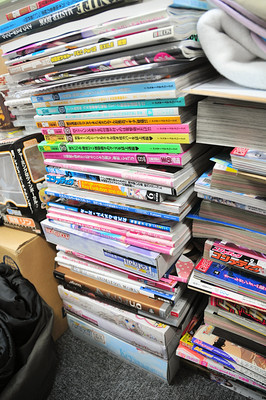 It is mixed with a novel and a PSP software "Little Busters! Converted Edition" as if it were a CD tower.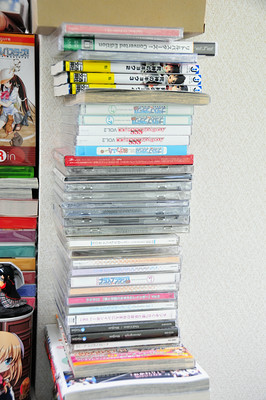 Megami magazine creatorsAlso it is complete.



And on the desk, the contrast between the clean pentab and the keyboard with pretty season. Some keys such as non-conversion key are disconnected, but it is impossible to distinguish whether it is in this state whether it is removed or broken in order to avoid a false type.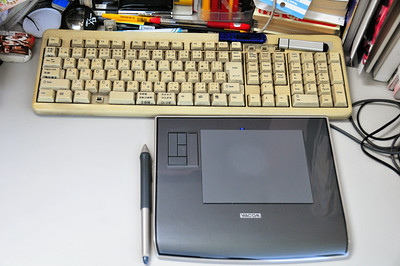 A figure decorated in a little space.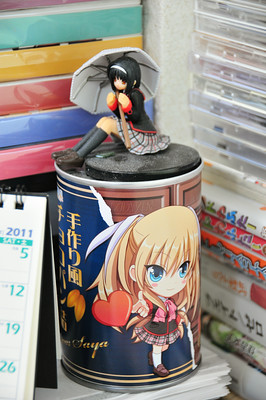 Yusa of the operators who appear in "Angel Beats!", Angels, lily, and why Takasaka Kirino ("My sister can not be this cute").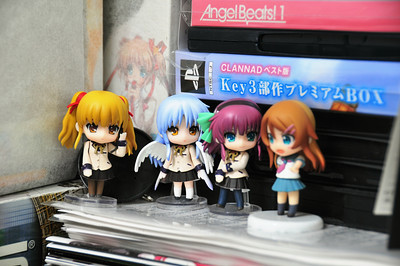 Desk with a lot of cud ingredients.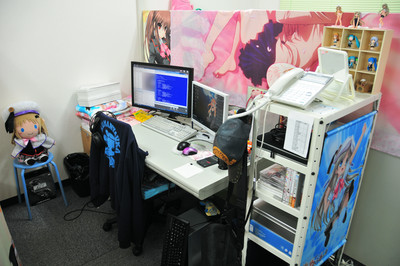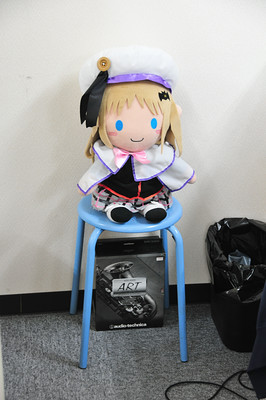 The most popular is Kudo, but in the middle is Hatsune Miku.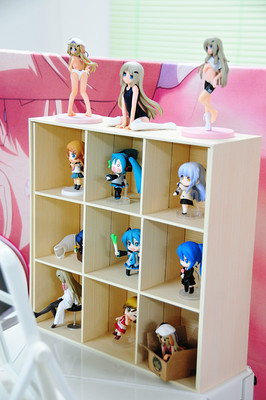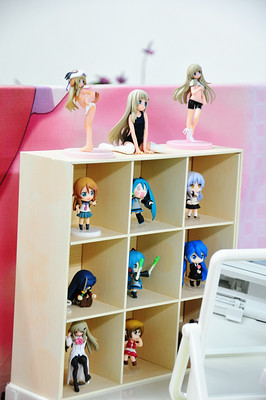 Among many heroines of recent works such as bells and cuds, Ayuwa in the back of the right display is conspicuous.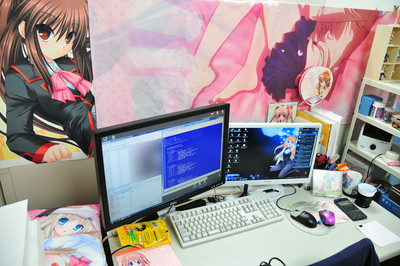 Metal rack with foliage plants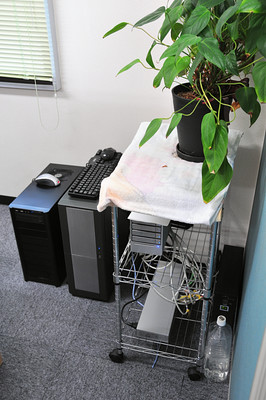 It is actually an in-house server that is placed here.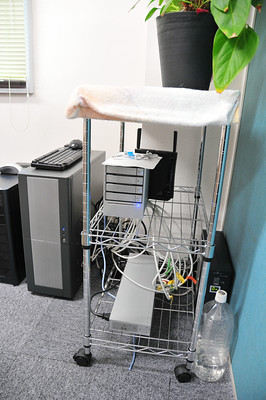 The seat next to it.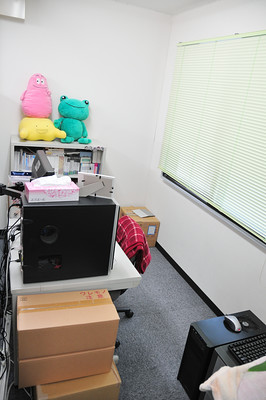 Character goods seem to be gathered in less.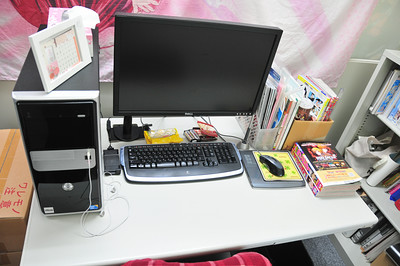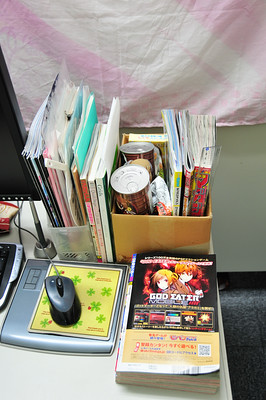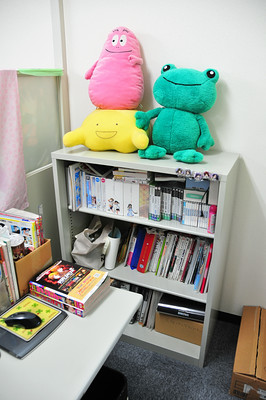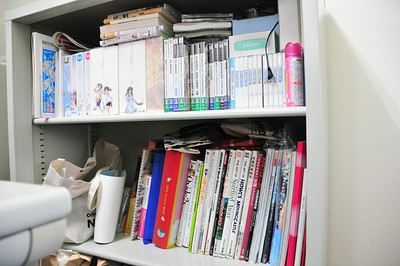 Corrugated cardboards written as "CG backup data" are also stored in the rack.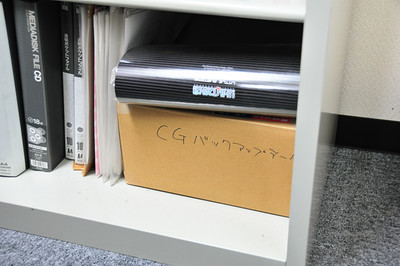 It seems that it was just working.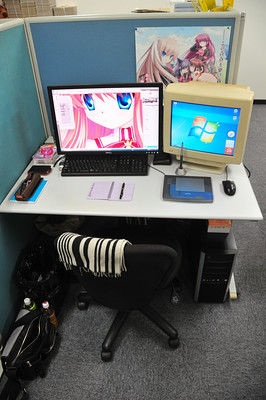 Here too, I see eyes at the entrance of CRT monitor on the right side compared with the pen display and left display.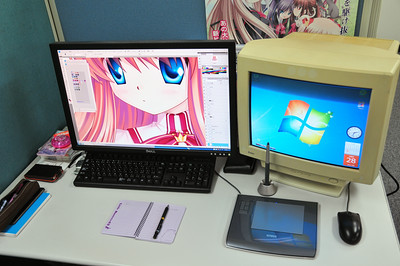 I am concerned about Usavich's knee hook.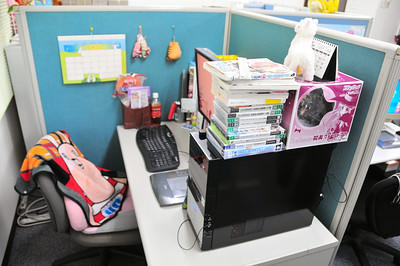 Hachiemon WallpaperIt is quite a squid choice.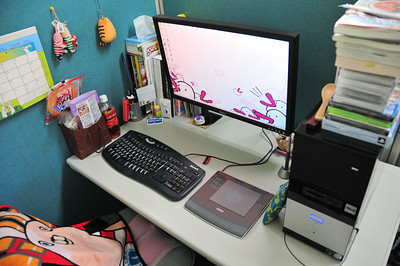 "Noumi Kudryavka Halloween ver.", This is limited edition magazine compap ace.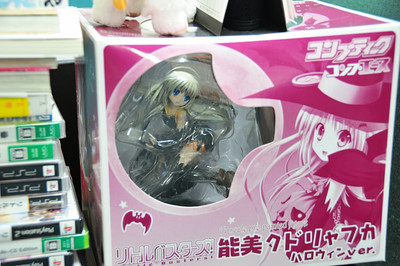 This is a kitchen space near the entrance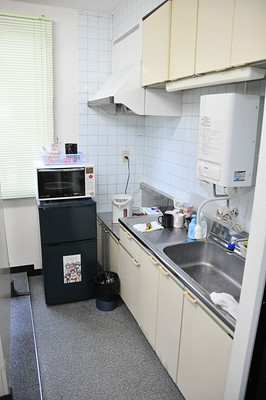 What a partition ......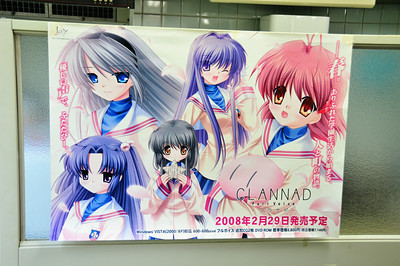 CLANNAD sticker in refrigerator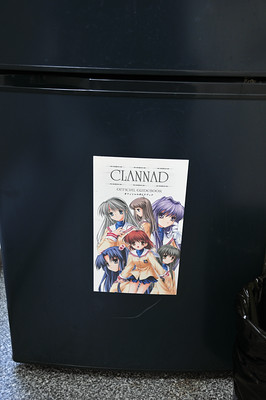 Also mixed with ordinary mugs, pain tumbler.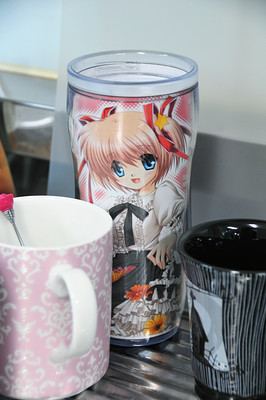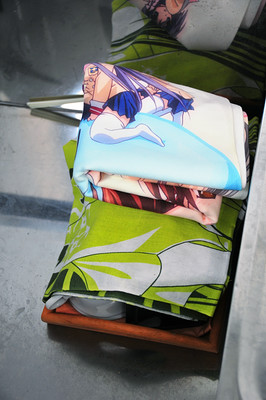 There is a private room of Mr. Shinji Oriento who is in charge of music with numerous works as going back. ...... Even though it is inside the company, what is this explanation?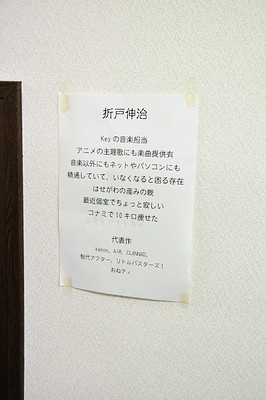 A window is attached so as not to shut off completely from the outside. This blind is what Mr. Origodo said "at least this is".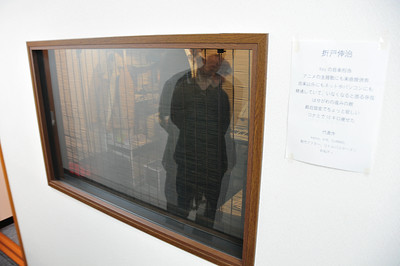 Only in this room the color of the fluorescent light is considerably warm color system. This is Mr. Origodo's choice.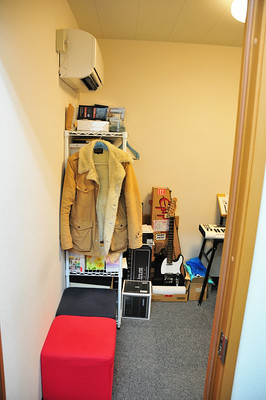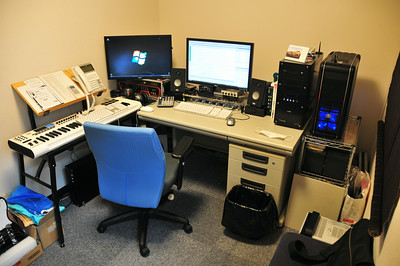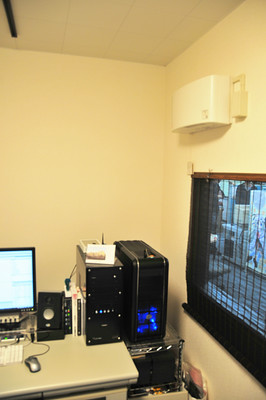 A keyboard right next to the desk.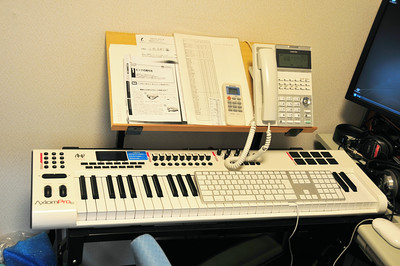 This is the desk of the composer.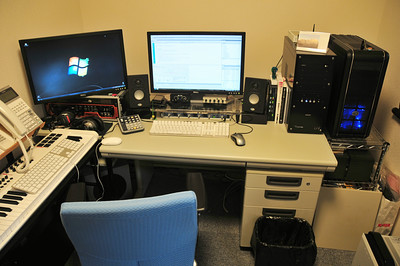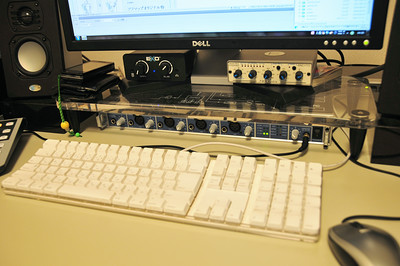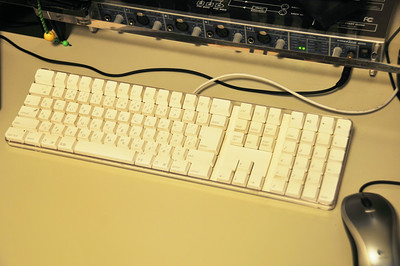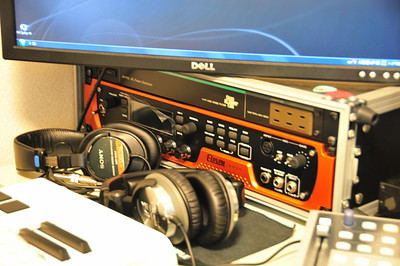 Software and CD are more racks than books.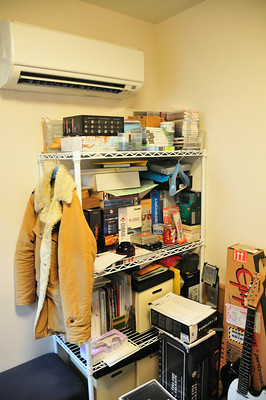 Also the appearance of the guitar.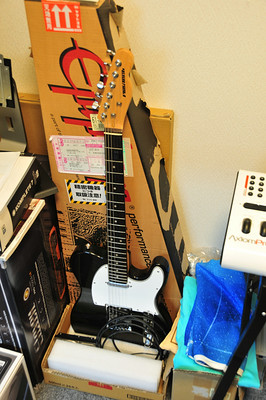 Next we went to another room next to Mr. Oriedo's room.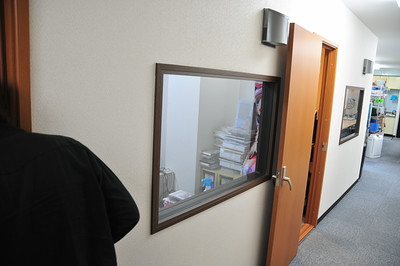 This is the room of Associate Mr. Maeki who scenario with many of key games.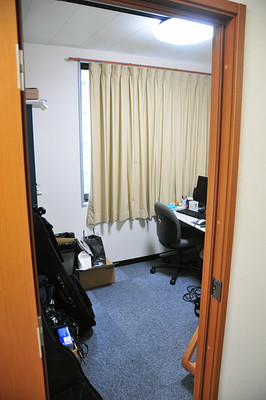 Black dude on the desk PC ......?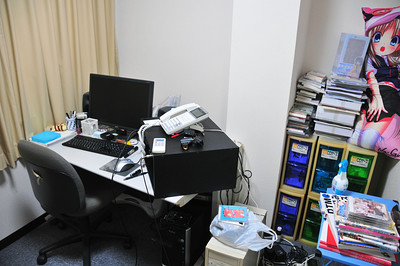 I thought, it was not related.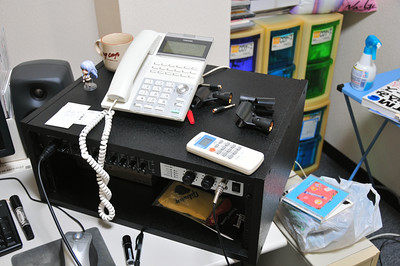 At the bottom of the PC, the PC itself, somehow the disc tray was left empty.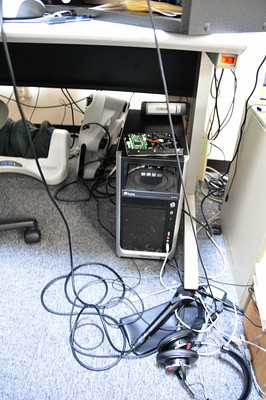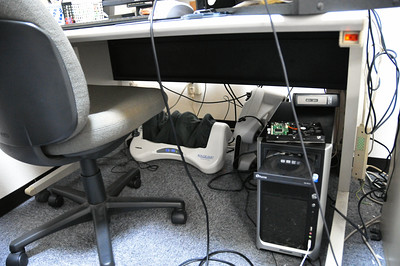 It may be a desk that seems to be Mr. Mae who is also in charge of composition.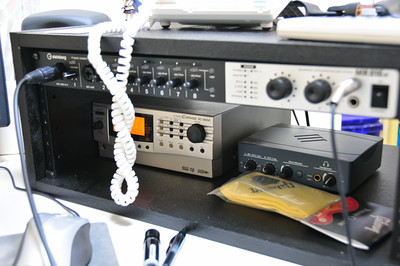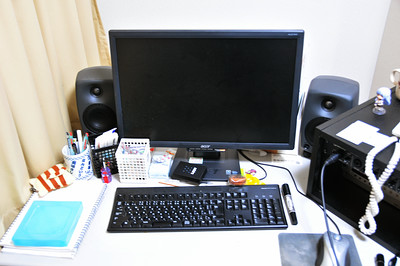 An angel next to the desk.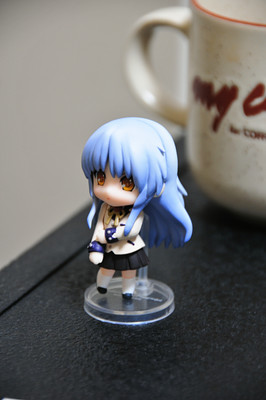 That cushion was a pirate item, was recovered and was in trouble in the place where she came to Maba who was seeking a suitable cushion.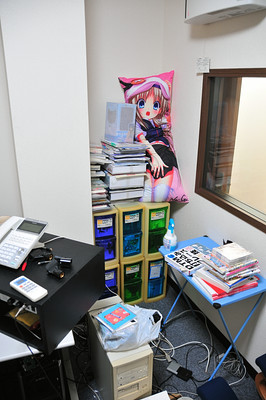 Bookshelves are full of books, games, books.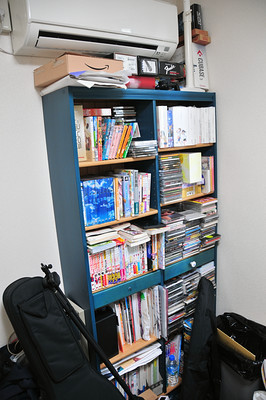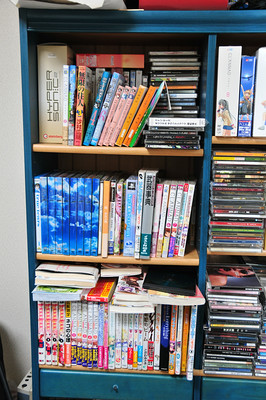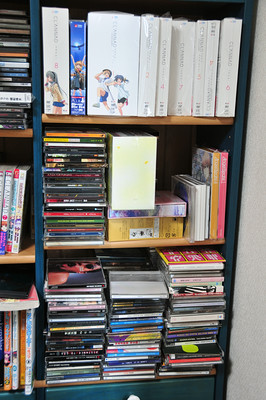 The guitar is also rolling.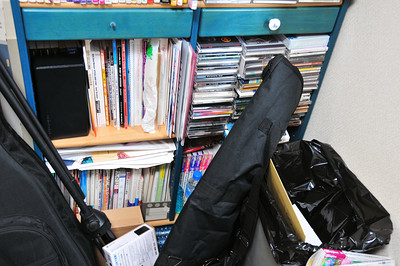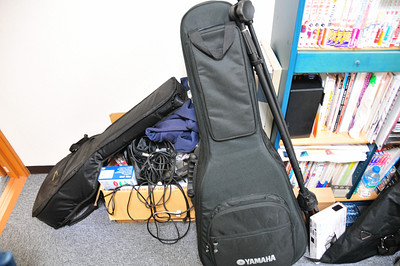 Because it tends to be in shortage of exercise, it is a walking machine that it keeps it.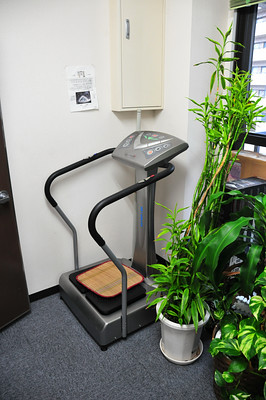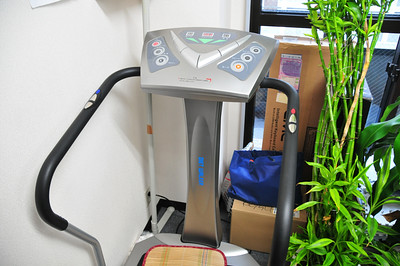 ◆2nd floor development room

Visual Arts currently has 13 brands inside the company and there is a development room on the 2nd floor because the development room on the 4th floor is not enough.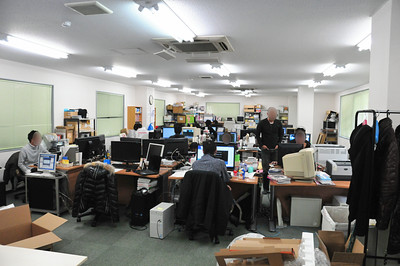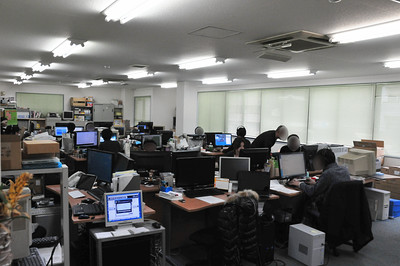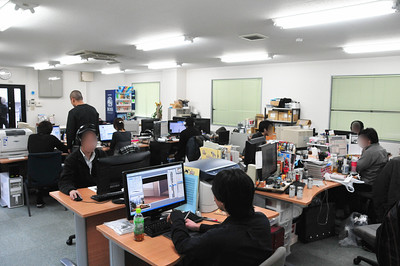 A lot of disks for user support correspondence.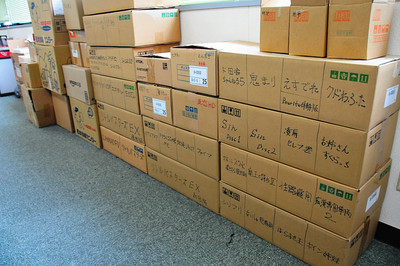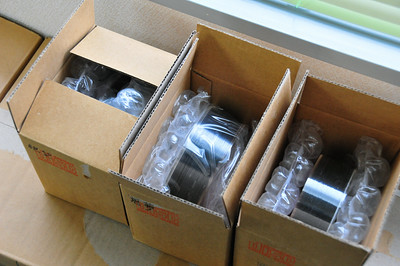 For temporary rest or sweets are placed.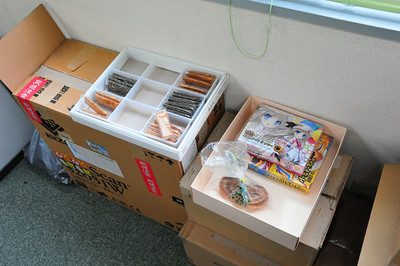 A huge pot is a familiar humidifier inside the company.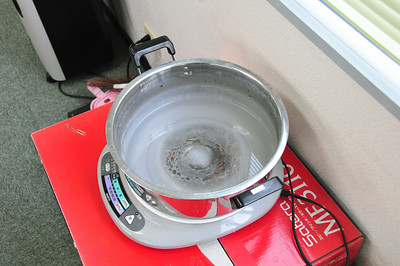 Is it a considerable amount of software material that I released so far?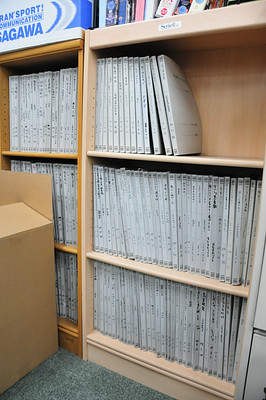 That package is also a lot. In general, the package of adult games is pretty large, so it seems rather difficult to keep all the works so far.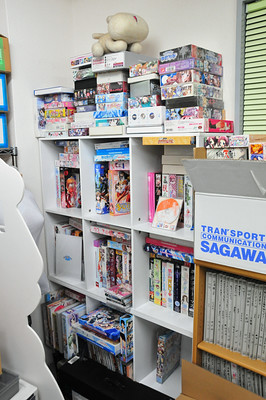 Broken keyboard. It can be said that we have completed lifespan by using only this.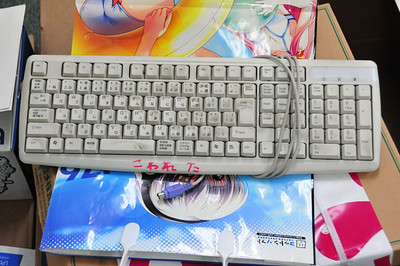 Here is a fairly new keyboard. Is it for replacement, or is it broken already ... ?.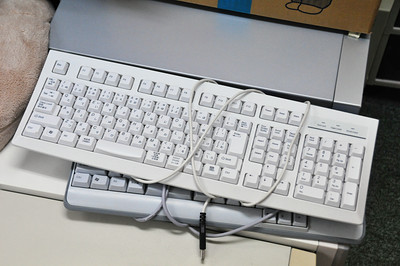 Mountain parts such as cables and CPUs are stored.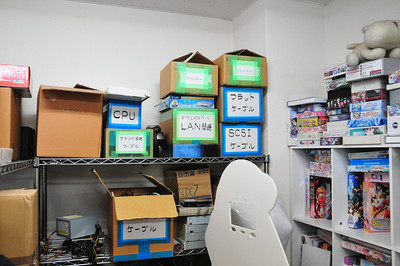 Torso that nestles eerily.



I saw the development room from the back.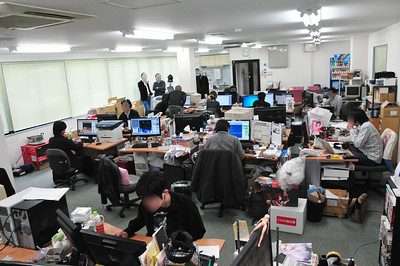 Numerous reference materials ......?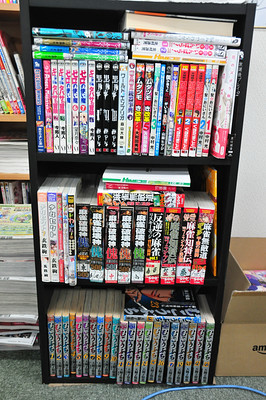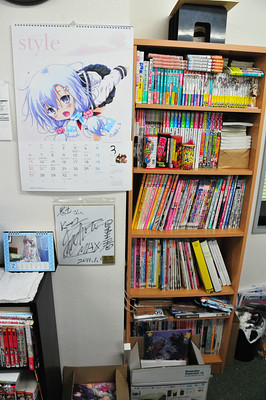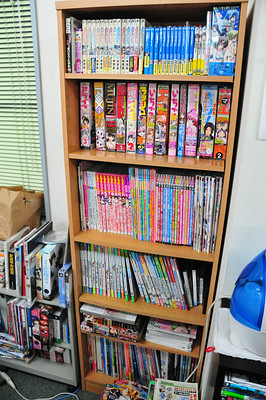 I'm feeling that I'm working on a leaflet check.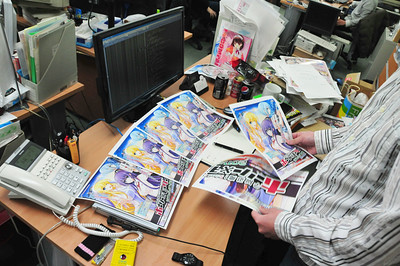 Scheduled to be released on May 27th "(18 notice attention)School devastation! Horley × MauryIs not it? Brand nameFrillis.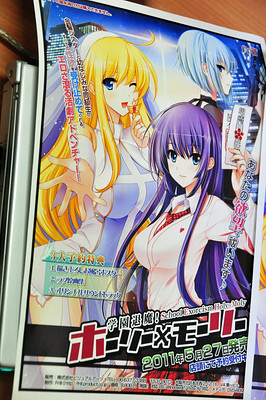 Here I am responsible for the script of "Rewrite", it is work to specify the expression of the character finely according to the scenario. There seem to be some people who make up with only a table of explanation as to the number and what kind of expressions, depending on the person, but he seems to have created such a table with self-flow to work while looking at the visuals.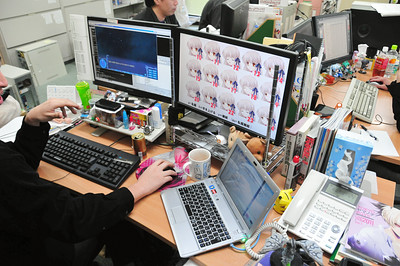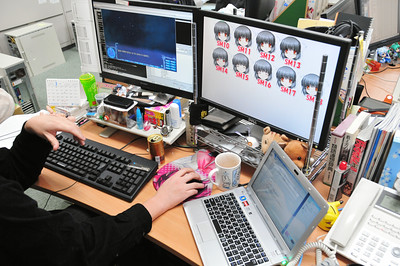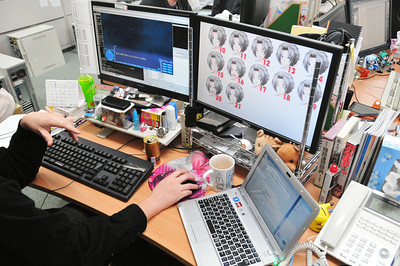 Nintendo 3DS that was supposed to have been short on the coverage day. Sometimes it is necessary to relax.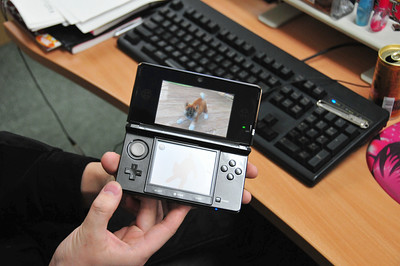 This desk is covered with Eva.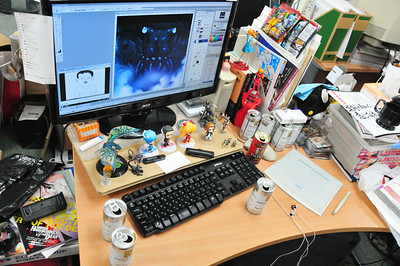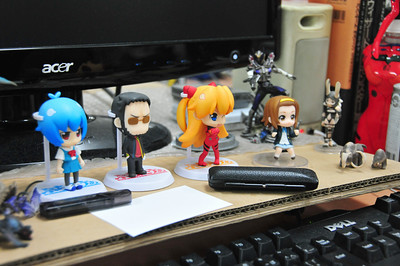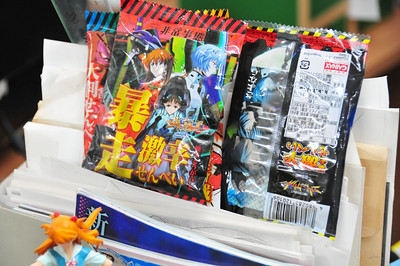 Ohno in three Asuka. It is amazing that there is even a body bottle.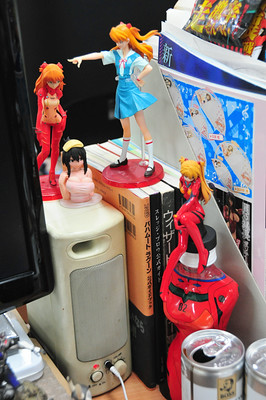 The display is deployed on three sides.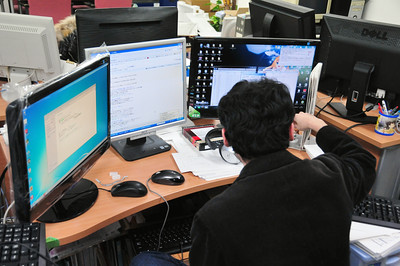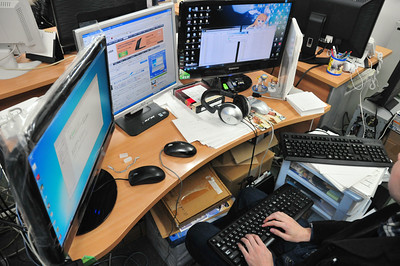 In that corner a little Rinibara Ginkgo & Takasaka Kirino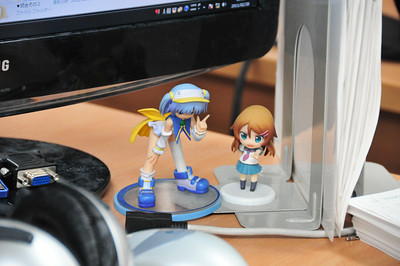 To the extent that the cable is ridiculous as long as it has such a machine ......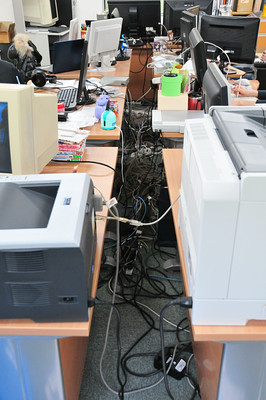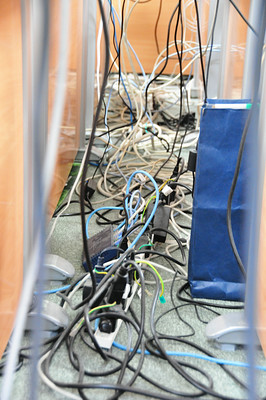 In this kind of development room the game of visual arts is made. Continue, I will infiltrate inside the boasting studio established inside the company.

I have been watching an in-house studio proud of Visual Arts