Cindy Rapper who was in trouble at the airport sings 'Girls Just Want To Have Fun' and the movie that calms the passenger's anger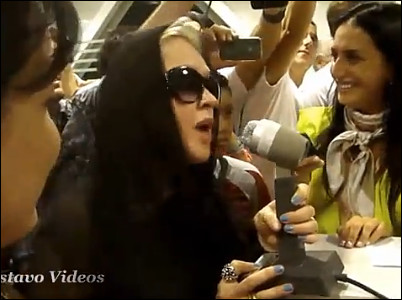 While the flight was canceled due to trouble at the airport, passengers revealed anger, American singer representing the 80s that existed,Cindy RoperAn event like a one scene of a movie that ... begins to sing a masterpiece of old-fashioned memories, calms the anger of passengers ....

Michael Jackson and Lionel Richie worked on songwriting and composition, and indeed 45 artists participated "We are the worldCindy Roper, which seems to be a very very soulful shout at the impression, passengers who suddenly decided to show live songs in front of you suddenly smile .

A movie of the appearance actually singing, details from the following.
Cyndi Lauper sings for stranded airport passengers? The Marquee Blog - CNN.com Blogs

Cyndi Lauper Performs 'Girls Just Want To Have Fun' For Delayed Flight Passengers - Viral Videos | Billboard.com

According to these articles, the flight of the flight was canceled many times at the airport in Buenos Aires, Argentina, in front of the passengers getting stuck up, the singer Cindy Rapper happens to borrow the airport's microphone It seems there was an event that starts singing.

Cindy Roper sang song was released in 1983, and in the "Girls Just Want To Have Fun" which recorded a worldwide hit, passengers who were indignant were rejoiced against live live suddenly started It is.

A movie like Cindy Roper who is dressed in black actually seems to be singing like this. It is impressive that passengers are singing together.

YouTube - Cyndi Lauper NEWS "cover" Girls Want to Have Fun 2011 LIVE Argentina Airport arrival!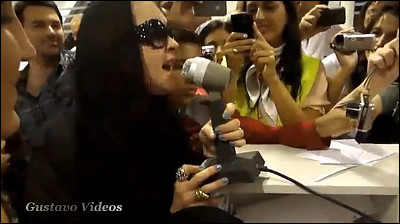 By the way, "Girls Just Want To Have Fun" was remade as "Hey Now (Girls Just Want to Have Fun)" which added the arrangement in 1994, but this also recorded a big hit. Patrick Swayze and Wesley SnipesDrag QueenMovie that played "Three angelsIt is also adopted as the theme song of ".

In addition, the new album "Memphis Blues" which was also nominated as the 53rd Grammy Award candidate is a weekly Oricon Western music chart on March 7First appearance as unusual as blues work 11thRecord. From 15th March we will have live performances in Japan including Japan Budokan performances which will be the first in 12 years, tours in Europe and South America, and we are planning to continue acting vigorously in the future.