"Hosted File Share" which can upload any file for free without size restriction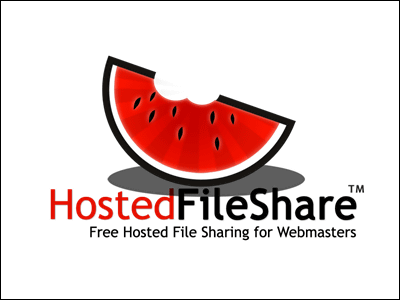 When you want to share files with someone, a free web service that is convenient to know is "Hosted File Share"is.

You can upload various files with unlimited file sizes, and you can share the file by passing the page address after uploading by mail etc. Since images and PDF files are displayed embedded in the download page, you can check the contents before downloading.

Since tweet buttons are also installed, you can share files via Twitter immediately after uploading. Although there are various image sharing services linked with Twitter, coordination with other than image files is a bit difficult, so it is convenient when you want to share various files with everyone.

The usage of "Hosted File Share" is as follows.Hosted File Share - Free Hosted File Sharing for Webmasters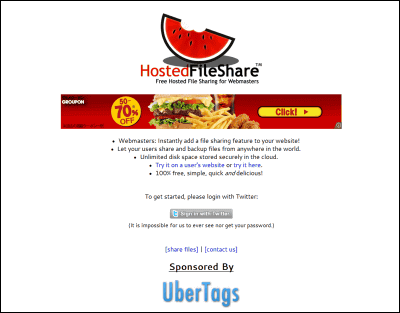 ◆ Basic usage

Click [share files] at the bottom center of the top page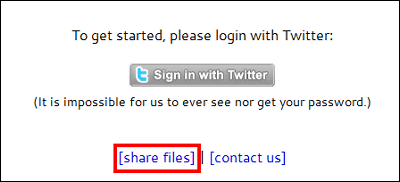 As you move to the upload screen, click "Browse", select an arbitrary file and click "Upload →". First, I will upload a JPEG image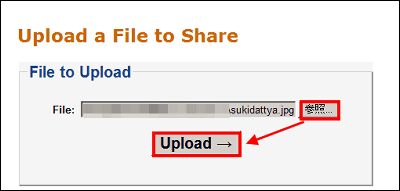 Upload in progress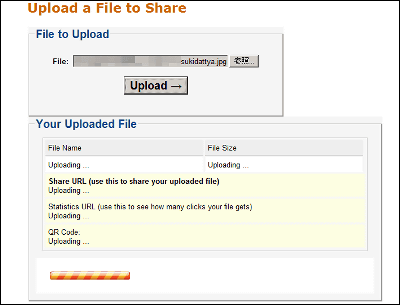 When completed, this screen will be displayed.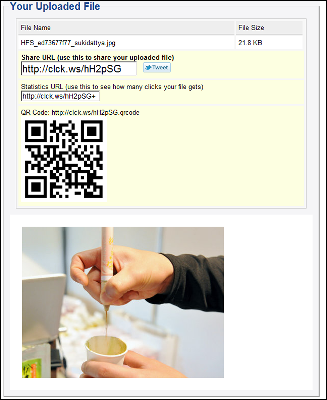 There are 3 patterns of functions that can be used when uploading. First of all, a shared URL and "Tweet Button" that can be reflected on Twitter's tweet as it is. You can also email this URL by copying and pasting the URL without tweeting it.




This URL isBit.lyUsed to check how many times the shared URL was clicked.




When you access it, the screen like this will appear. Since it accessed right after uploading, of course 0 click.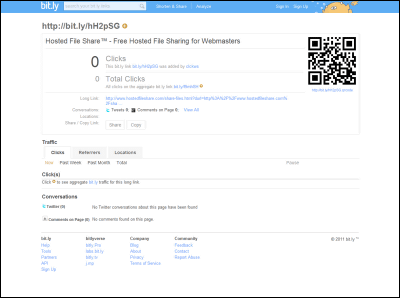 Finally QR code. If you load on mobile terminal you can access the download page as it is.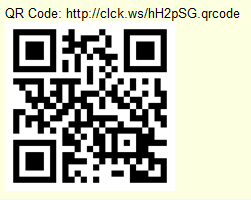 Now, click on the share URL and see how it looks to the other party who accessed to share the image. A form for inputting characters that are visually recognized to prevent downloading by mechanical bots or the like (so-calledCAPTCHA) Appears, so please enter the characters you see and click "Continue"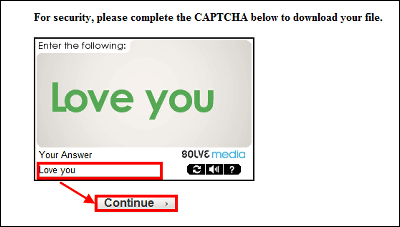 Then, the download button appears in addition to the items displayed at the time of uploading such as the URL for sharing URL and click count and QR code. Since the image is embedded in this page, you can check what it is in advance.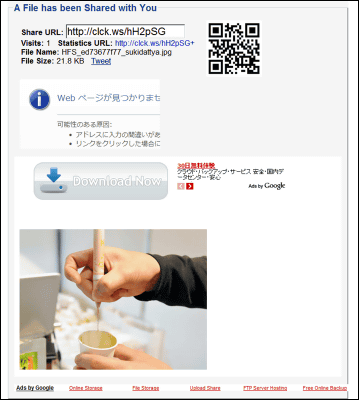 ◆ Upload PDF file

ContentsMinistry of Health, Labor and Welfare: Summary of Report on Regional Health and Health Promotion Project in Heisei 21PDF file. Upon completion of uploading, as before, the uploader will see the shared URL, click count URL, QR code.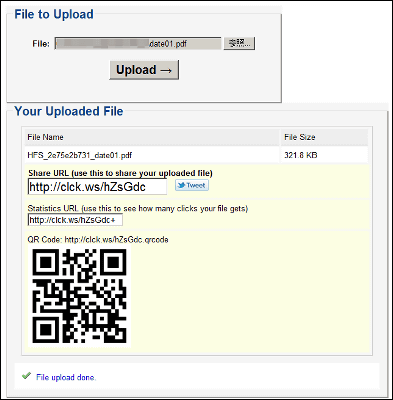 Let's see how you see what you want to pass the file. Please access the shared URL, enter the characters you see, then click "Continue".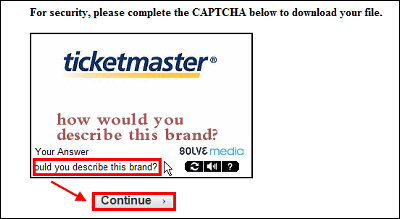 In addition to the shared URL and QR code, the contents of the document of the PDF file are displayed by embedding.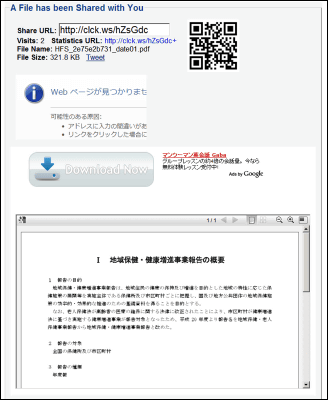 Besides enlarging and reducing, it is also possible to display equal magnification.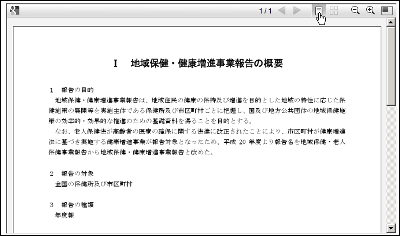 Click on the embedded part to switch to Google Doc and you can view the file on a larger screen.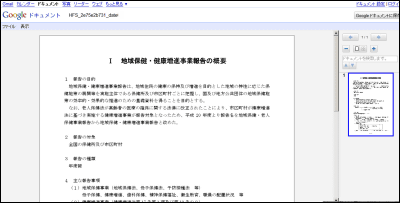 ◆ Uploading MP3 files

Finally try to MP3 files.This siteUpload the MP3 file "Constancy Part Two" that you downloaded from. The completion screen is displayed like this.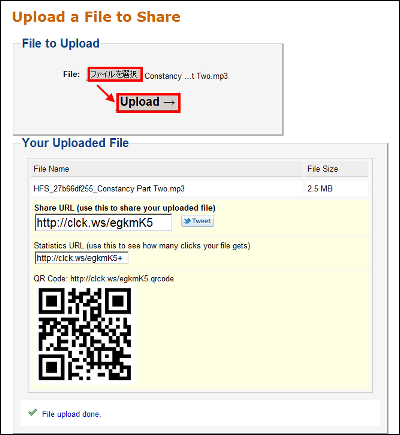 Please access the shared URL, enter the characters you see and click "Continue"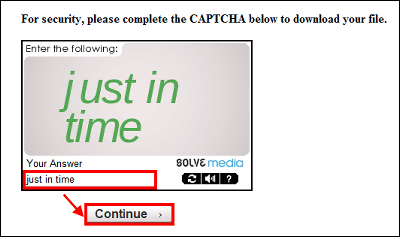 Since you can check the voice content beforehand with the embedded player, if you think it is OK to listen, click "Download now".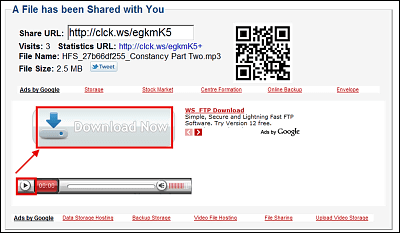 Incidentally, embedded players are displayed in most browsers such as Internet Explorer 8, Firefox (version 3.6.13), Opera 11.01, Google Chrome, but only the 64 bit version of Internet Explorer 8 is not displayed, and MP3 is associated The action when "Download now" is pressed depends on the player being played. If it is associated with Windows Media Player, clicking "Download now" will bring the player up and the music will be played.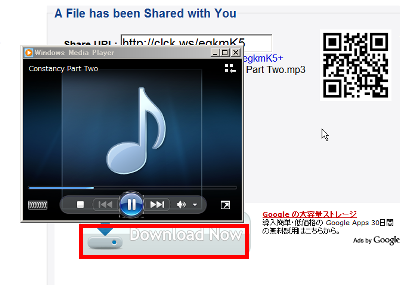 Also, if it is associated with QuickTime, the player will not start up and the MP3 file will be downloaded as it is.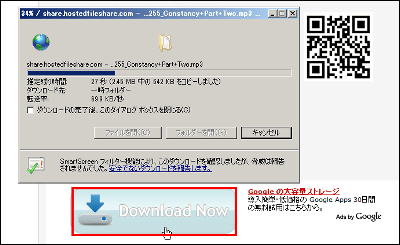 2011/03/03 19:15 Addendum
If you say why the file size is unlimited,It is introduced as a case of Amazon's AWSlike"Amazon S3Because I am using.


You can read, write, and erase objects containing 1 to 5 terabytes of data. There is no limit to the number of objects that can be saved.
In fact, it seems that the maximum file size per file is probably about 5 TB.