"LifeTouch NOTE" that draws on the flow of "mobile gear" has appeared, adopting Tegra 2 processor and Android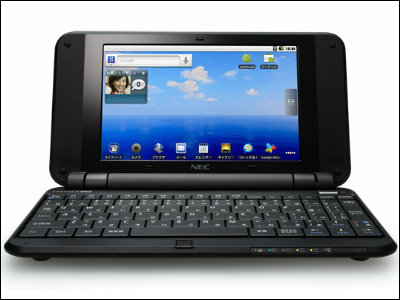 In the PDA series which was once released from NEC, it was familiar with the nickname of "MobiGi", and the honorable name of the machine was "Mobile gear (Mobilegear)"Smart book that draws on the flow of"LifeTouch NOTE"Was announced.

OS adopts Google's Android, it has NVIDIA's dual core "Tegra 2 processor" that realizes high processing capability, and it is a full keyboard terminal that sticks to everywhere.

Details are as below.
Release of "LifeTouch NOTE" for individuals with Android (TM) released (February 15, 2011): Press Release | NEC

According to NEC's press release, the company seems to be releasing "LifeTouch NOTE" as a smart book for individuals who adopted Android 2.2 for OS in order from March 10.

"LifeTouch NOTE" is a NVIDIA dual-core processor "Tegra 250" that drives at 1 GHz, a 7-inch wide VGA (800 × 480) liquid crystal for single touch compatibility, a 2 million pixel camera for memo, full keyboard, GPS, electronic compass, acceleration Sensor, SD memory card slot and miniUSB 2.0 port, wireless LAN compatible with IEEE 802.11 b / g / n, Bluetooth 2.1, etc. are installed.

The product lineup includes "NA 70 W / 1A" series with 2 GB SD memory card attached to 2 GB internal memory, "NA 75 W / 1A" series with 8 GB SDHC memory card attached to 8 GB internal memory, "FOMA Three models of the "NA75F / 1A (scheduled to be released in April)" series with built-in HIGH-SPEED wireless WAN will be released.

This is "LifeTouch NOTE". The body size is 234 × 138 × 25 mm, weighs about 699 g. Battery operation time is about 9 hours for browsing, about 7 hours for YouTube video playback. Since Flash 10.1 is compatible, it also supports display of Flash content.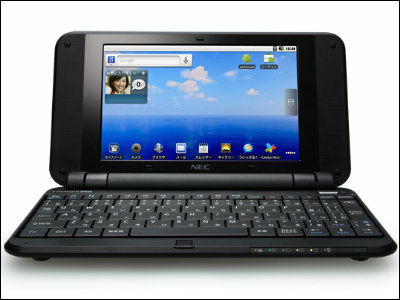 There are three kinds of color variations of the top board, Vermilion Red, Chocolate Brown, Piano Black. By the way, "NA 70 W / 1A" series is only piano black.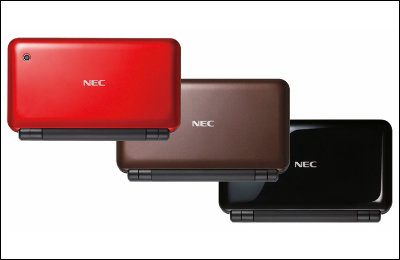 Adopt a keyboard with a 16.8 mm pitch and a key stroke of 1.6 mm that can be touched like a PC. In addition to the great feature that the character input environment is very substantial, such as pre-installing "ATOK for LifeTouch NOTE" which supports comfortable Japanese input, the main body operation with optical pointing device and touch panel is also possible.



Interviews are posted on the special page on how they were connected from "mobile gear" to "LifeTouch NOTE", and about the commitment included in "LifeTouch NOTE".

NEC's Active Communicator, "LifeTouch NOTE" The Members 'Members' Feelings. | 121ware.com> Product Information> LifeTouch NOTE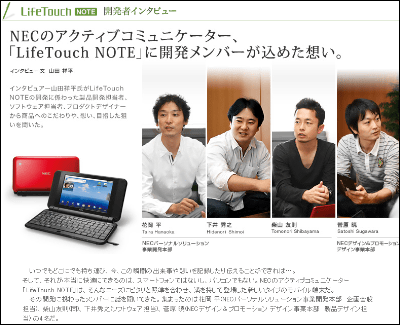 Detailed product information on "LifeTouch NOTE" is below.

NEC PC | 121ware.com> LifeTouch NOTE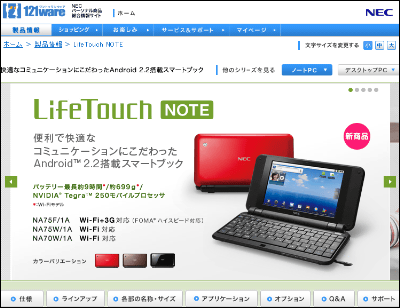 By the way, although both models are open price, in the case of the direct sales site "NEC Direct", the selling price of the "NA 70 W / 1A" series is 30,900 yen.

NEC Direct> Smart Book> LifeTouch NOTE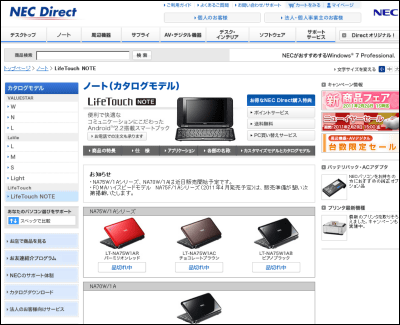 NEC in 2009A specialized organization was newly established to release products combining personal computers and mobile phonesApparently it seems that it has come to bear fruit.