"Ashigara Masaki Burger Burger" which is only offered at Ashigara SA's Lotteria stores is curry Kinpirasu taste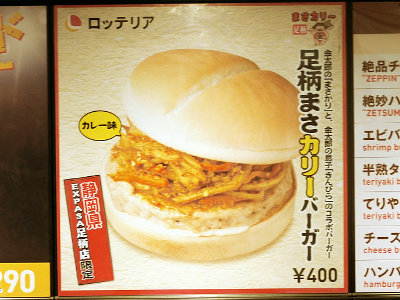 It is in the service area on the down line of the Tomei highwayLotteria EXPASA ashi storeAshita Masa Curry Burger "which can only be eaten at the morning ceremony was released from February 1, 2011, so it was to end as soon as it sold out, so I went to eat and eat it.

Asuko has a distinctive "KintaroThe name of Kintaro's child is derived from the name "Masakari" held by the curry "Kinpira (Kinpira)It seems that we have something of curry flavor. The taste of the hamburger which we knocked down from here on the local story is exactly what it is tasted firmly.

The whole of "Ashigashi Masa Curry Burger" is from the following.News Release Details | News Releases | Lotteria

Arrived at Asp. Asp.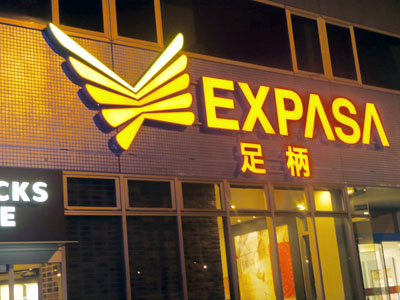 There was Lotteria in one corner of the food court, surely the "Ashiza Masa Curry Burger" banner was hanging. There are 3 kinds of local burger which can be eaten only in the service area of ​​the expressway, SagaBasin parking area upload storeAnd FukuokaBase basement parking area store"Hakata Territory Akuta Takaaki Burger" limited to 2 stores, and Hyogo ·Miki service area storeLimited "Kurodazo Japanese Wagy Menchkatsu Burger" is also a big problem.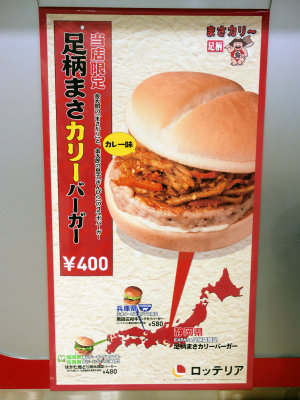 But first of all, I'm tossing on "Ashigashi Masa Curry Burger" in front of me. As potatoes are brought before the hamburgers are a little time consuming to make hamburgers, so cool down first picks the potato and waits.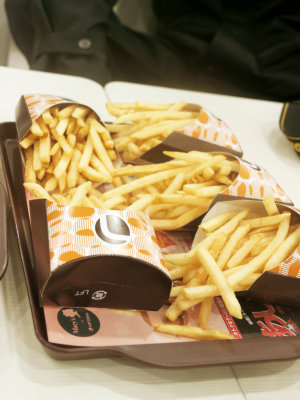 A few minutes later, "Ashigashi Masa Curry Burger" was brought. Wrapping paper was written as "store limited burgers". I was sorry a bit because I expected that illustrations of Kintaro who might be the origin of the name were drawn.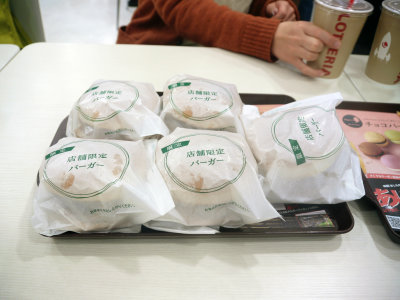 I took a wrapping paper.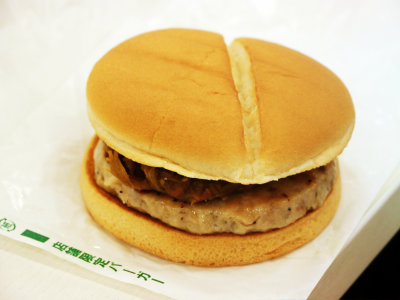 It seems that the ratio of the curry taste Kinpira and Patty is about half if I change the angle because it was hard to see the contents.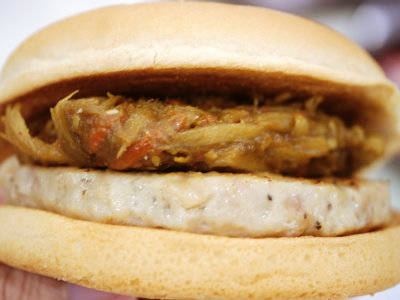 Curry-flavored Kinpira uses curry-flavored Kinpira "Masa Curry Pans" to make local products such as Ashi "Kintaro ProjectCollaboration with. In this project we have made various local curry products called "Masakari", but since it contains items like state of burdock dry curry, it is probably used for curry bun, not ordinary curry It seems that you are using curry taste Kinpira.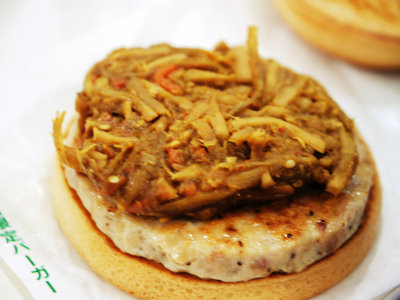 This Burger's Patty is written as a bowl of chicken on the official Lotteria website, but the official Kintaro Project account is "I use meat putty supervised by Kawagoe chef"As I mumbled, I was released nationwide in January 2011Italian chicken burgerIt is probably the same as Patty of.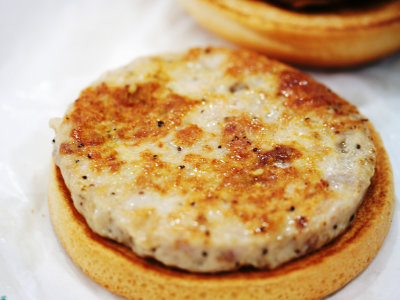 First you eat a bite, the burdock's firm crunch and scent of curry. The taste of the curry-flavored kinpira itself is quite well organized, but the presence of the patty beneath it is completely drowned out by the fragrance and crunch of kinpira, and it does not even know whether there is something or not. Originally the curry-flavored Kinpira contains locally produced Ashigara beef and domestic pig mixed ground ground so it is somewhat doubtful why the chicken patties of different materials are dared to be rather than cattle or pigs ... .... Also, since the curry flavor itself of Kinpira itself seemed to match rice rather than buns, I also felt that it was better to have a rice burger if it was this instrument.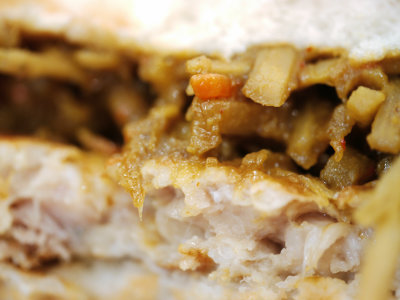 Curry flavored kinpira was eaten chewy although it was slightly intense but I just wanted you to do a little more choice. There is valuable that you can only eat here, so if you have the opportunity to visit the Ashigara service area by car, you may try it once.