Wi-Fi model and 3G + Wi-Fi model will be deployed to next-generation PSP "NGP" to "aptitude price"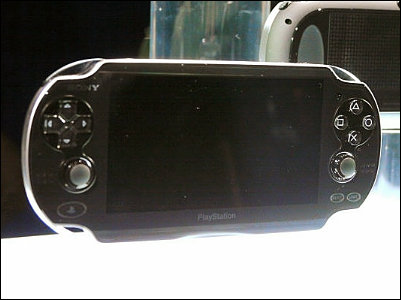 The "PlayStation Meeting 2011In the next generation PSP "Next Generation Portable (NGP)Although it was announced, it was not announced at all about details such as price side.

Ported PS3 titles by installing quad core "SGX 543MP 4 +" on the ARM Cortex-A 9 core processor, GPU of quad core (4 cores), 5 inch organic EL display with resolution (960 × 544) corresponding to 4 times of conventional PSP Because it realizes very high specs, such as being possible, although price is anxious place, information on price is revealed from unexpected place.

In addition, although it is thought that a contract with a mobile phone company is necessary to have 3G communication function, although it is NGP, "Wi-Fi model" and "3G + Wi-Fi model" like iPad are expected to be deployed It does not seem to necessarily require a 3G contract.

Details are as below.
Andrew House talks Sony NGP price, 3G version, more PSP2 Interview - Page 1 | Eurogamer.net

According to an interview conducted by overseas major game information site "Eurogamer" against Mr. Andrew House, CEO of Sony Computer Entertainment Europe, although the NGP's main price has not been officially unveiled yet, it is suitable for handheld game machines It is said that it will be possible price.

Although PS3 was in a state of "reverse flow" that the manufacturing cost exceeded the selling price for several years at the beginning of the release, it was a business model to recover by sales such as software, but "Does NGP provide in reverse as well?" In response to the question 'I'm saying that I'd like to make money on hardware as well as software.

In addition, House says "Wi-Fi model" and "3G + Wi-Fi model" about NGP are planned to be deployed, and users say that they can choose whichever one likes, and by using 3G line it is rich in real time Whether you will be able to play online games "It depends on the amount of data traffic generated by the game," he said.

By the way, in the case of Nintendo, the first model "Nintendo DS" was the manufacturer's suggested retail price of 15,000 yen, while "Nintendo DS Lite" was 16,800 yen, "Nintendo DSi "Is 10,800 yen," Nintendo DSi LL "is 20,000 yen, and next generation model" Nintendo 3DS "is 25,000 yen, manufacturer's suggested retail price rises at the time of release as each new model appears It is.

And the PSP series has a manufacturer's suggested retail price of "PSP - 2000" "PSP - 3000" is 19,800 yen ("PSP - 1000 (PSP - 1000)", except for the derived model "PSPgo (26,800 yen) "Only open price, the direct sales price on the official website is 2790 yen), the manufacturer's suggested retail price at the time of release was largely constant, but what is the price of" NGP "as the next-generation model .

In contrast to the domestic market which has been performing well due to the influence of "Monster Hunter Portable 3rd" etc, it is a PSP series with a feeling not to be overwhelming overseas, and I want you to realize an ambitious price.
in Game, Posted by darkhorse_log