Agency service "SCAN 48" that makes books e-book free for free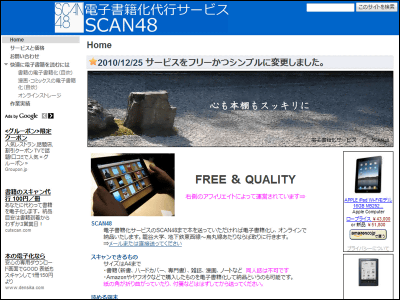 As one of the great leaps forward in 2010,"BOOKSCAN" will scan and send e-books when you send a bookhad. The basic one was 100 yen per book, with a simple procedure of sending the book by courier, it was popular that it waited for 3 months to PDF.

Like BOOKSCAN, the service that makes books e-book is "SCAN 48". This is howPrice freeIt is said that. What on earth is it all about? ....

Details are as below.
Electronic book agency service SCAN 48

"SCAN 48" does not require member registration, etc., booksDesignated placeA service that will make it an e-book if you send it. If it is around Ryukoku University and Kyoto Municipal Subway Tozai Line / Karasuma Line, it will come to pick up.

What we are using for scanningScanSnap S1500So, it is said that books will be delivered online to PDF, while cartoons are compiled by ZIP, optimized for iPad. Data can be browsed by PC, iPad, iPhone, Kindle, Sony Reader, Galaxy tab, etc.,GALAPAGOSDoes not seem to correspond.

What can be scannedUp to A4 sizeIt is OK, anything is OK, such as books, magazines, cartoons, notes,Doujinshi is not allowed. Although the book is, of course, demolished, it will not be returned after dismantling.

Fully charge free. Affiliate is affixed to the official site, but not compulsory, "It is volunteer service, affiliate is donation" and that. It seems that 1000 e-books have been converted to e-books so far.

Although I would like to make it an e-book, but self-catering is troublesome ...... People may try it. Even so, I think that it is rather painful only with affiliates ... ....

2011/01/05 1:18 postscript
"It can not be processed due to an order exceeding expectations, and the new order stopsThat's why the following notice was issued.