Finally 128 GB SDXC memory cards appeared, high-speed type relatively reasonable price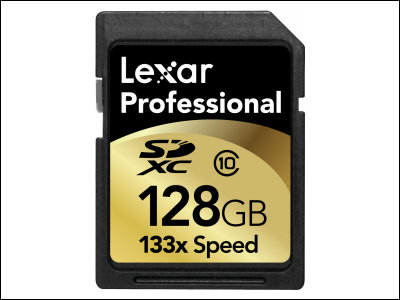 In the future as a new standard to replace the SDHC memory card which reached capacity limit in January 2009"SDXC memory card" realizing transfer rate of maximum capacity 2 TB, maximum 300 Mb / secWas announced, but the world's largest capacity of 128GB model has finally appeared.

It is not only a high-speed type but also a relatively reasonable price.

Details are as below.
Lexar Media Introduces the First 128 GB Professional Secure Digital Extended Capacity Memory Card for Photographers and Videographers | Lexar

According to the press release of Lexar Media, the company is said to release the SDXC memory card 2 model in the first quarter of 2011. Lineup is 64GB type and 128GB type, speed class is 10.

Because it realizes a transfer rate of 20 MB or more per second, it is suitable for recording of 1080 p full high vision video, and also comes with software that recovers accidentally deleted data etc.

This is 128GB type.



The price you are interested in is 64 GB type for 399.99 dollars (about 33200 yen) and 128 GB type for $ 699.99 (about 57200 yen). Because it is the world's largest capacity,HDD of 3 TB model which is overwhelmingly high compared with the 2 TB modelI think that the price will soar so, like the company'sThe 32GB model is sold at around 12,500 yenConsidering it, it is not extremely high so it is not quite reasonable for new products.

The product information page of Lexar Media is below.

LexarR Professional 133x SDXC? Card | Lexar