Being friends is beautiful, a picture of a bear son of Alaska doubling in cuteness with 2 animals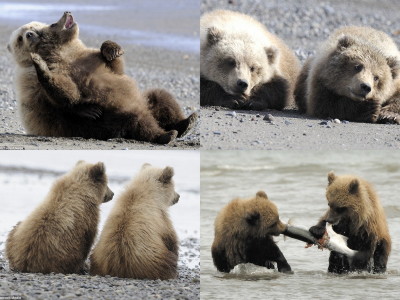 Even a baby in an animal is pretty, but when you are sick with your 2 buddies, the cute is also doubling. Pictures of Brown bear brothers photographed in the National Park of Alaska captures the appearance of child bears who get along with each other on a beach and keep a single salmon until they reach the tactile feel of fluffy coat Would not it be warmer just looking at it?

Pictures are from the following.Beach bears: Two cubs are inseparable as they play together in Alaskan national park | Mail Online

Pictures of AlaskaLake Clark National ParkAccording to Mr. Doug Merrick (75 years old) British photographer who visitedCook BayIt was taken on the West Bank.



Currently wildBrown bearIt is said that it has inhabited more than 200,000 heads.Bedfordshire ProvinceBiggleswadeMr. Mr. Mr. Mr. Mr. from Mr. Merrick originally shot a bear with observation stands etc. from various places, but from afar, he can not take a satisfying picture and he wants to take a bear in a more natural and natural ecology, 12 It seems that he had planned this Alaska trip from a year ago.




I thought that it was a wish that I could shoot from the same eye level as bears at close range on this photography trip. Mother who protects the child sometimes becomes ferocious, Mr. Merrick approaches without threatening the bear, and in the near future it seems that he succeeded in approaching only 12 feet from the mother bear.

The bears learn how to catch salmon by imitating mothers. Sometimes it seems to be a competitor.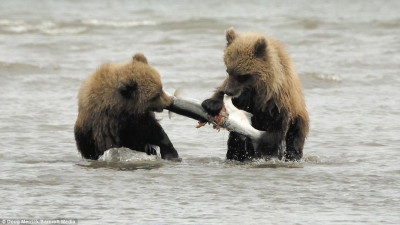 Brothers who watch salmon bear watching mothers.