Headline news on December 21, 2010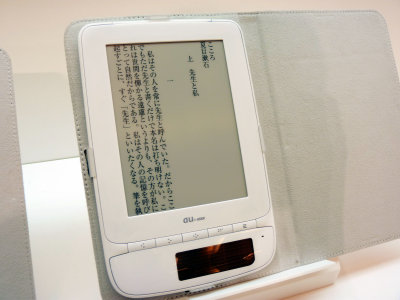 KDDI today,Announced that the e-book service "LISMO Book Store" will be launched on Saturday, December 25Did. In cooperation with Book Lister, e-books provided will aim for a lineup of about 20,000 points at the start of service and about 100,000 points during FY2011.

First of all, e-book reader "Biblio Leaf SP 02In addition to starting service for the monthly basic usage fee of 525 yen (when "Anybody Discount Single Specific Equipment" is subscribed) packet communication use unlimited "Biblio Leaf Plan"In addition to that, we are expanding the number of service providers for smartphones, including the IS series.

By the way, GIGAZINE of one year ago wrote such an article.

Diagram showing how enthusiastic users of Linux, Windows and Mac are looking at each other - GIGAZINE

"Porn" and "sex act" are the top, keywords searched by children in 2009 are announced - GIGAZINE

Cute kittens fight computer viruses Movie - GIGAZINE
◆ Story (memo · various others)
The painful news (No ∀ `): The moment when I was watching TV and messing up" The game playing with food "" The debut character is white rice! "- Livedoor blog
I really feel that everyone is a television girl

【Overseas】 Photo: The graveyard of the neon signs that have colored night in Las Vegas

◆ Society, Politics, Economy (Incidents · World News · Business)
Sapporo extension stroke construction launch road Shinkansen railway system surplus 1. 2 trillion yen return - Hokkaido Shimbun [Politics]
For Hokkaido Shinkansen's extension of Sapporo construction decisions are forced off

Yamaguchi - MSN Sankei news forecast to recover JR Miyako line to 1.3 billion yen
It has been closed since July this year due to heavy rain to stop driving

Asahi.com (Asahi Shimbun): Shoplifting and reporting are pretty much burden shop side "It takes time ..." - Society

Prefectural Police Department Safety Division is talking, "Shoplifting tends to be a small crime, but finding out properly will lead to fostering awareness of keeping the law."

◆ Lifestyle (life, life, health)
Escala cafe | Tokyo travel with friends, time to make another action? dont make?

According to the questionnaire, about 70% answered "Do not make time for another action"!
If the destination is a comic market venue, the time to act differently may increase

◆ IT · Gadget (Net · Soft · Hard · Mobile)
Press release presentation: Changes in contents of "Battery pack security support" service | Notice | NTT DoCoMo

As a menu of "battery pack security support", we will offer a new "FOMA auxiliary charge adapter 02" portable charger for docomo smartphones that can be recharged even when the battery runs out when going out. For "Battery Pack" for DoCoMo smartphones, you can change the terms and conditions and exchange it with Docomo Point by incrementally increasing the burden by 1,500 additional points from current provision conditions.
Since battery packs for smartphones are expensive, some services are changed

◆ Anime · Game · Manga (Subcar)
My heart will be hot when thinking that "BAMBOO BLADE" has ended! : Yamakam

"BAMBOO BLADE" is a manga grown up as a grandmother who masqueraded as a female high school student's kendo youth comic, the old man looks at young people and looks back at it and is noticed variously.

(PDF file)Large-scale story RPG following the "sky trajectory" "zero trajectory" "latest trail series" latest release 2011 release decision!

Nippon Falcom Co., Ltd. (President and CEO: Seihiro Kondo, hereinafter "Japan Falcom") commemorates the 30th anniversary of Japan Falcom, following the hit RPG "Legend of the Legend of Heroes" and "The Trail of Heroes Legend Zero" Track series I will inform you that we will release large-scale new works as PlayStation Portable (PSP) exclusive software in 2011.

AKB48 Industry noisy in love game! 250,000 books only by reservation - Entertainment - ZAKZAK

Game software capable of "virtual romance" with members of popular idol group "AKB 48" will be released on 23rd, but it turned out that the booking before the launch reached 250,000 in fact. If it keeps pace as it is, there is also the possibility of becoming a mega hit work whose sales number exceeds 500,000 books.

Program Guide "The latest version of Machi ☆ Assobi animation event is here in Coco" | Kids Station
Machi ★ Assobi 4Special program which summarizes the pattern of, broadcast from Kids Station from 24 o'clock on 21st

Yao! Animator Naoyuki Onda "My sister" It seems that it was a promise not to give out his name in the final talks, but it gets angry with getting out!
movies"King of thorn - King of Thorn -Naoyuki Onda, an animator who also served as the director of total painting of "My sister can not be this cute"The final story's ending telop is given a name and gets mad with" I told you not to put out! "

Painful news (No ∀ `): Topics on awesome smell from PSP version" FF 4 "- Livedoor blog
Is it due to face graphics ......

◆ Sports · Entertainment · Music · Movie (Entertainment)
Seiyu releases popular title DVD software for overwhelming low price 500 yen

A huge hit action movie "Hancock" starred by Will Smith, who is proud of the huge popularity in Japan, a suspense movie "Da Vinci Code" that caused a big boom worldwide, and an animation "Monster House" by Steven Spielberg etc. The lineup of popular works of.

Painful news (No ∀ `): Miyoko Omomo" Mao taught with Mr. Kuniko Maiki, though I respected him as a senior, shock ('Д`) Why (ToT) is painful - Livedoor blog
Miyoko Omi Momoko (45) and Kikuko Maki (48), although there was an impression that the character was wearing a talented system, but ....

· Previous headline
Headline news on 20th December 2010 - GIGAZINE