First full no-cut, "Yokai Human Bem" 's first broadcast original version DVD-BOX will be released


"No one knows when it was born, in a world without dark sound, one cell has been divided and increased, three creatures were born, of course they are not humans, nor are they animals. The blood of justice is hidden in that ugly body.The creature, it is a youkai man who could not become a human being. "

This phrase was broadcasted in Fuji TV series from 1968 to 1969, the rebroadcast is still carried out even after 40 years have passed after the end of the broadcast, an animation boasting high popularity "Youkai Human BeimIn the play ofTatsuya CastleAlthough it is said as narration by Mr., it became clear that the same DVD-BOX will be released again.

In response to the inappropriate presentation at the moment, it is the same work that various modifications and alterations have been made even at various re-broadcasting and various released video software, but the newly released DVD-BOX is the first Realized the complete uncut "Original broadcast original versionIt is said that it is.

Details are as below.
Youkai Human Bem | @ Victor Entertainment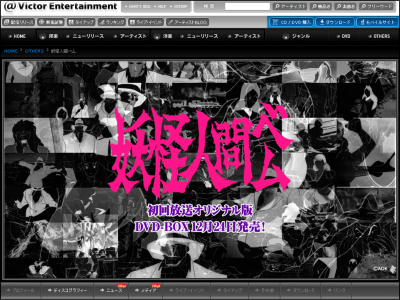 According to the official page of Victor Entertainment, on December 24, 2010 "Yokai Human Bem" 's "First Broadcast Original Edition DVD - BOX" will be released. The price is 22,650 yen including tax.

"Yokai Human Bem" now has inappropriate expressions, measures have been taken to correct subtitles at the time of rebroadcast and video software release, and to cut sounds and images, but this time it is released It is said that it will become an uncut version containing the contents of the first broadcasting conducted in 1968 as it is.

Also, in addition to recording 2 episodes of the phantom "Yokai Human Bem PART II" that had never been broadcasted, the complete storyboard of the first episode (103 pages in all), Bem Bella Vero 3 Original Soft Vinyl Boar "comes with it.

The contents of the set looks like this. In addition, it is 4 DVD set.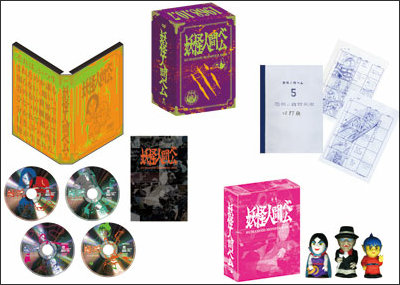 It is also impressive that the last of the three people continued their journey, aiming to becoming a human being someday by keeping the right mind and continuing the right course of action, and at the same time welcoming the shocking last, but at the time of the broadcast It may be very worthwhile to see it as it is.

Although the same work has already been released as DVD software, according to the customer review of Amazon.co.jp, in addition to the fact that all subtitle parts have been altered and all the pictures have been replaced, It seems that it is becoming disastrous, including being deleted and recorded as images.

Amazon.co.jp: Yokai Human Bem DVD Box: Kiyoshi Kobayashi, Sakai · Saburou: DVD
in Anime, Posted by darkhorse_log