Interview with Team N. G. X on the truth of postponement of "Dream Club Zero" or scenario production expenses unpaid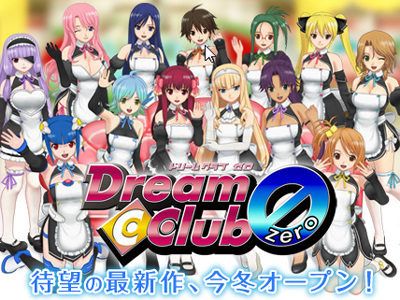 Xbox 360 software which was planned to be released from December 30"Dream club zero"ofRelease postponement releasedIt is,Apology videoAlthough he is calling up a topic, a problem that might have caused the postponement of the release has come to light.

GIGAZINE According to the story from the reader, he is working on scenario creation such as PC game software, consumer game software etc.NGX (Team N. G. X)Although it actually entrusted the scenario production of "Dream Club Zero" and actually produced the scenario, it was that part of the production cost has not been paid, and it is now pending in court.

In order to ascertain the detailed situation on this, I've been talking about what it is like to Yasumasa who is a representative of Team N.G.X. Details of the interview with Team N. G. X are from the following.Scenario production company Team N. G. X
http://ngx.jp/

◆ What is a dream club?
It is a love simulation game aimed at making love with a "host girl" who is a member of an adult social gathering place "DREAM C CLUB" where only the owner of a pure heart can enter, and works at a store. The first work "Dream Club" was released from D3 Publisher on August 27, 2009, and the number of sales on the first day exceeded 23,000 books. Namco Bandai's game released in January 2007 "Idol MasterIt is a popular title that recorded the first day selling number exceeding the number.

"Dream club zero" which became a problem this time was planned to be a sequel to "Dream club", drawing about half a year ago of the previous work, but in any circumstances there was a dispute to be brought to the court Is it?

GIGAZINE (hereinafter abbreviated as G):
This time, I learned from the readers that this is happening with the storyteller, what kind of circumstances is it?

Mr. Yoshimoto Masaharu NGO Limited (hereinafter abbreviated as NGX):
I was talking a bit about my surroundings, but some of them said that "Why do not you talk to the net news?" In my opinion, I answered "I will go if I can call you" However, it may be that someone from that group contacted you.

Mr. Yoshimoto Masaharu NGX Limited Company. It was decided that the case would be answered with only the case as the same representative in this time this time.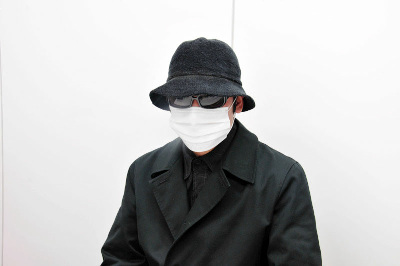 G:
Although it is said that it has become a problem for quite a while.

NGX:
The problem in this way is March 2010. I myself have a writer history for 20 years, but this is the first time I got into this situation and I am quite confused. It is better to say that you are coming.

G:
First of all, I would like to ask you about Team N.G.X as a scenario production company. At first I was personally creating a scenario?

NGX:
Originally I was doing a magazine writer, but at that time I was editing a game strategy book with a writer group. After that, we gathered only those who specialized in writing scenarios, and started doing it in the main scenario. I am in the form of a company, but this is a company limited to a company that is said to need to be incorporated as a company when working with a company, the contents are like a group of writer fellows a few gathered is.

G:
I see the name of Team N. G. X as a credit here and there, but I do not see much in these interviews.

NGX:
Basically it's behind so it does not go out much. Since I was named Team NGX, I gave it a name, Team NGX is credited with game credits, it is told that individuality will not be felt, I will try to make out what I can name .

G:
The first work of the Dream Club itself was released in August 2009, but was it also involved in the first work?

NGX:
The first work is not involved at all. We only have what we contracted as a job of "Dream Club Zero" scenario. "Dream club portable" comes out of PSP, but this is also a transplant of the previous work, so we have nothing to do with us.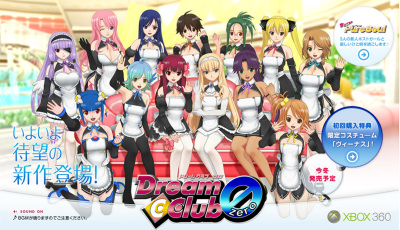 ◆ Points of dispute

NGX:
If you summarize from what you can talk about, it is true that you are currently in lawsuit. Unpaid of contract money is the main dispute matter. If you summarize the main points of dispute, it is the next two.

First of all"No money has been paid for the scenario writing". This is one. This time the production companyTam SoftSo at least the scenario related production should be done by Tam Soft. Sales are a D3 Publisher, and production and sales are done in a different company. I do not know how the relation between Tam Soft and D3 Publisher is. I have never contacted D3 Publisher from me. It is common in itself, the actual contract will be done with the production company Tam Soft, and contact will be made with the production company Tam Soft, not with D3 Publisher.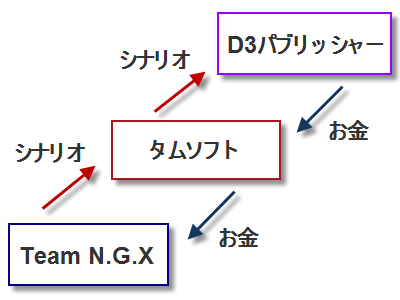 next,"Pending dispute scenario has been delivered from Tam Soft to D3 Publisher"about it. We are claiming that the copyright of the text in a situation that does not receive money is still belonging to this place, but we are insisting that the software containing the pending scenario is published by D3 Publisher I was announced that I will release it, I am quite surprised.

I think these two are the main points of dispute.

History of Contracting Scenario Production

G:
Regarding the unpaid of the contract money, what timing do you normally get the contract money? Will it be asked before writing, or will it all be over?

NGX:
We are tailored to the convenience of the client. In this case we had to pay half the money as of the end of November 2009 and pay the other half at the end. Currently it is in the state that the first payment has been made and the half is paid.

G:
Is the scenario itself complete?

NGX:
I am also concerned about completion itself, but there is also a problem with payment on the way, and it is a situation where money has not been paid.

G:
Why did you have trouble with payment?

NGX:
As we go back to the story at the time of contracting, firstly in September 2009 "2.5 MB job" (= the file size of the text file written scenario means 2.5 megabytes. , 2.5 megabytes is about 2.62 million by 1440 bytes, which is an enormous amount of scenario of about 1.1 million characters). Because the closing is the end of March (2010), 2.5 M in half a year is quite a lot of quantity. It was said that this content makes estimates. At this point it was only known that "it is a new software work" and that "there is a part that can be diverted from the previous work scenario as it is a sequel".

First of all, "The total scenario amount is about 4 MB, but 2 MB uses the previous scenario, with the buffer (surplus amount) 500 KB, the scenario amount to write must be 2.5 MB". It is impossible for half a year at 4 MB, but if it is 2.5 MB, I got a job with the calculation that if I mobilize all the staff.

G:
Indeed, I did not know that this case was "Dream Club Zero" at that time.

NGX:
I did not understand. I contracted with this estimate, but the diversion from the previous work has disappeared (= that it was supposed to never divert from the previous scenario). The text of the previous work is about 3.5 MB. This time the number of characters will increase by 3, so it will be roughly 1.3 times. Then it is 4.5 MB. We used the conversation scenario between the hero and the girl, we filled the missing part, we thought that the amount to make as a result was 2.5 MB, but it was supposed to be a whole new work from the middle It was. So when I heard that "Does it all work for us?", It was decided that "That's right", I decided to do it.

· Original schedule
Total scenario quantity: 4 MB
Diversionable amount of previous work: 2MB
New amount of Team N. G. X: 2.5 MB (0.5 MB is enough margin)

· Since it turned out that the dream club was zero
Amount of text required: 4.5 MB
Amount of text of previous work: 3.5 MB (It was planned to divert some of them)
New amount of Team N. G. X: 2.5 MB (It was supposed to make a part which can not be diverted)

In fact, however, it means that we should not divert it from this 3.5 MB, and that means "I am supposed to be all new works from the middle of the game," which means that I write all new scenarios from scratch, It became like.

· True realities of work of Zero Dream Club
Amount of text required: 4.5 MB
New amount of Team N. G. X: 4.5 MB (It was not possible to divert it, so it was decided to make it all new from zero)

NGX:
Although the story will be back a bit, I was told from Tam Soft at the time of submitting the quotation "Please state that it will be an additional order at a separate fee when exceeding the estimate capacity". At that point, I thought that it would be appreciated because I thought that I would handle even when the amount of work increased, I wrote it with that instruction ... ....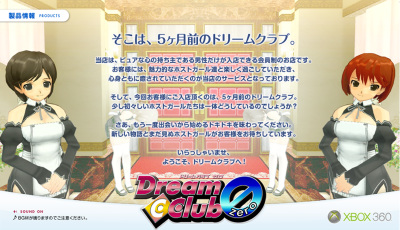 ◆ Contract money trouble

NGX:
I do not talk about money from writers in this industry. I do not know how much the amount of the scenario will increase, I was planning to request it later. In March 2010, we started entering the stage where the scenario is over, and it became visible that the calculation was about 4.5 MB. Then, when actually checking to the Tamsoft side,"You can do as much as you do if you add such a thing."It was said. It was a feeling that the tone was also such a feeling that "I am talking about suddenly" saying "What are you talking about," not being the tone of talking between companies? So the first problem occurred.

For the Tamsoft side, it is said that we are increasing arbitrarily the increase of the scenario. If it is supposed to be an additional order, we assert that it is natural that we will make a quote earlier. It means that you should do with the amount of the first estimate as you did not make an additional estimate when an additional order should be placed. But, it is not us that we quit diversion in the first place, and it will be noticed if it is written in the contract.

It is common for additional scenario amount to increase, because there are also things called "Let's make a little ending longer". Even so, roughly speaking, it's about 10% around. For such a time, the buffer, surplus is included in the contract money, and mostly if it is about plus or minus 10% it will not say things like adding additional money. But this time is 1.8 times, is not it? (= Initially planned to create 2.5MB, but actually to create a new 4.5MB) 2MB is a huge amount (laugh)

G:
Although it was just barely 2.5 MB in the first place, do you mean that I got angry when I said "I fill up the missing part and become 4.5 MB, the amount is about this?" ....

NGX:
Since the pace of scenario production goes up as it comes to the second half, what I finally submitted to Tamsoft as of March 12 was 3.5 MB stronger. There were lots of specifications not decided at that time.

G:
Even at the stage where the scenario advanced a lot, there are things that have not been decided yet.

NGX:
There are quite a lot. For example, I heard about "having hot-spring events" before and after the New Year (in 2010). I did not know whether there was such an event before that. Beyond understanding, I can not write such a scene.

For example, as a specification which was not decided as of March 12, for example, there seems to be an event where everyone has a cosplay, but this specification also was not decided. Next, the kind of endings increased by one kind, but it was only determined that what I wanted to happen and what kind of flow to do is undecided, and I want the end which is neither good nor bad. I do not know what kind of rule it will start with an event where a special conversation happens on my birthday. I heard the story that the hairstyle will change and appear, but the specification of this was completely absent.

The background other than the inside of the store was not fixed. It is in a state I do not know clearly where I can go to other places. In addition, although the hero earns money by working part-time, I did not understand what the content of part-time job is. Game-like specification was zero in what kind of situation the touch event that the hero touches the girl also happens. There seems to be something like a sub-event besides the main story, but this also does not know the progress rule. Also, usually the main character goes to a shop and picks a girl, which means that I wanted something like a companion dating to be invited to a girl first, but I do not know only that it is also "there" I do not know whether to talk. A woman came by help for a moment before a nominated girl came and I gave a hint, but the specification of this is also zero.

These were not decided as of March 12.

G:
I guess almost no scenario can be written with this ... ... Is it such a pace of game development?

NGX:
We had no choice but to do what we could do in a fixed date, but I thought that this will postpone the release indeed.

Before that, when I looked at the memo as of January 19th, it says that "the name of the character was not decided". The names of the three new characters are still pseudonyms at this point. Also, I give gifts and go shopping, but I have not decided any items of shopping system for that. After that, it is the ending and the last event, but at this point it is not decided where it will happen. Whether it is a shop or somewhere to call ...... I can not write with this.

Under this circumstance, the claim by Tamsoft side is to say "Team N. G. X has postponed the deadline of the scenario again".

G:
Have you actually postponed the deadline for the scenario?

NGX:
Completing the scenario by the end of January was a promise at the time of September. However, that is, of course, under the condition that it is a plot and the specifications of the front and back are set. I can not write about the part that is not decided as of March. Though it is such a situation, Tam Soft is trying to pick booking (audio) recording as of March. In this situation (since there are many parts that have not been decided yet), I will absolutely recapture it, so I told that it is better to postpone the recording. I will not do such a story from me. Yet Tam Soft's argument is that we are late for the scenario because of us.

G:
It is a place to wonder how the place other than the scenario was going on ....

NGX:
I agree. In these circumstances, when I went to consult about the part that was not decided on March 12, I heard a story saying I do not want to pay monetarily. I was told that "This time I ordered a pizza, you only brought two pieces". It is a fight rather than a meeting.

G:
It is a mess.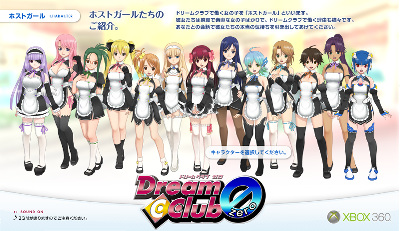 ◆ Exchange until the trial

NGX:
After that, it is told that "Please stop work once, I will hold a meeting place once," and after March 12 we have not written the "Dream Club Zero" scenario. The state that the stop command itself at this time has not been canceled.

After that, the person in charge of Tam Soft met with the president of Tamsoft and talked to me, so I went to Tamsomft on March 16 and had a meeting, but in conclusion " It was that it was not ". Moreover"If you quit here now, you can not pay the full amount of the original contract"It was also said that.

G:
Since the amount of the first contract has already been exceeded, I feel weird if I do not get it.

NGX:
I have paid half the money as of the end of November, but I do not pay the remaining half. Whether "I finish all the writing and get the original amount of money or stop at the current stage and end with half a gold" is only two choices.

There was an assertion that Tam Soft suddenly issued here, and I said, "Because the scenario is bad, I can not pay the money." "Because it takes time and effort to correct it, I wanted you to consider that amount." There is a statement that "If there is an amendment order in the contract, we will make the amendment within 10 business days", from here we will submit the scenario once at 10 days and give instructions from the person in charge of Tam Soft Receiving, sending something reflecting that modification ... I was interacting with recipients many times over and over. After that situation, after the middle of March, "We will not pay you because your scenario is bad."

G:
It is a story about what has been fixed so far. Something more and more the other side has changed.

NGX:
The dialogue at this stage is "We can not choose two, so we will consider the correspondence here as well", we responded and finished. I guess it is a bad situation that I have to think about something like this already.

As for the part of correction first, I thought that the genre called romance series galgé is familiar here, and it will not be overwhelmingly bad. The person in charge of Tam Soft was a person in the second year, but the corrective direction of this person was not 100% correct, and if it says that it is said that it is not possible to do it will manage somehow, do not say it now So it is not bad, so you do not pay money. So I presented that as a compromise plan, "Please give me 1 Mb of money for 2 MB for additional writing." Trying to make it to the world somehow by crying for 1 MB each other. Because I also did it, I want to put it out to the world.

However, as a result, it was an answer "impossible". And what Tam Soft told me is "Can I enter into payment of final money?" The amount of money that Tam Soft judged as a work Team N. G. X did until now was presented. It was a little more than half the money, but it is a little less than the initial contract price. By saying "Please let me know if you will drink this," it was decided that this was impossible.

G:
How much was it less than the original minutes?

NGX:
The breakdown of the final money Tam Soft has said is simple in text. The submission submitted on March 7 was the final submission, totaling 3.54 MB. Among them, the one with the tag capacity of 0.77 MB cut is 2.77 MB. Among them, "scenario that has been scrutinized", that is, 1.84 MB that the check has ended. There are parentheses and it is said to be "equivalent to 90% deliverables". In addition to this, the content of "correction work by our writer, scenario check, 20% of chat, error correction (equivalent to 10% of chat)", 1.1 MB of those deleted. "Unscrutiny scenario" is "equivalent to 50% of deliverables", which is 1.57 MB. From 1.57 MB, 0.32 MB is obtained by subtracting 1.25 MB from half of money paid in November. It was said that money of 0.32 MB can be paid.

* Breakdown of the amount offered by Tam Soft
Overall: 3.54 MB = 0.77 MB (tag) + 1.84 MB (reviewed) + 0.93 MB (unscheduled)
Scrutinized: 1.1 MB = above 1.84 MB × 0.9 (it is judged as a product equivalent to 90%) - 0.556 MB (correction work, scenario check etc)
Unscheduled: 0.47 MB ​​= 0.93 MB × 0.5 (determined as a 50% equivalent product)

Total workload is 1.1 MB + 0.47 MB ​​= 1.57 MB
1.57 MB - 1.25 MB (November paid) = 0.32 MB (additional cost)

NGX:
As I add explanations, "Tag" is 0.77 MB, but what is said to be "tag" is a comment-out part, it is designation such as character's name, facial expression designation, how much favorable heroine is like . This is not a tag, but a tote. If there is not this, it becomes impossible to understand "who" and "what kind of circumstances" are talking, and it will not be established as a scenario.

G:
Is it said that we will cut it from the amount produced by Team N.G.X?

NGX:
Yes. Next, the "scrutinized scenario". First of all, it is Tam Soft to check the scenario. I do not know the reason for 90% equivalent amount by checking. In addition, concerning "correction work by our writer, scenario check", Tam Soft does not issue correction instructions about this first. Do not issue correction instructions, since I fixed it without permission, I will reduce it. Although it is already messed up without issuing a correction instruction, it is already messed up, but if calculated from 1.84 MB, 30% is 552 KB, so about 270,000 full-width characters will be corrected by a person called "our writer".

Next, it says that "unscrupled scenario" is a product equivalent to 50%, but this is the content of shock which is half price because Tam Soft has not checked it. At the time of sending this mail, two weeks have passed since March 7, so Tam Soft's check obligation period has ended. In the meantime, since the correction request has not come to me, it should be that there is no error in the scenario ... ....

In response to this situation, I got an e-mail saying "You can pay for 0.32 MB for this calculation statement", I do not know what to do with this already, I consulted with various people. I wonder if the subcontract writer is such a good one to be licked.

There was also a story saying that the image as Team N. G. X gets worse when going into a serious situation, but it was concluded that I would not solve it without going through a third party, and I tried consulting with a lawyer.

Then, through a lawyer, they sent me content certification mail and registered mail in April and had a meeting with a lawyer at Tamsoft side, but Tam Soft had no appearance of concessions, and in order to request the court to solve it, there was a lawsuit That is why it happened.

It is the first time that I cherish it to this point for 20 years. I am basically a cheerful (lol) human being, and it does not mean I do not bite anywhere else. Please let me say a little strongly here only. Since it would hurt your work if you think that it is an Americanized rabid group that will soon make a trial (laugh).

G:
How much is the final total, 3.5 MB for the whole game?

NGX:
I think that the final submission is 3.54 MB, which is roughly over 80% of the total.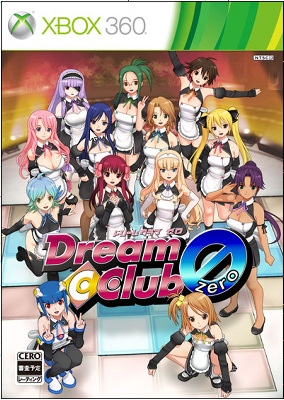 ◆ The situation of the trial

NGX:
After that, a second trial took place on November 12th. It seems to take a very long time until the judgment comes out, and even if you finally get a full charge it will probably be minus. It sent in bulk to the court from here and sent in August, the first trial is in October. It is an oral argument. At this point, since there was an objection from the other against the complaint from here, please just write a reply within one month, one trial ends in an average of three minutes. It seems that it ends with the exchange of such documents once a month for a while. Since it is civil, it seems that it is common that only lawyers attend each other, and I have only been going there for the first time, but since I have nothing to do, I will leave it to lawyers after that.

G:
I think it would be nice to have good results for those who write scenarios, but what happens after this?

NGX:
As a rule, after this round trip for a while, the court was probably going to issue a settlement recommendation. It will be over if we ride the settlement recommendation, and it will continue until judgment comes out if we do not get on. It seems that the period is one and a half to two years.

G:
Meanwhile, the game will be released as planned.

NGX:
I agree……. In the answer written by Tam Soft submitted to the court, it says: Defendant is Tam Soft, plaintiff is Team N.G.X. "Although the defendant admits that some of the scenarios created by the plaintiff have been modified and used, since the defendant has already paid half the price for this contract, it is natural that the defendant can use the plaintiff's scenario is there". This is pretty shocking, is not it? (Lol)

G:
I can use it if I pay half price (laugh)

NGX:
If this is a rule of society as a rule, saying "Please write from paying 100 yen," while saying, "I paid 50 yen so it's OK" is it? Besides, I'm talking about where I will choose. Tam Soft, for example, also pays once in November, so if you are using a scenario you delivered earlier, you still know, but I said "I am paying half price and it is natural that I can use it" It is because it is.

G:
The writings of the world will cry.

NGX:
"Paying a deposit is your own thing." Another thing is that we are delivering this scenario to our client, D3 Publisher, for Tamsoft. A good expression does not come up, but in the situation that D3 Publisher is also a victim.

G:
As a D3 Publisher, I have not contacted Team N.G.X in particular, so I do not know how the scenario delivered has been completed.

NGX:
I think that I do not grasp it. I have not confirmed it, so I do not know.

G:
If you do not understand it, as a D3 Publisher you use it as it is sent as a scenario is complete, right?

NGX:
If Tam Soft is a developer and it is also a publisher at the same time, it is a bit different that it will deliver such a gray thing as it is .... I wonder if I did not think about the future. Because we have delivered the creation that has conflict in copyright relations to other companies.

G:
If you think that it is only a story of the part of the contract, it also involves copyright.

NGX:
I agree. Since only one can be asserted in a trial, this time, "Please give me money" is our argument.

G:
New information is released on the game information site and the conversation scene is released, but is the content of this conversation made by Team N. G. X?

NGX:
Some confirmed that 100% scenario we created was used as it was. Well, I do not know yet what will happen from the "screen is under development" from the end. Also, since there was some information I did not know, such as the background outside the shop or the date line, I think that it was written afterwards. Also, regarding the event that mail arrives from a girl, since the recording is not relevant, it was supposed to be done in the vacant time after the rest, so it is not involved. It was quite early in the story, and it seems to be overflowing from 2.5 MB for the mail event if this character setting is set, so employees of Tam Soft say "I will do this part with our staff or do it at a different charge I think that I think that it will be whether you will be able to do it. " At this point, there is still a thought of an extra charge for the excess part. It is said that you were told that you can not pay quickly if you believe it.

G:
Although it seems that it is unbelievable to say that the first amount of money does not come out in the first place.

NGX:
It may be because it is a trial, but I am doing quite a lot of answers. For example, checking the scenario is clearly stipulated in the contract, "We will re-deliver it within 10 business days and determine the inspection." The place to write this is, contrary, unusual. Of course it is obligatory to check, but as I touched on this, the Tamsoft side is saying "It is the examination to see what the scenarios were all done mastering up" is not it? It means that there is no way to inspect it because it is not completed. I have not checked at the stage so far, but I am changing the case.

Well, I'm doing something like that, but it seems I'm wondering what I'm supposed to do, text to be released will be released.

G:
Is not there any way to stop releasing itself?

NGX:
I feel like asking what kind of awareness the D3 Publisher has, but it seems that it is not very good to contact a partner's nearby place during the trial. I do not feel like I knew it ... ....

G:
Since it is in trouble if it becomes "It was in fact a dispute at a trial" since launch.

NGX:
I wonder if it will be a bit more major once it appears on GIGAZINE.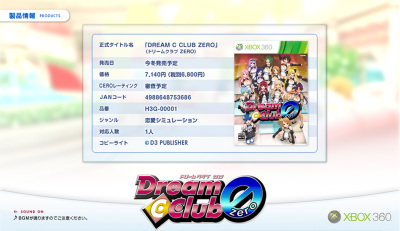 Current mind

G:
How about the current feelings?

NGX:
As a personal feeling, it is impossible to sell the pending scenario as it is. Whatever it is supposed to be all rewritten. As expected it is impossible to pry the speculation of Tam Soft, but probably the scenario was behind schedule, I guess it was all due to us whether the communication was stuck inside or not. It seems that the person of the director said that his work was delayed or the check was delayed, like "They were delayed". Well that is only an estimate.

People who had a hard tone of voice came on March 12th were a bit of a good person in charge of relations. I think that person was sure to have come to the conclusion of the story. I thought that the scenario was behind schedule for the other side, so it was a feeling that I was talking on the premise that I would come with a flat slender figure, but I just just went to a meeting. There, there was a misunderstanding of feeling somehow becoming emotional, as that person said that "Please give me money" from here without knowing the details of the situation, "It can not be paid" Maybe it was. If I explain this, I think that I can understand the circumstances around that ... .... Even though I thought like that, I do not understand why it was delivered to D3 Publisher at all.

G:
There is an example that the novel plagiarism was discontinued ... ....

NGX:
Well, just, Tam Soft's answer is an argument that "Rights are here", and this is where we are hit by the claim that "rights are still left".

G:
When asked "Why did you deliver to the D3 Publisher?", You will get the answer "Because the right is here".

NGX:
Yes. Just be there for me right now. At least when I asked the Small and Medium Business Administration Agency, the story that the right should be on Team N. G. X side is verbal in that situation, and the lawyer in charge is saying so. I think that it is illegal itself to assert that "rights are at us" at minimum. I will laugh when I lose quite well at trial.

G:
If you lose it with this, everyone who writes the sentence, not just the game industry, is in trouble.

NGX:
Because "It's increased in the middle, but I did not say anything, so you do not have to pay the money" because it goes 100%. I think that it is unavoidable to move at 100 KB, 200 KB by the limitation of the voice, and I will make use of a certain degree of flexibility, but against what I increased at this level, "I will not pay because you can not do well in the first place "And, once you get" It's free to use because you paid half the price, "you already have it.

G:
If I had thought about other industries, it was not anything else.

NGX:
Originally I was a freelance writer and I worked in a game magazine, but since I first wrote 3 pages and said "I made it to 7 pages after all", I submitted 7 pages, as I finished, I got 3 pages worth I was only paid ... because I had no idea what to do. Even if it says "You have increased pages without permission", the writer does not allocate pages, so you can not help it. I think that's the situation.

G:
I guess that's why you do not talk about it if it's so much content. If I did not listen to this matter, I ended up with "I got" Dream Club Zero "".

NGX:
We did not do it by yourself either. For example, if it says something like "I am going to trial now!" On the NGX website, it is not easy to laugh (laugh)

G:
I agree. Thank you for your interesting talk today.