"BIC camera .com" that was illegally used by a third party to resume today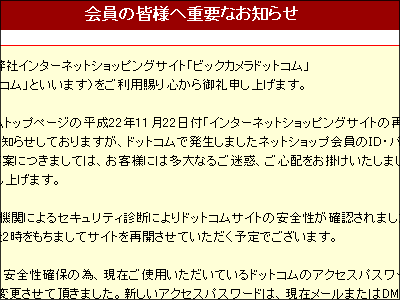 A third party illegally uses the user's ID and password,Bic camera official website "BIC camera .com" which had been closed since 24 o'clock on 13 November as possibility that customer information leaked outIt is revealed that it will resume from today.

Although the safety of the site has been confirmed, some functions are restricted as a provisional measure.

Details are as below.
【Bic Camera .com】 Important Notice to Members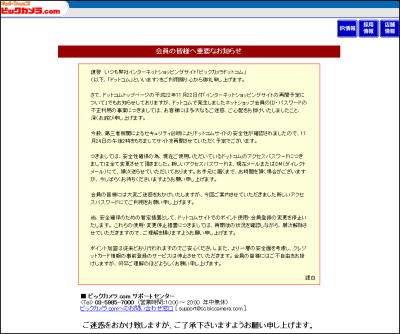 According to the official website of BIC camera "BIC camera .com", the security of the site was confirmed by security diagnosis by a third party organization, so it is said that the site will be restarted at 2 pm on November 24 .

And when resuming, it is said that all the passwords used by the user are changed for the sake of security, and the new password is sequentially shipping by current mail or DM (direct mail).

In addition, as a temporary measure for ensuring safety, the use of points and change of membership registration at "BIC camera .com" are stopped and it is scheduled to release them sequentially while confirming the situation after resumption, and further safety Considering the face, it is said that pre-registration service of credit card information will be stopped.

By the way, taking into consideration the influence of the site being closed, the BIC camera has a point expiration date for members who have point validity period from November 12, 2010 to December 31, 2010 as "2011 1 We are announcing that it will extend to 31 days a month.