Production ended digital tuner "PT 2" decided to reproduce, to start selling


Production ended at the seventh lot manufactured in JuneIt became three earth digital tuner for Earth soft PC "PT2It is revealed that it will be reproduced.

It seems that there are many users who are pleased with only the same model that gathered very high popularity because it can record up to 4 programs simultaneously for terrestrial digital broadcasting, BS digital broadcasting, 110 degree digital CS broadcasting.

Details are as below.
Akihabara's "March rabbitsAccording to the shop's official Twitter, it is planned to tell the details of the reproduction of "PT 2" soon.
Twitter / Mitsuki Rabbit: Earth Soft Company PT 2 Reproduction Details coming soon ...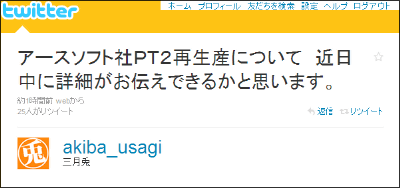 Regarding the reproduction of PT2,"The situation was moving faster"We are predicting that the arrival number of the primary lot will be reduced on above.
Twitter / Mitsuki rabbit: Although it is PT 2 reproduction, the number of arrival of the first lot is still small.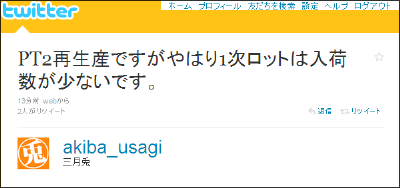 At the time of release600 people gathered at midnight in AkihabaraIn addition, a mysterious digital tuner that self-named "PT2 exceeds"DECULTURE PT 2 X 2」Was announced in April, postponed to deferIt will finally be released, but also due to malfunctioning immediate sale stopIt seems that PT2 is not only the main body but also something episode in the surroundings, but deciding to reproduce is as popular as that.