Nadashi Takeshi becomes Mazinger Z and shoots a rocket punch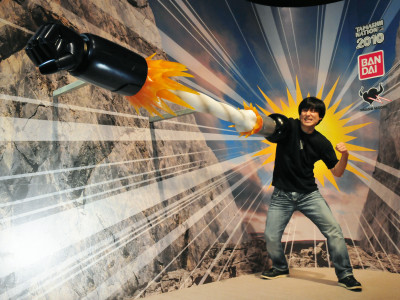 "TAMASII NATION 2010"It's not just a figure exhibition event, but there is also a touch & trie section, but this time it was particularly conspicuous" Mazinger Z experience corner ". This is a thing that makes me feel like being full of Mazinger Z and firing a rocket punch.

At the exhibition, as a special guest, Mr. Nagiru Tsutsugita appeared, and while playing the role of Kabuto Ko at Mazinger Z, he was releasing a punch with "Rocket paunch!" While doing a monster.

Rocket punch by Mr. Nadoshi & Bandai President Ueno from the following.

TAMASHII NATION 2010

AKIBA SQUARE's "TAMASII NATION 2010" special corner in the venue.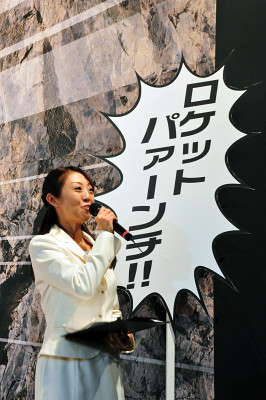 From now on Nagi Takeshi and Bandai's president Kazunori Ueno will shoot a rocket punch.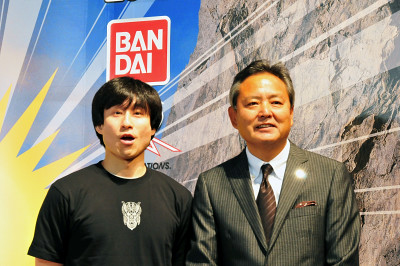 Ueno is the president who murmured as "being good, waist ..." while being filmed. This posture seems to come to the waist.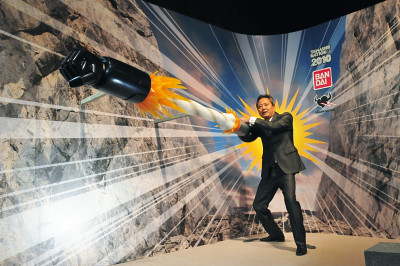 It's turn of Mr. Nadeshi. First of all I wore Mazinger 's arm.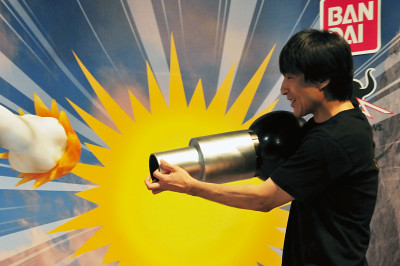 Rocket punch and docking.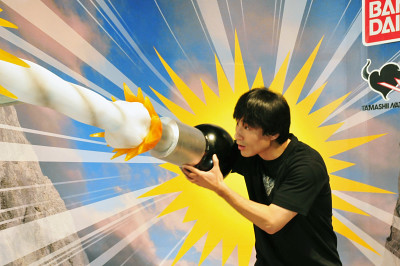 Somehow 'Iron cutter!' And Mr. Nodsa who shouts at the Kabuko baby style. Before this we were shouting "Rocket Paunching!" By the way, the iron cutter is a reinforced version of the rocket punch, with the blade popping out from the left and right of the arm.

YouTube - Nadesugi's "Iron cutter"


Expressed expression. This seems to be able to knock out machine beasts.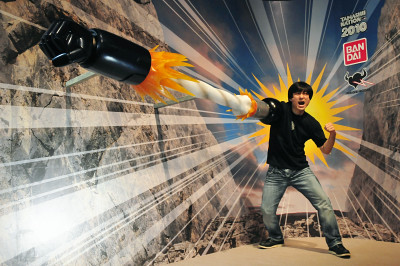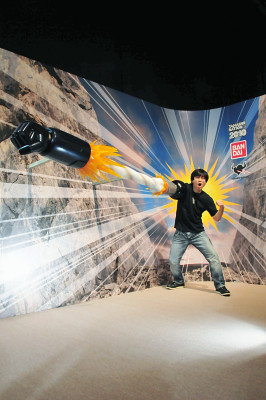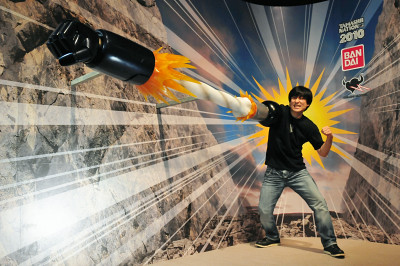 By the way, Mr. Nadoshi was broadcasting until August "Kamen Rider W"Acting as criminal Mikio Kano 's role. At the time of the reception, interviews were held lightly, touching on that.



Mr. Nadeda who answers questions by hand with Masked Rider W (Cyclone Joker).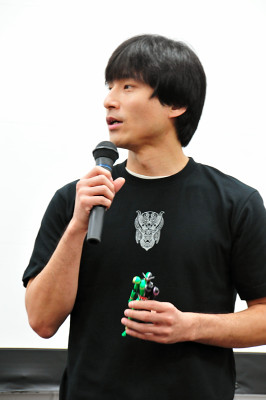 Q:
What did you think when you decided to appear on "Masked Rider W"?

Nagatsu:
I thought, "It's time to transform yourself at last." When I first heard that he was going to the Kamen Rider, he thought, "I am aged, but .... I thought that Toei was also supposed to play an Ala Ryder," but when I asked a lot it was a criminal offense. But I was delighted that being able to go out to the mask rider series.

Q:
There are also Mr. Fujioka Hiroshi who played a mask rider in the repertory of imitation.

Nagatsu:
After all because Kamen Rider 1 is a yearning for existence. I used to have a chance to talk to Mr. Fujioka before and I could have coffee because I got something to do (note: Mr. Fujioka is famous for coffee passage) When I think it is a figure, "I give you a figure of Kamen Rider I thought that it was "Mr. Fujioka's figure" (laugh)

Q:
Is there a memorable story in the shooting period of about one year?

Nagatsu:
He was always with Nakagawa Shingo kun who played his subordinate, but there was almost no turn for him ... ... It was said from the director, "You can have an ad lib" put in it, so I tried variously, It was splendidly cut in this volume. It was said on the spot "Doing more", so it seemed to cry when watching the on air (laugh) If it became a bonus picture of DVD, it seems not too (lol) more I think that I wanted, I guess.

Q:
By the way, are there any super alloys that you like since childhood?

Nagatsu:
I like Mazinger Z and when I was a child I cried my mother and bought it. As a super robot, I was watching Con · Butler V, Reidine, Ideon, Zanbot, etc., and each time they had bought a toy ... ... it is Mazinger as well. When we were around, my arms just moved up and down, or rocket punches could be put out, but recent super alloys are so surprised that they move so much.

Masuda is surprised at the evolution of Mazinger.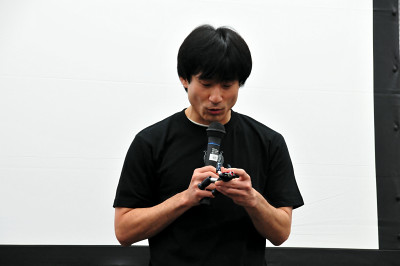 Q:
How was it after seeing the venue?

Nagatsu:
It is not only to please children but also to be enjoyed by adults, I thought that the toys are also growing. Have you come so far?

Q:
Did you have a corner you were interested in?

Nagatsu:
It is a mask rider. When I was broadcasting "W", the children's performers were looking closely and asked me to "get me a transformation belt", but the belt was not sold too much. I will give you anything ... ... I was told that it ended. Because I was told "I brought it!" At the final round launch, I thought that I could finally get it, and that it was Gaire memory of Terobi-kun's appendix (laugh) W was selling to selling anyway and "Nadokkin It is impressive that you are told that you are happy, "I do not have it" (laugh) I am happy as it becomes a popular rider.

"I am a Showa superalloy generation, but as the super alloy has also evolved rapidly, I think that those who visited can enjoy SHINKA."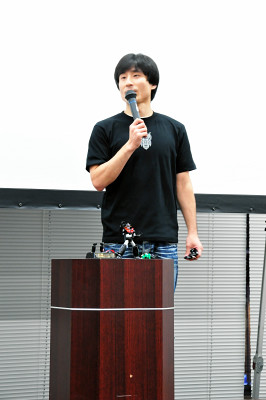 By all means, please shout at the venue called "Rocket paunch!" In the style of Kabuto Ko.