World-class performance and about 14.5 hours driving are realized, "Let'snote" comes in autumn and winter model of 2010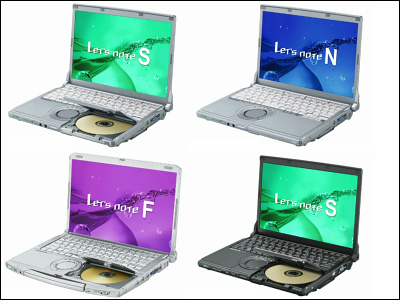 Panasonic's laptop boasts strong popularity among mobile users due to its robustness and lightness, and its long battery lifeLet'snoteThe autumn / winter model of 2010 was announced.

In addition to a very long drive time of up to about 14.5 hours, it is a model realizing world-class performance.

Details are as below.
Mobile Laptop Let'snote Fall & Winter Model Release | Press Release | News | Panasonic Company Information | Panasonic

According to this release, Panasonic has been offering the Fall 2010 Fall / Winter 2010 model of the mobile laptop computer "Let'snote" known for its robustness such as "76 cm motion drop test", "100 kg class Tough body" and " It seems to release.

Three models of "CF-F9", "CF-S9" and "CF-N9" are released, and the latest standard voltage version CPU "Intel which drives at maximum 3.20 GHz when using" Intel Turbo Boost Technology " Core i 5 560 M vPro processor (2.66 GHz) "installed.

By improving the basic performance, processing speed has improved by about 1.5 times compared to the 2009 winter model "CF-S8", about 5.5 times faster than the summer 2007 "CF-W5" model. As a result, "CF - S 9" and "CF - N 9" are the world 's top performances in notebook PCs equipped with 12.1 - inch or less LCD display.

The difference between each model is like this. By the way, both models support 4 GB (2 GB × 2, up to 6 GB when adding), 500 GB HDD capacity, high speed mobile communication "WiMAX".




"CF-S9" series. Coloring is a grateful metal.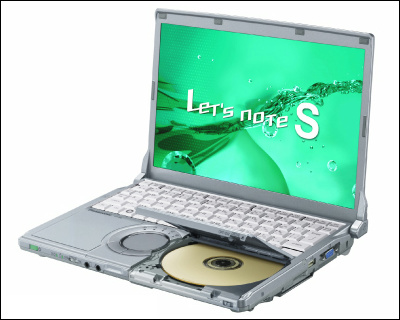 Jet black.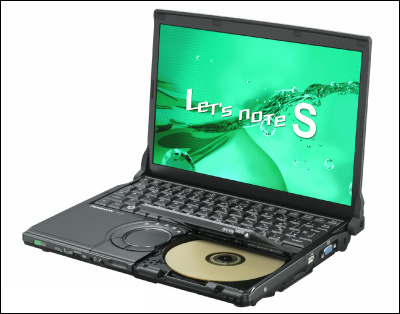 "CF-N9" series with no optical drive installed. Grayish metal coloring.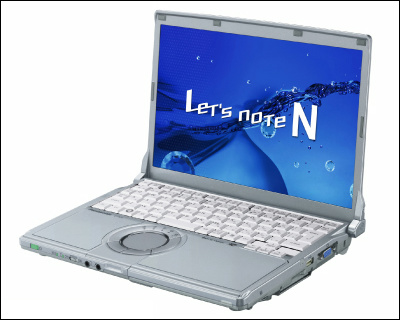 "CF - F09" series with handles. Silver feather coloring.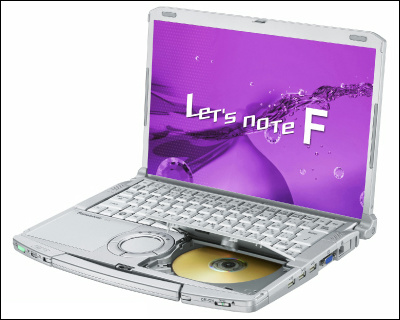 In addition, Panasonic's direct sales site "Myrets Club"Premium Edition" is scheduled to be released from September 11, the model will be driven at a maximum of 3.46 GHz when using "Intel Turbo Boost Technology", the latest high-performance standard voltage version than the storefront model CPU "Intel Core i7-640 M vPro processor (2.80 GHz)", 640 GB model HDD, Bluetooth and so on are provided.

"Premium edition" of "Limited club limited" is like this. Panasonic official direct sales site opening of new color top plate "Inner Lucent (S9 / N9 series premium edition exclusive, tax included 12,000 yen)" commemorating the 10th anniversary will be sold for only 100 units. In addition to WiMAX, it is also possible to select a wireless WAN using the FOMA line of NTT DoCoMo or 256 GB of SSD instead of HDD.




Mobile laptop computer Let'snote Limited release of the Mairets Club winter model | Press Releases | News | Panasonic Company Information | Panasonic

Regrettable that the "R series" with a reputation for compactness is not available on the autumn / winter model,The winter 2009 model "CF-S8" which realized driving for about 16 hoursIn spite of realizing performance improvement of about 1.5 times compared with the "S9" series which can be driven for about 14.5 hours, the "S9" series of this time can be said that the balance is a very good model.