That long-lived drama "Wataru ga Okonomi only" ends in 20 years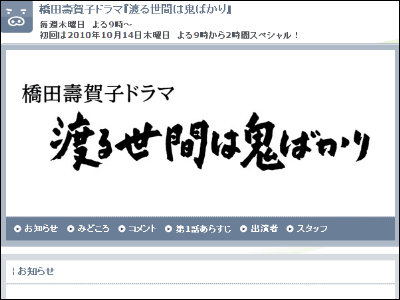 NHK's morning continuous television novel that was a big hit not only in Japan but also abroadOshin"Long-term home drama by script writer Hitoshi Shigako also known to work on"The world that is crossed is only demonsFinally it is finally finished.

Since it is a drama that has been produced and broadcasted every other year in TBS series since 1990, even those who say "I have heard the title even if I have not seen it" can have a considerable number of similar works However, it will be the curtain of 20 years history.

Details are as below.
"Cross over the world is the only oni" starts on the final series from October to the end of next year - MSN Sankei News

Takumi TBS's specialty drama in the 20th year 10th story - Curtain entertainment news: nikkansports.com

TBS 'Wataru Saori' to the end In the coming year of 20 years next year - 47 NEWS (Yoana News)

According to reports by Sankei Shimbun, Daily Sports Company, and Kyodo News Agency, it is said that the TBS series popular drama "Wataru no Kiseki only" will end with the 10th series starting on October 14 .

It was about two weeks ago that the end was decided, the stakeholders came to the 20th anniversary from the start of 1990, that they are the 10th series, that the number of broadcasts reaches 500 times by the end of the series, etc. "To judge that it is going to set a break here," the performers said that they wanted to sharpen beautifully while they are in good health.

According to the comment of Mr. Hashida Hashida posted on the official website below, the 10th series will be contents in which information on IT, medical problems, messages for women and work etc. are interwoven That's right.

TBS "Hashida Shigako drama" Wataru is a demon only "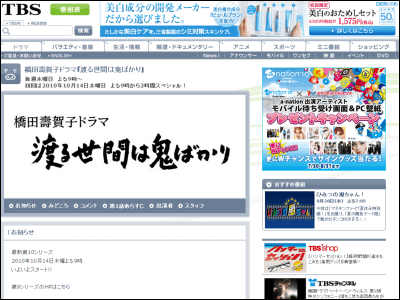 On August 19th"Wednesday Theater 9" on TV Tokyo, which draws the flow of "Thursday Movie Theater" with a history of more than 40 years will end in SeptemberAlthough it became clear, is it such a feeling that it feels as if the longevity programs are going to end one after another ... Is it due to mind?
in Note, Posted by darkhorse_log