We went to Kyoto to win all kinds of "Burger Burger" such as "Mr. Zangi Burger", "Akuta Noodle Bottom Burger" and "Pizza Dog Goya of the Island Vegetables"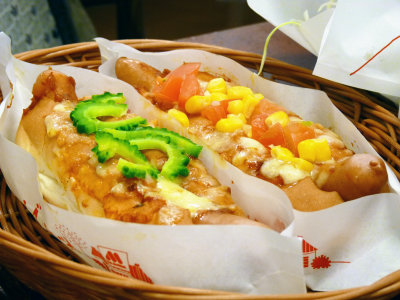 Moss burger is always for a coming out new menu with a strange spirit, the extreme shake of both polarities when it hits greatly when it falls out greatly is intensely, and as for "this local burger" of this time it is "Zangi burger" "Pork saute burger Ginger flavor "" Iberico pork munch cut burger "" Akuta fresh meat burger "" Pizza dog Goya of the island vegetables "" Pizza dog tomato & corn of the island vegetables "a spectacular lineup.

If it is originally lots ofMr. Donut's Regional Limited JapaforuAs you can see, we can not win all kinds unless we go to Mos Burger in various parts of Japan, but in TokyoOsaki cafe storeAnd Kyoto PrefectureShijo Kawaramachi branchWe are planning to conduct preliminary sales that can eat all types at once.

That's why I went to Mos Burger Shijo Kawaramachi shop because I was overwhelmingly reasonable to go to Kyoto rather than visiting all over Japan. All types of tasting review results are from the following.
(PDF) Cooperation and collaboration in regional FC stores and product planning, commercialization utilizing ideas "Local Burger" to be released limitedly in 5 regions nationwide

The local burger of this time is divided into five regions nationwide from August 24, 2010 to mid-October 2010. It is a regional limited release that made use of the features of each region, actively promoting local ingredients and cooking law Intentionally introduced hamburgers and pizza dogs will be deployed by 5 areas divided into the winds "Hokkaido, Tohoku, Niigata", "Kanto / Koshin / Shizuoka", "Chukyo, Hokuriku, Kansai", "China, Shikoku, Kyushu" is. That means that we can not taste all local burgers unless we travel throughout Japan.

Even without doing a round of Japan, Tokyo'sOsaki cafe storeAnd Kyoto PrefectureShijo Kawaramachi branchWe are planning to sell all types of food in advance for only two days on Thursday, August 19 (Friday) and Friday the 20th (Friday), and in advance of that it will be on the 17th (Tuesday) and 18th (Wednesday) Prior sale will be held for 2 days only for members of mobile website.

I arrived at Mos Burger Shijo Kawaramachi shop like this. When I arrived, the clerk stood at the shop front, I was surprised to appeal to the shop front. Moreover, we are linking the limited time period of Mobile Membership and the other periods, and we will appeal from today until 20th (Fri) "Moss Japan nationwide tour of the country".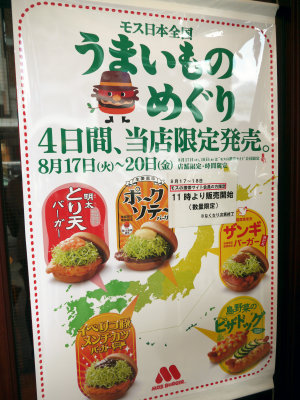 It seems to be sold for all dates from 11: 00-15: 00. These menus are to be able to taste at the so-called lunch time.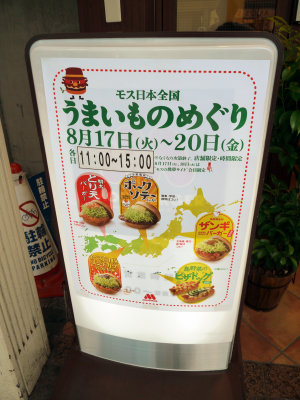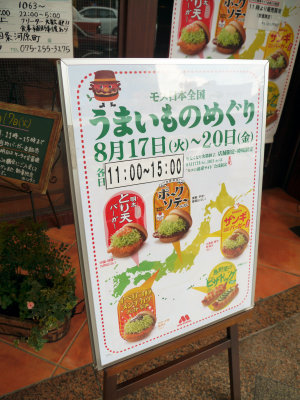 Although saying that it is limited to mobile members, if you read the QR code on the spot and become a member, it seems that you can get the "good way round" which is necessary for ordering the local menu right away, so it is somewhat higher than the normal advance release date It takes time and effort but you can eat local burger if you visit.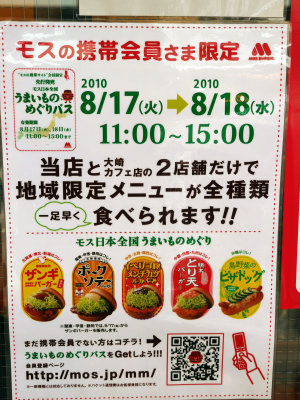 I thought that if I had to become a mobile member in advance, I made various preparations, so I got completely shoulder watermarks ... ... It's a little mild. Even the handwritten letters written by Moss' s clerk filled with maggots are hateful ...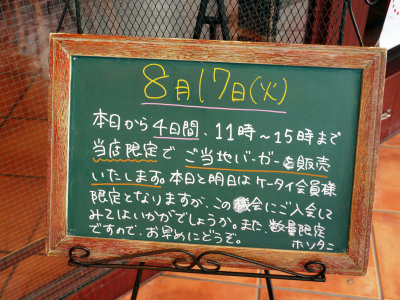 Even if I say such a thing, I will not start so I will enter the store. We will reserve seats and order.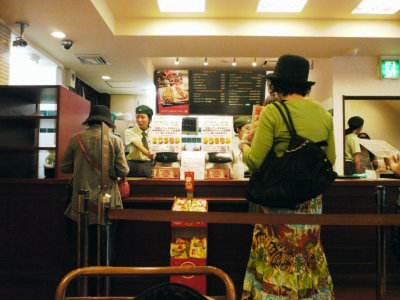 The table next to the seated seat has a stand-by seat for "reservation seat". Reserve the seat with Mos Burger is quite fresh. Because it saw for the first time, is it only service of Shijo Kawaramachi shop?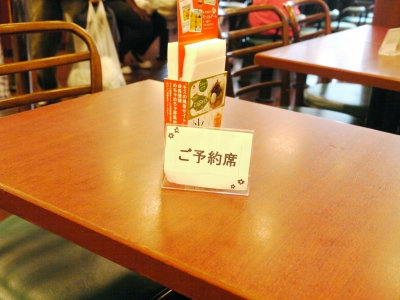 There was a perfect pop before the cash register. If you look at this just before ordering, you may want to eat local burger certainly change your mind.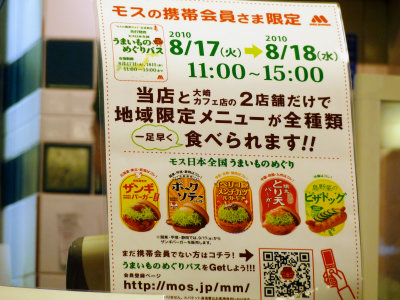 In the meantime, all the burger has been brought in at once.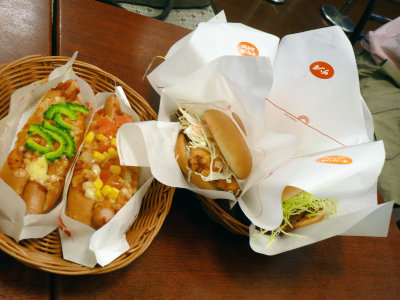 It will be released in the Hokkaido, Tohoku and Niigata areas (Hokkaido, Aomori, Akita, Yamagata, Iwate, Miyagi, Fukushima, Niigata), fried chicken of Hokkaido specialty "Zangi"Zangi Burger" (340 yen including tax) combined sauce and mayonnaise based sauce that combined sauce and Sendai miso etc.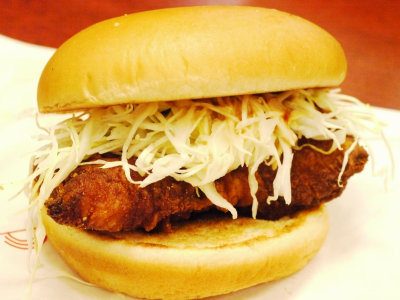 Zangi is slender and exists across the buns, so it seems that a part of only the buns will occur somewhere. It might be a luxury, but if you use meat with a little more area, you can eat anywhere from meat! I was happy with the feeling.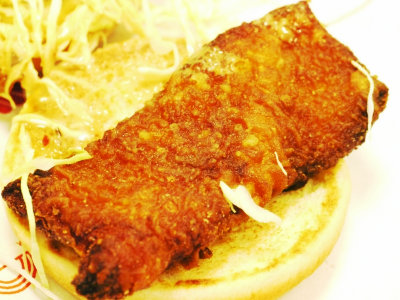 Plenty of cabbage. Special made mayonnaise is painted in the center.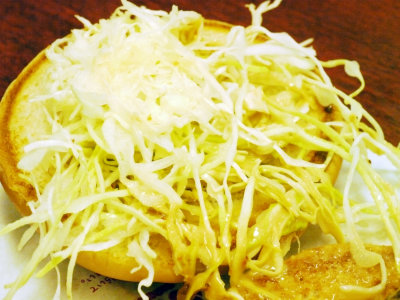 When I harvested it pearly, the clothing of XanGi made a sound crisp. The clothing is crispy while the inside is juicy. Garlic and soy sauce are soaked firmly in the clothes, so the response to eating is perfect, "It's Truly Moss Burger!" It's a taste. It was enough to think that this Zangi stand alone sells as piece like Moschikin.



Next, the "Pork saute burger ginger flavor" which imaged old "Western food store in Tokyo downtown" in the old days, Kanto · Koshin · Shizuoka area (Gunma, Tochigi, Ibaraki, Saitama, Tokyo, Chiba, Kanagawa, Yamanashi, Nagano, Shizuoka) (360 yen including tax). Only this product is sold until the middle of September, and after it is completed, "Zangi burger" in Hokkaido, Tohoku and Niigata area will be released.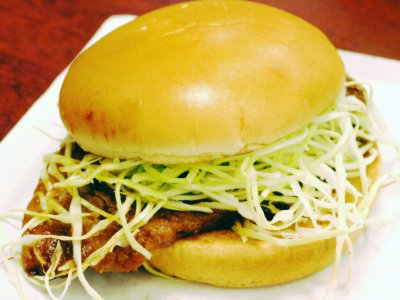 Big pork loin is on board.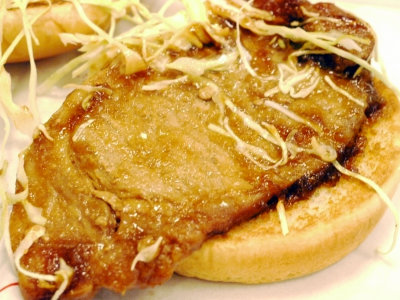 Instead of having a large area, the thickness of the meat is rather thin and soft, and as it gets caught a little bit, the tasty soy sauce flavor and spicy ginger are felt firmly, it is an orthodox ginger grilling taste. It was quality enough to think that it could be a set meal with this with rice.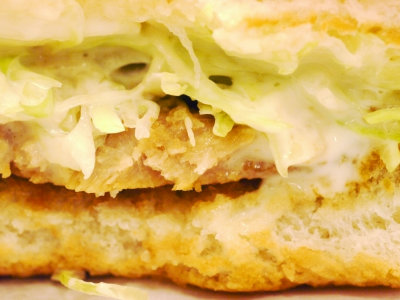 The Chukyo, Hokuriku, and Kansai areas (Toyama, Ishikawa, Fukui, Gifu, Aichi, Shiga, Kyoto, Mie, Nara, Osaka, Wakayama, Hyogo) are among the best Spanish luxury foods - Iberico swine "Iberico pig Menchkatsu Burger" (350 yen including tax) sandwiched between used munch cutlets. It looks delicious, but it seems that this burger is solely called "local" feeling .... Did people in charge of development in this area judge that "Iberian pigs should match the mouth of local people!"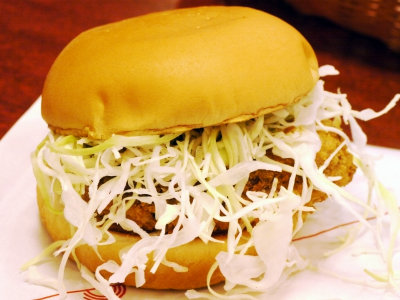 The clothing of the peppermint cutlet peeping in between the caught light cabbage is flesh color.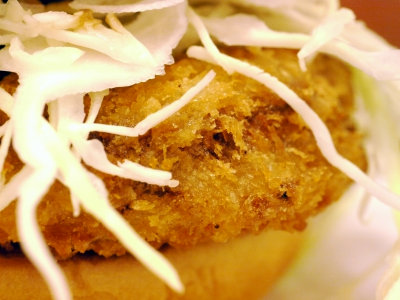 Men's cutlet of almost the same size as the buns.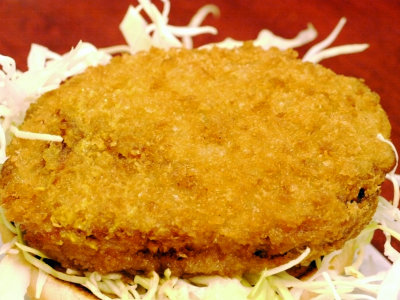 I strongly feel the taste of the moss's original sweet and sour Worcester sauce, but as it is plenty of cabbage, it was just right balance. The minced meat minced meat has rough grains and spices are effective and it is certainly different from ordinary pigs, but since there is no characteristic other than that, it is felt richness unique to moss I regret not having it. If it is completed, thick clothing is deeply fried and tasty, but as you get cold you will lose crunchy crisp, so it is good to eat snack at a stretch.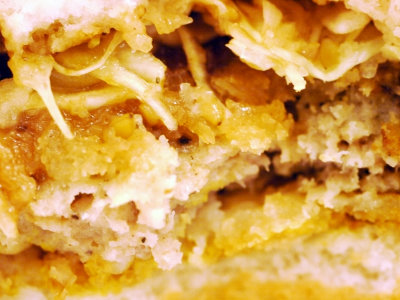 The Tottori, Shimane, Kyushu area (Tottori, Shimane, Okayama, Hiroshima, Yamaguchi, Tokushima, Kagawa, Ehime, Kochi, Fukuoka, Saga, Nagasaki, Kumamoto, Oita, Miyazaki, Kagoshima) "Akita funeral eatery burger" that passed through to (340 yen including tax)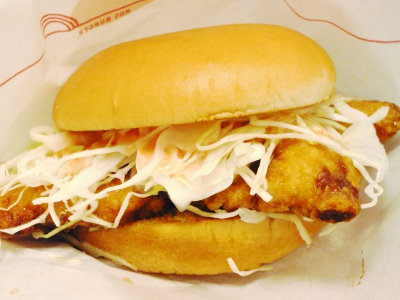 Because the pink vintage sauce is plentifully painted, it feels like cabbage is glued.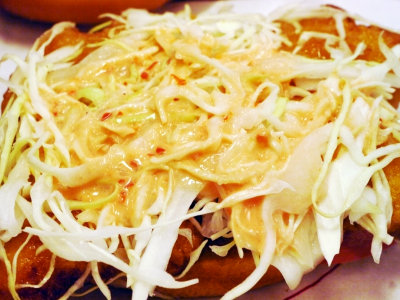 When peeling off the cabbage layer, the tempura used a chicken breast meat. It is big enough to protrude from both ends of the buns.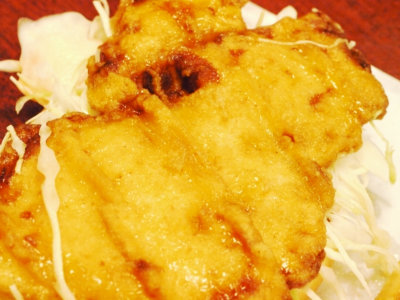 Because it is caught after frying fried fish paste, it has a glossy a bit.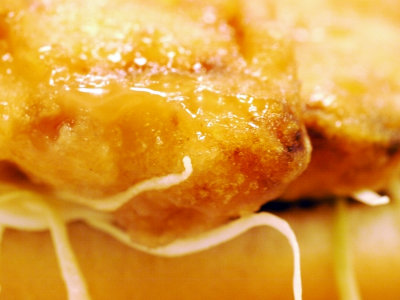 Although Berger's naming has released the most intensive impact, I was hoping for it, but I did not taste the noodles especially from the noodle sauce that was riding abundantly so much, and the tempura was a big texture such as chicken nugget. It is regrettable that the flavor of Tsutsuyu, which passed through the top of the sky, was not known unless you read the explanation of the item in advance, and there was not the personality I expected. However, since Tegeru is so large as to surpass my mind, because I am hungry, I want a volume anyway! It is perfect when you say.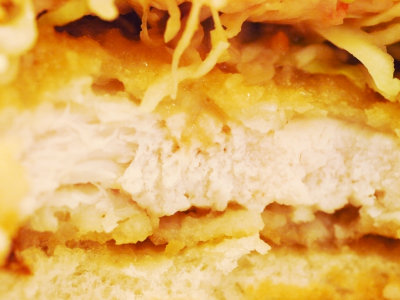 For Okinawa area only, pizza dogs are sold, not burger. "Pizza Dogg Goya of Island Vegetable" (320 yen tax-included, left in the picture) and a pizza sauce made from Okinawa Prefecture materials such as islands and pineapple and other ingredients added to the pizza sauce, and "Pizza Dog of Island Vegetables with Tomato and Corn Tomato & Corn "(320 yen including tax, photo right)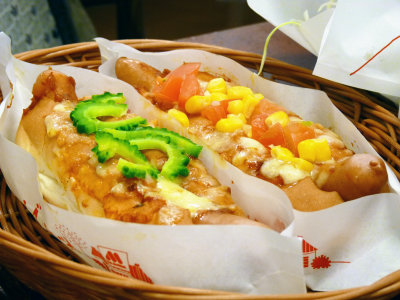 Firstly from "Island Pizza Dog Goya". The green of the goya is vividly eye-catching.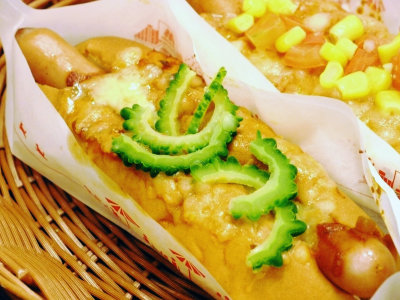 It is a bitter bitter ... ... but it is a goya who was afraid of ... ... the feeling of having eaten only the cucumber skin, with the bitterness of eating shoulder watermarks. However, because the taste as a pizza dog is complete, Goya has a strong sense of attachment, "I thought that it was okay not to put on a goya separately ... ..." I thought.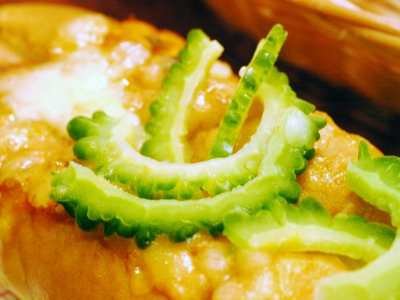 Here is a tomato and a cone cut in a dice shape, and as a structureNan TacosIt is somewhat similar to.



Since there is no habit like a bitter gourd which you ate earlier, you can taste the pizza sauce more directly. I had anticipated a source with quite a bit from the previous information that there are islands and pines, but in reality it is refreshing taste of sweetness and sourness in harmony, the oiliness of cheese and sausage It was easier to eat pearly even in the summer. There is no unusualness unique to local burger, but it is a taste that you can eat with confidence.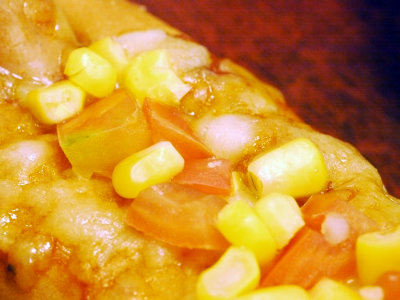 There were a lot of men focused on the quality of the meat that was sandwiched, and there was solid feeling such as eating response and rich taste, so it was a satisfactory lineup when looking as a whole. Because we can compare and eat local burgers in 5 areas nationwide only between 18th and 20th, people who live in the vicinity of the store or company have a little lunch time and eat It might be a good idea to try the nationwide parade of the country.