We ate a rare meat at the Izakaya "Baishuku Sakebo", including Todo sashimi and kangaroo steak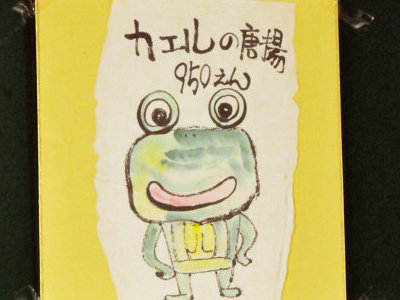 At a pub in Osaka · Shijonago "Bokuzukura"I have been eating Tang Dynasty of WuparlooperHowever, since the unusual food ingredients had been line-up all along, we have ordered and ordered all the way.

Todo, kangaroos, crocodiles, frogs etc. We will send out rare animals as sashimi and steak. Since these are judged to be in a state that the original form is unknown, there are many things that can not be distinguished from beef, chicken meat, fish meat etc. unless told, but the taste was unique to each.

Details are as below. There is a kitchen in the center of the store, "Treasure Snow Bow" has a structure surrounded by the counter. The clerk was friendly and friendly, and although it was the first time she went to the store for the first time, he was encouraged to sing the karaoke installed in the shop, and it was at home.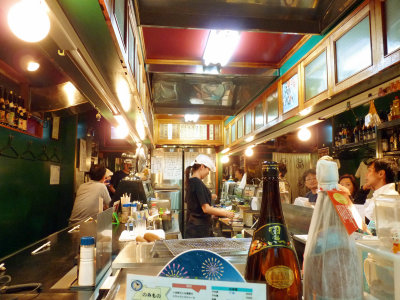 Salts of various production areas were placed in front of the seat where I just sat. It is pretty stuck, such as choosing which salt to use by ingredients.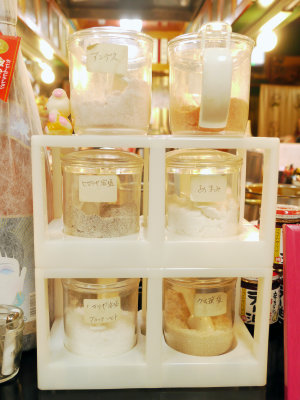 Black pepper also uses the hall 's on the spot. The rabbit's grinder is cute.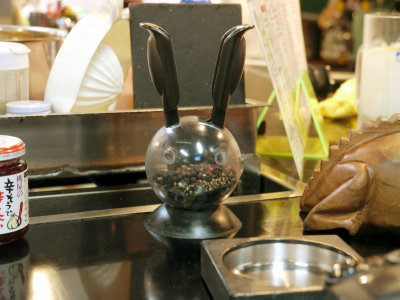 Alcohol is on the shelf attached to the wall. Bottle keeping is also possible.



I visited the shop on recording of TV,Baroness BaronThe sign of it was also decorated. According to the shop's owner, the baron baron is said to have become a fighting fight by which one eats woofer rollers.



What I used for chopsticks was a real peanut when I looked closely. This can also be eaten polypoly as a snack.



First of all, the crocodile sashimi (1200 yen)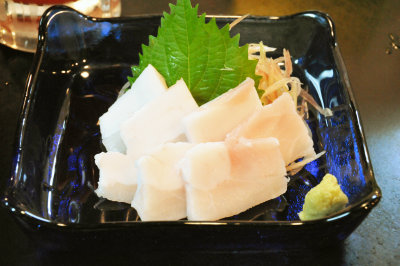 It is divided into white and slightly crispy parts, and a slightly pink soft part. It is a strange feeling that the texture is different for each part, but gradually blend in while you are gathering, the sweetness of the meat expands all the mouth. It is slightly fancy than that although it is the condition of fat riding that resembles fungus' sashimi. There is no strange smell and it can be eaten without problems at all.



Next, crocodile deep-fried (750 yen)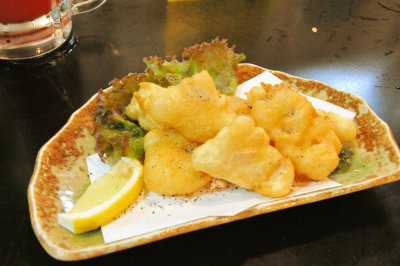 I felt like seeing chicken nugget.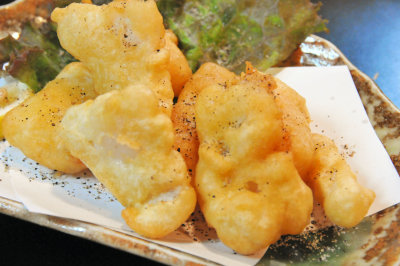 The section looks something like this. Softer than chicken meat softly, personally I prefer taste better than sashimi. Spicy flavor of salt and pepper goes well with crocodile.



Horse mane sashimi (1200 yen). There are many shops that put out horse-sticks, but the place where the mane is growing is unusual. When feeling crispy crunch and feeling, the feeling that fat gradually blurs out gradually. It was such a delicious taste as crispy taste, which was quite tasty.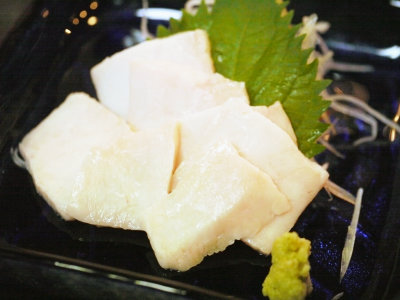 Frog chilling (950 yen)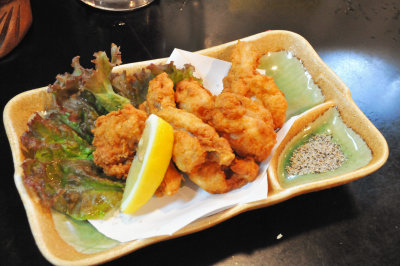 Because it is cooked in a state separated for each part, it seems like an ordinary chicken tangle at first glance.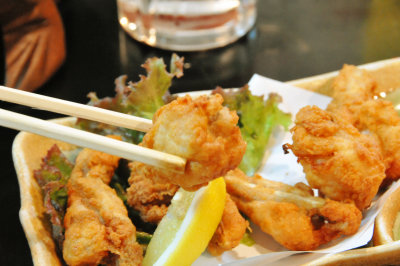 Although the dish which came out was not particularly resistant, the illustration of the poster on the wall was cute and it made me rather complex.



When I tried it, there was grease on the surface of the meat, there was somewhat slimy in the texture. There was a part close to chicken, but it is felt that it is different from it. For those who are resistant to such delicacies, it may be a somewhat harsh battle for those who care about the differences with chicken, but in general it is a taste and texture similar to chicken, so whether you care about that I think that the evaluation changes with food.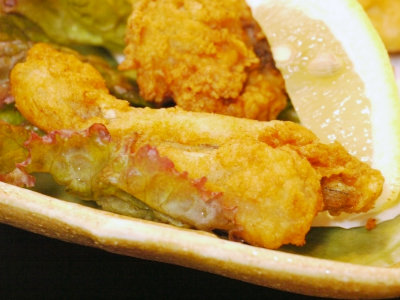 Todo sashimi (1200 yen)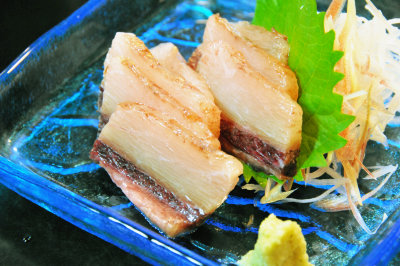 It is also apparent to the extent that fat is on board, but if you say it, it tastes heavy and heavy fat more than imagined. The greasiness as when eating beef with sashimi seems to be getting more momentum, and personally it was a little hard ... ....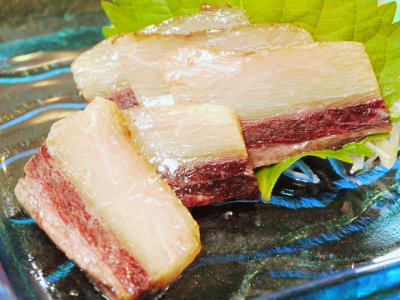 Todo steak (750 yen)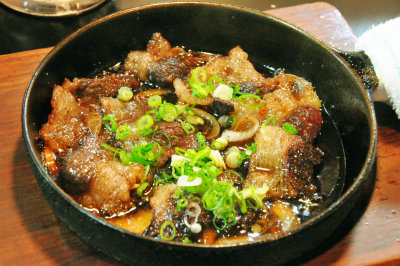 When I had eaten with sashimi before, my fat was burned down properly and it felt tight and my eating feeling made me feel like a whale. In addition, because the taste of sweet sauce is tightly attached, the eating easiness of the steak is above. It was this Todo that the shop man taught in advance that it is the most habitable ingredient I ordered, but I told you that the habit liked it rather, and it is sure to bring Tod Some customers are eating. It is pretty personal taste, so it may be adventurous to challenge and explore the new food strike zone.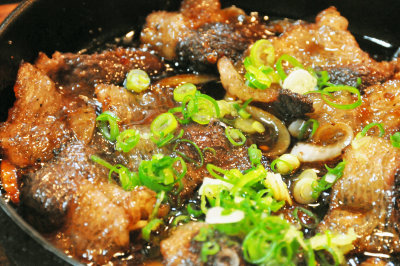 Ostrich Sashimi (1200 yen)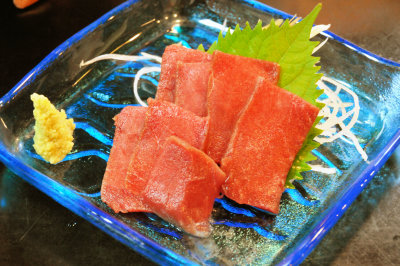 It looks just like a tuna fish, but it tastes similar to beef's lean rather than eating, although it is the same bird, its taste is completely different from chicken. Somewhat muscular texture, as the image looks like. Although it does not feel the smell of beasts, there is obviously an eating response rather than a raw fish.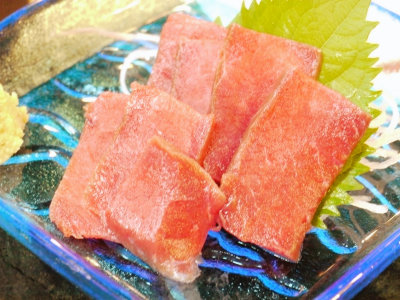 As I baked something in the kitchen, I asked what it was, and that was the meat of an ostrich I asked for. I burn hard through the grill.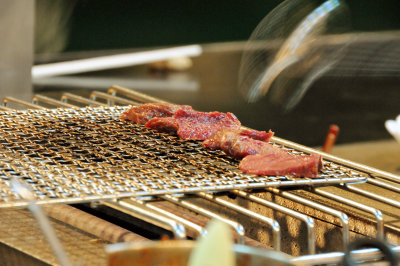 Ostrich baking (750 yen)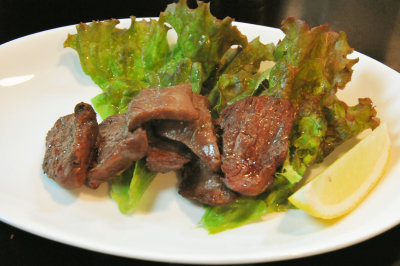 I feel that the meat has been resilient as it is baked. It is comparatively refreshing taste and it seems that it may be easier for people who are not good at lean or chicken skin because they are muscular. Plump chews remind the fresh lever, and bloodyness is easier to eat as it is being held down by the lever.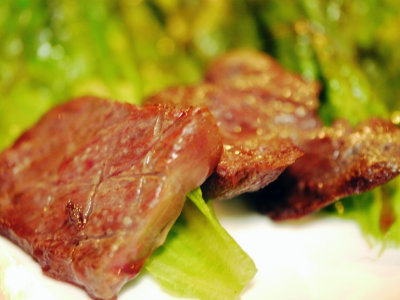 Kangaroo grill (750 yen)



This time I asked the kangaroo yaki that the highest evaluation in the editorial department was high. Although it is moderately chewy, it is not hard enough to chew, the meat's taste overflows every time it blows, it seems that he is eating higher calorie with more lean body. Still it was not more persistent than the fat of the cow, it was exquisite enough to think that it would be good to put an Aussie Kangaroo that is not an Aussie Beef in the supermarket.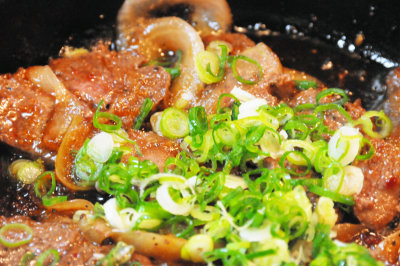 Only sashimi (1200 yen)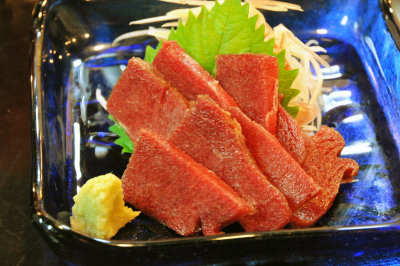 It is softer than I thought, because sashi is evenly distributed throughout my body. It looks like beef, but it is more wild flavor than that. Although it is possible to say to any food material that there is no smell even if you eat it with sashimi, it seems that it has a firm taste because it uses so much fresh one.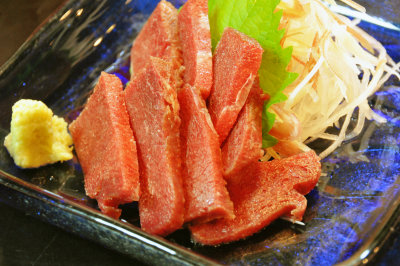 "

I ate a rare meat a day, so from here you can order freely. This menu has no special animal meat, it is a common menu of so-called pleasant izakaya.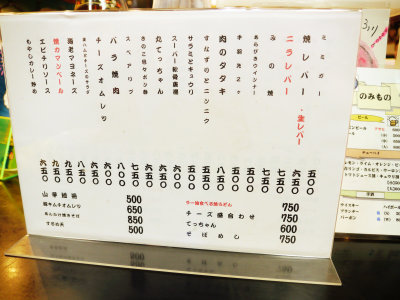 Looking at the back side, there are menus that are too bothering that "skunker bonito to eat". I missed the moment I found it and ordered it quickly.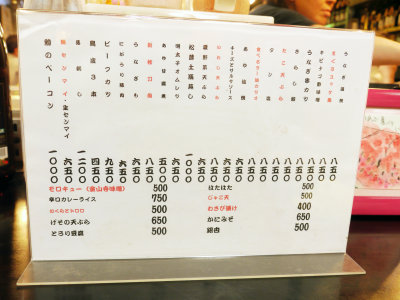 I did not notice because I was distracted by the delicacies menu including the warp of the central wooper, but in addition there are written that the menu seems to be delicious as usual.



First of all, this is raw lean sashimi (650 yen). It is very fresh, so there is no rough texture on the tongue with a plump texture. The seasoning of sesame oil and salt was not too strong too, which complemented the flavor of the liver. This is exquisite.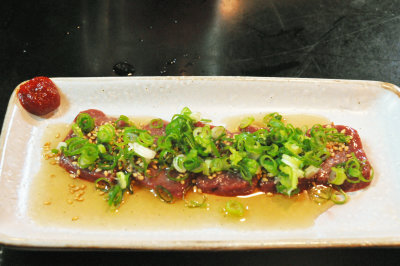 Dry curry rice (750 yen) is the color of household roux, but it was quite hot and the editing staff who ate it was eating the sweat.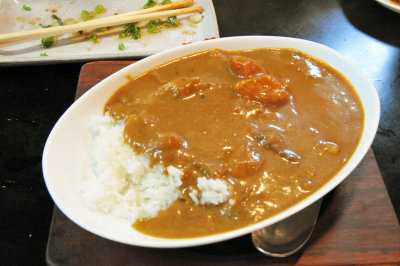 Fragrance of garlic. Although it is cut thinly, the texture made hokuhoku is felt enough, it has become like feeling of potato. Since clothes are deep-fried, it is rich in texture, and for one who likes garlic is irresistible dish.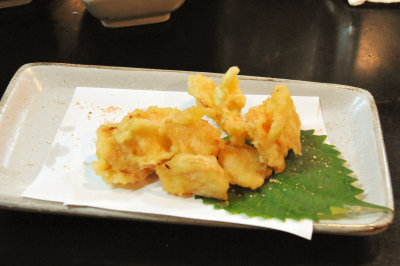 Mushrooms Various Ponzu (650 yen) is spiritually introducing a strong aroma of strong mushrooms, and the soup stock is very delicious. Mushrooms are just good to eat even if you put them on ponzu.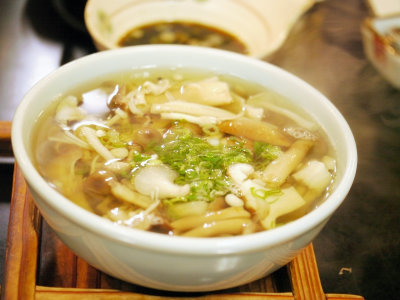 Eat rice oil bonito (850 yen)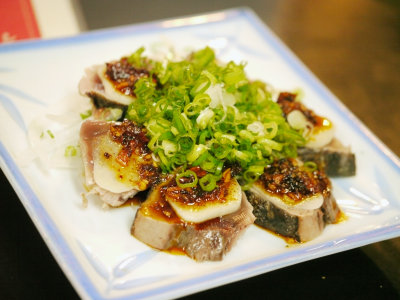 Luster oil and plenty of green onion, plus a slice of raw garlic is a bit strange dish. Besides, this eatable rice oil is homemade, and although the flavor was quite similar to that of Momoya, it was slightly spicy and seasoned, and it was crispy and very delicious. Although skipjack's Tataki often eats grated garlic and it is eaten, the oil that you eat as an extension of the skipjack is also quite ants as a condiment.



This is a king of chicken, but from the flow so far it seems like meat of some rare creatures, I can not see it.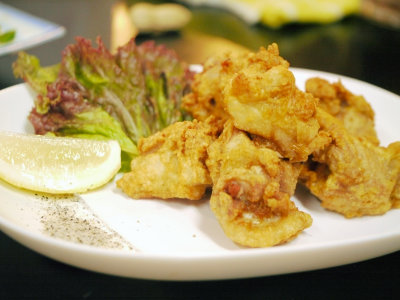 Ayu salt-baked goods (650 yen) comes out in a state that you salt well to a rather large ayu. It also was accompanied by fresh vinegar, and it was of a volume that you can be satisfied with when you want to eat river fish.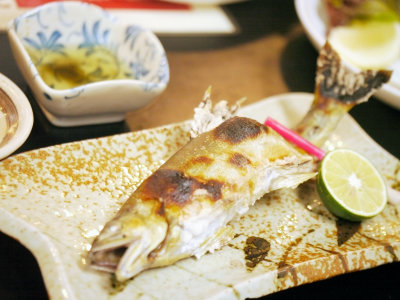 It was very impressive that I was obsessed and obsessed with all the dishes without relying on the topicality of unusual ingredients such as Todo and Kangaroo. When I started my shop, I heard the episode that it raise the taste so as not to lose to the late shop because there was only this "Baishukako" in front of Shijozaki station so that the reason for that story appeared I felt that.

No matter what you eat, there is no losing, the atmosphere inside the shop is warm, it is a nice shop where you want to go if you are in the neighborhood normally, so try to challenge rare ingredients, perfect for drinking slowly with friends and family It seems to be said that it is a shop of.