Good news for e-book self-catering school, service to restore sharpness of blade of cutting machine started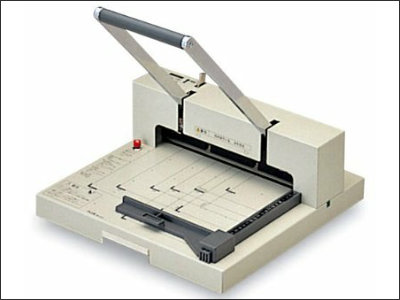 Starting with Apple's iPad and others, although it is an e-book that has begun to rise in Japan, a service to restore the sharpness of cutting blades has been started for users who cut books of their own and "self-cook" e-books It was.

Although it seems that it seems quite a niche service, it seems to be a reassuring ally for users who want to self-cook Gangan.

Details are as below.
According to a press release sent to the editorial department, a small brook cutter in Shibuya-ku, Tokyo is a recent e-book boom, in response to the increasing number of users browsing books on iPad etc. by scanning books, It seems that we started a service to revive sharpness of cutting blades for users who "cook" e-books.

This service is used to cut books and magazines in the process of e-book conversion, cutting blades hitting the staples of the stapler and the sharpness of the blades which sharpness was cut off by cutting many books into 7 tons of large-sized business grade polishing machine It is to restore by grinding with using, optimizing the angle of incidence of the blade, tuning it so that it can be cut more smoothly and to sharpen the sharpness.

The working image looks something like this. Although the delivery date seems to change depending on the inventory situation of the blade · the congestion situation of the work, it is said that it takes 13 days at the shortest to ship the next day of arrival.




The fee you care about is 9900 yen, the target cutting machine is PLUS PK - 513, PLUS PK - 513 L, PK - 513 H. Options fee, such as blade replacement work which requires some special tools, and shipping fee when returning to the user is free. In addition, we are planning to develop new services for users who utilize cutting machine in the future.

Ogawa cutting official official page is from the following.

PK-513 (L) Cutting machine such as cutting blade Sharpness restoration service Ogawa cutting blade