That "2 thousand yen bill" has already been discontinued, almost no circulation to the stock of stock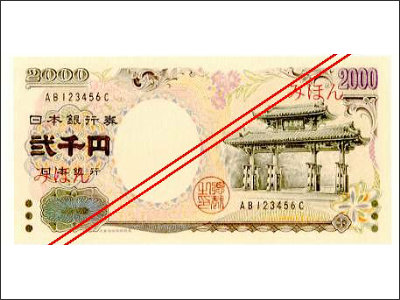 Published for the first time in 2000 (Heisei 2000), the fact that it is the first "2" currency after the war and that Okinawa's guardian gate is designed attracted a lot of attentionTwo thousand yen billHowever, as of the 10th anniversary of the issue, it has already been discontinued, and it became clear that it became a mountain of stock with little circulation.

Details are as below.
10 years from the issue, 2 thousand yen bill? Discontinued production, pile up in the Bank of Japan - 47 NEWS (Yona no news)

According to the coverage of the newspaper, the number of circulated circles is about 1 at the end of May as the whole year reaches 10 years since the issuance of "2000 thousand yen bill" issued to celebrate the year 2000 and the Okinawa summit It is said that it will stay at only 1% of all banknotes, which is 100 million pieces.

A total of 880 million cards were produced with 2000 thousand yen bills in fiscal 2000, with 770 million pieces in fiscal year 2003 and 110 million pieces in fiscal year 2003, but in August 2004 they purchased five thousand yen bills Production stopped due to the sharp decline in the number of circulation to about 100 million units at the peak of distribution of about 510 million pieces, which is the number exceeding, and a large amount of 2,000 yen bills are piled in the Bank of Japan's Bank It is said that it is as it is.

2 thousand yen About the main style etc. of the Bank of Japan Ticket

This is a 2,000 yen note. This is the front side.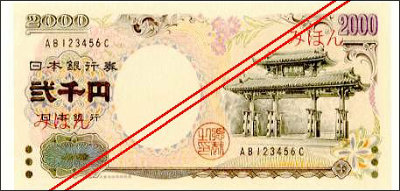 The back side looks like this. On the left side, "The Tale of Genji Monogatari" 38th book "Suzuki" A part of the picture of No. 2 was overlaid with the beginning part of the lyric document and a picture of Murasaki, the author of The Tale of Genji, was arranged on the right side It has become a design.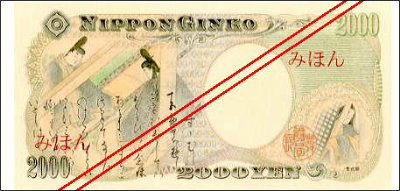 Incidentally, in Okinawa Prefecture as a "citizen's wealth" campaign is actively circulating 2,000 yen bills, in addition to active use in shopping etc., "2 thousand yen bills as one citizen 3 And "Utilization of two thousand yen notes priority payout ATM" are advocated.

"Distribution of 2,000 yen bills from Okinawa!" ~ 2,000 yen bills are the property of every prefecture ~ | Okinawa Prefecture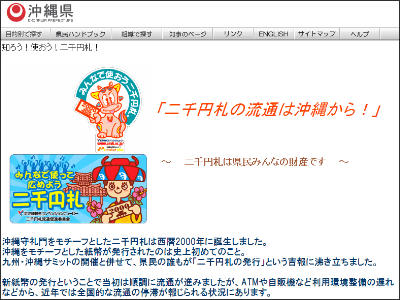 in Note, Posted by darkhorse_log