Square Enix looking for new Dragon Quest series scenario staff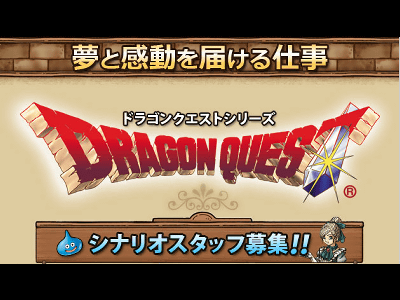 Square Enix, the popular RPG series "Dragon QuestIt seems that we are looking for scenario staff. It is not particularly necessary for the experience of scenario production, and it is preferable that people who like the "Dragon Quest" series, many drawers to write sentences, and people who can make sentences simple and easy to understand what they came up with.

It seems that the application deadline is July 12 (Monday).

Details are as below.
Scenario Staff Wanted | SQUARE ENIX - RECRUITING -

Square Enix's Dragon Quest scenario team seems to recruit new scenario staff. As job content, it is a task to create text in the game such as the scenario which becomes the basis of the game, the world view setting, the dialogue of the people of the town etc.

Regarding the application condition, regardless of the scenario production experience, a high school graduate or above is a standard. "There are many drawers to write sentences, that you can convert what you came up to sentences in an easy-to-understand way," "those who like the Dragon Quest series" and "those who can perform basic PC operations" are the desired skills.

The form of employment will be a contract employee, salary is favorable in consideration of experience and ability according to Square Enix regulations. Working place is Shinjuku, working hours are basicallyDiscretionary labor systemIt is said that.

In applying, we select 4 elements from 'plot of revenge stories' ("legendary sword" "lid of a pot" "memorable laughter" "super power" "lady of manly wear" "first love" to incorporate as elements For two themes of "A4 paper" with 1000 to 1600 letters written and sent with the entry sheet.

The recruitment number is somewhat, the application deadline is postmarked effective July 12 (Monday).

"Dragon Quest" is one of the leading RPG series in Japan, including popular episodes of the whole series worldwide cumulative total shipment number of more than 53 million books of the monster's popularity is a popular work. Why do not you apply for this opportunity if you want to open up a new Dragon Quest series yourself.
in Game, Posted by logc_nt