TOEI ANIMATION creates a new movie of "Ikkyu-san", theatrical release throughout China in 2012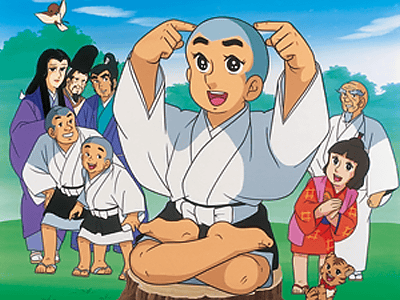 Watching the stand card written as "This bridle goes out", not crossing the bridge but crossing the middle with the "Do not cross this edge" in a dignified manner, because the tiger's screen turmoil and get caught in the general A famous monk who tells a story to turn back as "Please kick out the tiger from the folding screen."Ichizune JunAnimation produced as a model "Ikkyu"Was televised in 1975-1982, and many people said that I had seen it since many rebroadcasts since then.

In China, broadcasting began in 1983, rebroadcasts have been carried out many times, it seems that it has become very popular, and many Chinese are familiar with characters and thematic songs a lot.

Therefore, Toei Animation has decided to jointly produce Shinghai Media Group and Toonmax Inc. to produce a new movie version of "Mr. Nagayo". The release date is February 2012 (Lunar New Year), and it is scheduled to be released throughout China.

Details are as below.
China Shanghai Media Group (Shanghai Media Group), Toonmax co-produces theatrical version "Ikki-san" February 2012 Theaters will be released throughout China (Toei Animation Co. Press Release)

"Ikkyu"Is a TV animation broadcasted in the series of TV Asahi from 1975 to 1982, although it is a real monk named Ichonjosuna, it is a model widely so as to associate this character's animated character It is known. It is the same in China, rebroadcasting has been done many times since the first broadcast in 1983, and it seems that many people know characters and thematic songs.

Therefore, Toei animation aimed at the theatrical release in China, we decided to jointly produce a new movie "Mr. Nagaya" with SMG and Toonmax. For Toei Animation, "Mt. Nagaya" which is popular in China is a foothold to the market, while for SMG and Toonmax it is expected to be a huge hit movie supported by a wide range of age groups, so co-production It seems to have become. Production is scenario, character production, background art, color design, Toei animation is in charge of the pre-production part of the storyboard, and the main production part after that is in charge of the Chinese side.

The former "insect narrative orchard hatch" is newly bornPublished on July 31st as "Insect Monogatari Mitsubachi Hatch ~ Melody of Courage"As I do, "Ikkyu-san" also feels like it can be deployed in Japan, but is there no plan to screen this work?