I tried asking KDDI whether "CDMA2000 version iPhone 4" and "HTC EVO 4G" etc. will be able to be used with au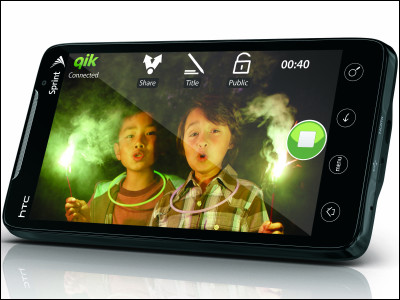 Domestic largest NTT DoCoMo, No. 3 ranked SoftBank Mobile, and No. 5 e-Mobile, etc. are collectively referred to as "3G mobile phones"W-CDMAIn adopting the system, only one company "CDMA 2000Since it adopts the system, KDDI (au), the second largest in the country that is outside the mosquito net of competing acquisition of overseas smartphone compatible with the W-CDMA system including the topic iPhone.

Also, in order to maintain compatibility with the 2nd generation mobile phone service, KDDI's CDMA2000 service,The upper and lower bands of the 800 MHz band being used are reversed overseasBecause of this, Motorola's "Droid"High-spec smartphone compatible with CDMA2000 and others are rumored to appear in the yearCDMA 2000 version of iPhone 4There are times when you hear a voice saying that ... is not available in au.

So is it really impossible for au to use overseas smartphones in the future? I tried inquiring KDDI by phone including efforts on other smartphones.

In addition, the image above is high calling voice of iPhone killer, CDMA2000 compatible smartphone supporting WiMAX "HTC EVO 4G"is.

The contents inquired to the public relations department of KDDI and the answer from the following.
GIGAZINE:
Is the upper and lower band really turned in the 800 MHz band adopted by KDDI in the first place?

KDDI:
Since we are allocating frequencies based on the frequency band allocated from the Ministry of Internal Affairs and Communications to the last, it may not be appropriate to say that "reversing", but in the former 800 MHz band, In order to avoid interference, the frequency where ups and downs are switched compared with the international standard is adopted.

However, with regard to the new 800 MHz band currently being developed, upstream and downstream bands are based on the international standard type.

GIGAZINE:
If you brought a cellular phone compatible with CDMA 2000 that is sold overseas to Japan, it means that it can correspond to the CDMA 2000 network provided by KDDI, aside from whether or not you can use such services as packet communication and calling Will you.

KDDI:
If it is a cellular phone that supports frequencies conforming to the international standard type, it is theoretically possible.

GIGAZINE:
Compared to the old 800 MHz band, how far is the improvement of the new 800 MHz band? For example, can you use a model that supports only the new 800 MHz band without problems?

KDDI:
From the facts, from the fact that in the latest model all correspond to the old 800 MHz band, the new 800 MHz band, the 2 GHz band tri band, and the 800 MHz band is used in combination with the old and the new. So it may be possible to release terminals supporting only the new 800 MHz band and 2 GHz band after finishing the transition to the new 800 MHz band.

Also,Terminals that support only the old 800 MHz band are currently requesting a change in the modelIt is place.

GIGAZINE:
Overseas, smartphones such as "Droid" of Motorola supporting CDMA 2000 and "HTC EVO 4 G" of HTC compatible with CDMA 2000 and WiMAX are being released one after another, and even to the rumors of the CDMA 2000 iPhone 4,HTC made Smartphone "E30HT" released onceWill there be plans to release overseas smartphones domestically in the future?

KDDI:
Although it is about planning to make terminals manufactured abroad available in Japan,Guidelines for SIM lock developmentIt is also a future story and there is nothing you can say out of it for now. Regarding future talks, I can not say anything at the moment.

GIGAZINE:
A smartphone that was held in March "IS 01"When"IS 02At the recital of "As the latest model of "IS series" after autumn, I was planning to introduce a smartphone for Japanese mobile phone usersIs this that smartphones for domestic users developed by domestic manufacturers are released?

KDDI:
Although we are being scolded as "smartphone initiatives are late", although it is difficult to tell about details, it is difficult to tell me about details, but to make it compatible with functions deployed in Japan like "FeliCa" IS series We want to release a smartphone that has evolved and brushed up so that it can be changed from voice terminals as well.

The concept of the second Android smartphone KDDI is scheduled to release after autumn. It is said to be one that combines services such as 1 Seg and FeliCa, ease of use of voice terminals, and free services with open smartphone.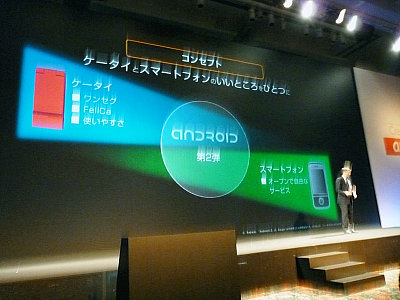 That is,Since the new 800 MHz band is being developed nationwide in accordance with international standards, it is theoretically possible to use the CDMA 2000 compatible Smartphone sold abroad on the KDDI networkIt will be said that depending on KDDI's effort, whether to be able to use overseas smartphone with au.

The enthusiasm to "develop smartphones thought of domestic users" is very attractive, but users who are eager to want to use overseas smartphones only in KDDI with more than 30 million users You should be there. In order to fulfill such wishes of users, KDDI would like to invite smartphones to work positively.