"Down payment" charged for iPhone 4 reservation may disappear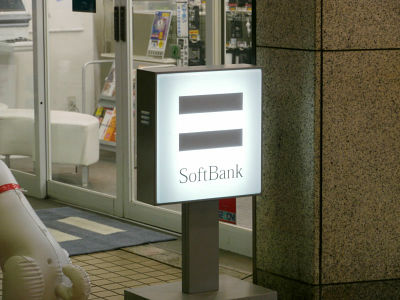 On June 15th at the SOFTBANK MOBILE store started accepting reservations for "iPhone 4" which was temporarily canceled on June 18 due to shortage of goods,Users who were forced to join the option plan including "W White", which should not be required to be originally subscribed, have been able to cancel without chargeFollowing on, it became clear that there was the possibility that the "down payment" that the store independently charged separately from the installment fee of iPhone 4 main unit may be lost next time.

Unlike the down payment when installing payment, despite its so-called agency fee-like nature,It was being charged with the nominal "down payment" "contract money" etc.There was a fear that the user misunderstood, but will this solve the problem?

Details are as below.
According to Mr. Masayoshi Son's official Twitter of SOFTBANK MOBILE, at the time of booking this store, at the time of reservation this time, at the time of reservation, for a store that conditioned "down payment" which is charged separately from the down payment of installment sales at the time of iPhone 4 reservation, It seems that he began asking him to lose his down payment.
Twitter / Son: Mr. Masayoshi: As of the time of this contract at the i4 reservation store that conditioned the down payment ...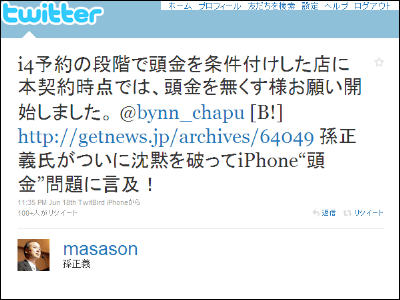 Some say that "the down payment system itself is not sure". Is there a possibility that the down payment for installment sales is confused with the "down payment" added to the shops themselves?
Twitter / Son: Masayoshi: I'd like to do so. RT @ econa 77 i ...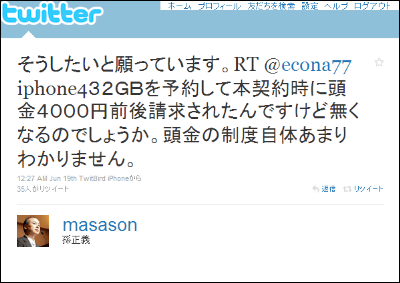 The target shops will be not only directly managed stores, but also any shops accepting iPhone 4 reservations.
Twitter / Mr. Masayoshi Son: It is every store. RT @ Bee_twit Directly managed stores only ...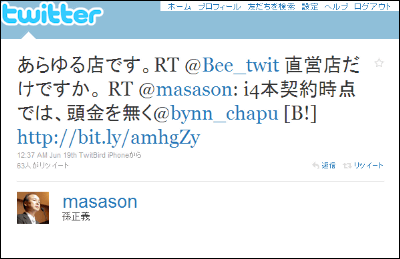 "Terminal price price is the freedom of distributors purchasing and reselling, forced price control is a violation of antitrust law" SOFTBANK MOBILEAlthough it can not be helped that the terminal price differs depending on the store, is there no way to eliminate the misleading expression like "down payment" at the very least that could lead to user confusion at the same time?
in Mobile, Posted by darkhorse_log