"Scr.im", a free service docked with anti-spam measures and abbreviated URLs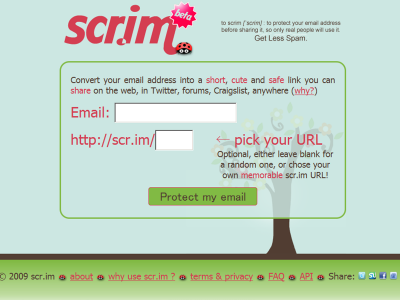 In the short message service such as Twitter, if you write the URL as it is it will easily exceed the number of characters,Bit.lyAnd othersShortened URL serviceWe are using more frequently.

The mail address version of such a shortcut service is "scr.im", not only does it simply shorten the mail address, but also measures against spam mail are properly considered.

Details are as below.
Scr.im - Share your email in a safe way. Get less spam.

It's easy to use, just type the e-mail address you want to shorten and click "Protect my email". The URL below is for you to decide the shortened character string yourself, it can be left blank.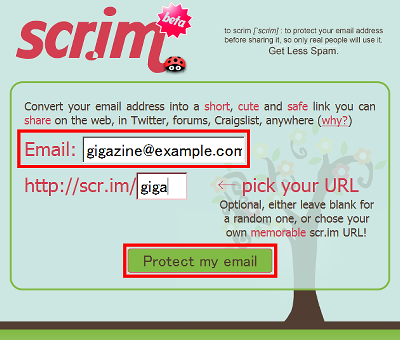 そうすると、利用可能なURLの表示画面にジャンプします。Twitterなどで利用する場合には「http://scr.im/giga」、HTMLに埋め込む場合には「[email protected]」を貼り付けてください。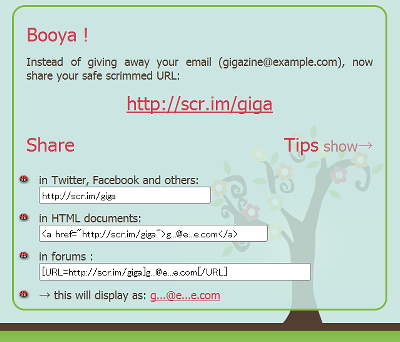 When accessing the URL from the browser, it will be displayed as follows. Since image authentication is required to prevent it from being mechanically accessed, select the same one as the image on the left from among the links on the right and click. In addition, if the screen is collapsed or not displayed, clicking "failsafe captcha mode" will result in normal image authentication.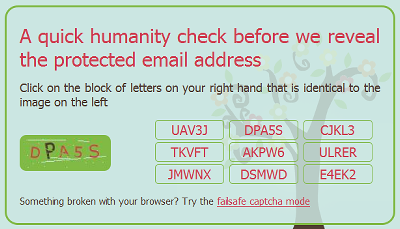 If image authentication succeeds, e-mail address will be displayed.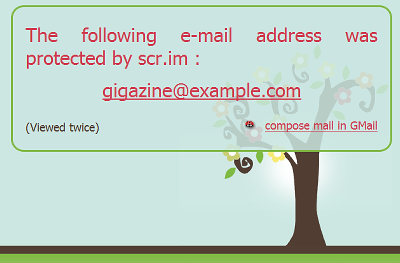 Please note that it is not the same as publishing a mail address only to a specific person, but the point that anyone can see is the same as pasting mail addresses as they are.

It seems to be useful for those who feel uneasy to paste the mail address as it is. However, since it takes a little effort to use it easily on Twitter, etc., it is where we are hoping for an early dedicated client response.