Release date of SOFTBANK's first high-performance Android smart phone "HTC Desire" officially decided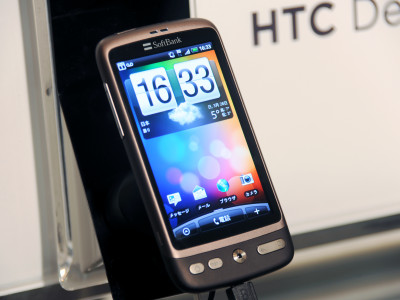 At the Softbank 30th anniversary event "SOFTBANK OPEN DAY" held at the end of March, we have 1 GHz Snapdragon processor, 3.7 inch WVGA organic EL display, 5 million pixel camera etc"HTC Desire (X06HT)" to be Softbank Mobile's first Android smartphone has been officially announcedFinally today, the release date has been officially decided.

In addition, we have also decided to release "SoftBank HW002" digital photo frame with communication function equipped with 9.0-inch large screen LCD.

Details are as below.
Release of PhotoVision "SoftBank HW002" "HTC Desire" | SOFTBANK MOBILE Corp.

According to this release, SOFTBANK MOBILE launched the digital photo frame with communication function PhotoVision "SoftBank HW002" on April 23rd and the company's first high-performance smart phone "HTC Desire" which adopted Google's mobile phone "Android" "(Manufactured by HTC)Release from April 27It is said to be.

"SoftBank HW002" is a digital photo frame with communication function with built-in large screen 9.0 inch liquid crystal, easy operation without initial setting In addition to being able to automatically reproduce pictures sent by e-mail, And to display it according to the orientation of the main body. Also, it is a model that allows you to enjoy your own slide show by selecting your favorite photos.

And "HTC Desire" is a high-spec Android smartphone equipped with 3.7 inch organic EL display with 1 GHz high-speed CPU "Snapdragon". It adopts the latest Android 2.1, and it corresponds also to the moving wallpaper "live wallpaper" that reacts to Google Earth's voice search and touch operation. It also supports application distribution service "Android Market", Gmail, Google Maps, etc.

Softbank MobileDay to revise the "White Plan" in the form of freeing up the basic monthly fee for two months instead of introducing binding for two yearsAlthough it is "HTC Desire" to be released to the market, it is a concern how much users can be taken in together with the discount service by the packet flat rate plan "Packet all you can do flat" which is offered from the same day.
in Mobile, Posted by darkhorse_log