"The US-English British Allowance" The French government shows its seriousness to eradicate borrowed words from English from French daily conversation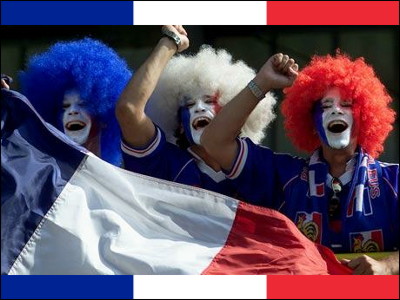 Although it is a country proudly known as a country not able to communicate in English in Europe, it seems that it is hard to compete against a new English word attacking day and night along with new technology and culture, and "airbag" or "hacker" As English words like Japanese words are used as loanwords in the French, in everyday conversation, "les air bags" etc. blended into FrenchBorrowed wordIt is used as.

So, in order to replace the borrowed word from English which has newly invaded France to France in recent years by the word which sounds like French, the French government is trying to put it in the French dictionary newly from among candidates solicited for children and students in French speaking countries The selected "new word" was announced. Somehow Japanese in wartimeEliminate enemy wordsIt seems to be a fairly serious approach, though.

Details are as below.France tries to halt march of English - Europe, World - The Independent

French government picks new words to replace English - Telegraph

"Paraphrase candidates" were recruited from children and students in five borrowed words widely used in the Internet generation that appeared in the 21st century, recruitment began in February,Academy · FrancaiseMembers and politicians, rappers ("rappeur" instead of "rapper" in French)MC solarThe final candidate was selected and announced the other day by the judging committee including such as. These final candidates will be deliberated by the government's "artistic language / new coined word committee" aimed at building a new word and promoting its dissemination, and if it is officially approvedJournal Officiel(French government publication) as a new word, will appear in the dictionary, civil servants are obliged to use those new words.

This time the "paraphrase candidate" was recruited was "Tuning"(Tuning: usage of car remodeling),"Chat"(Usage as a chat on the Internet, not meaning to talk),"Newsletter"(Newsletter: release in Japan and e-mail magazine),"Buzz"(Rumor, usage on how to point to social phenomena, a pandemic on the Internet meaning noises),"Talk"(As well as Chat, not as a verb meaning" speaking ", but as a noun" talk "such as a talk show) five borrowed words.

For these borrowed words, as a paraphrase candidate for "Tuning"LyonA proposal by Charles Fontaine, student of living journalism major "Bolidage"(In the sense of" fireball, "the word used as a slang pointing to a high-powered car"Bolide")," Chat "includes"Éblabla"When"Tchatche"Nietzlettre", "Inforiel", "Journiel" etc. are suppressed in "Newsletter" and "Infolettre"Tec" suppressed candidates such as "Cacoforum" and "Debatel", "Débat" as a word that is not a new word but suitable "Buzz" was proposed by El Audie Dufour-Merle of Aix-Marseille University "Ramdam"(RamadanArabic language representing the fuss about fasting at sundown) was chosen. It seems OK even from foreign languages ​​if it is not in English.

The French government has replaced the various borrowed words from English with new words that sound like French, but it is the first effort to publicly invite candidates for new words as contestants this time. The students of the proposer of the new word chosen as the final candidate seems to be given the opportunity to work abroad as a member of the French culture mission.

French Ministry of Foreign AffairsAlan JooyendForeign cooperationFranco PhonieThe minister in charge said, "Everyone was talking about" Walkman "and" Software "ten years ago, but now French named" Baladeur "for" Walkman "and" Logiciel "for" Software "is widely used It is becoming it. "

In addition to "Bogue" which replaces "Voyagiste" or "Bug" (a bug of computers and not insects) instead of "Globalisation" (globalization), "Capital risque" in place of "Venture capital" Although it seems to have succeeded in replacing the borrowed word, "Saks gonflables" to replace "Air bags" (air bag), "Fouineur" to replace "Hacker" (hacker), "Frimousse" to replace "Smiley" , "Papillon", "Sitcoms" ("Post-it") which replaces "Jeune pousse", "Post-it"Sitcom) "Comédies de situations pour la télévision" etc seems not to be established.

By the way, even in Japan"Foreign language" paraphrase suggestionAlthough a list of paraphrases of saying "it is announced,"Nanotechnology"Instead of" ultra-fine technology "or"on-demand"Order correspondence" instead of, I feel that it has not settled much.
in Note, Posted by darkhorse_log