What is "What is Movie Revolution Tokyo" that supports young artists from the finance side and the producer side?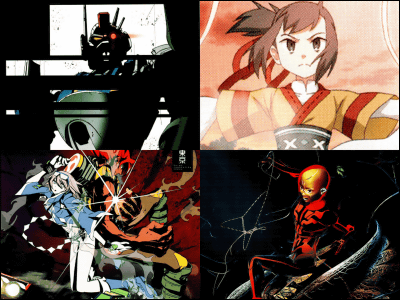 Military war legend,One wheel, And it was released in theaters in 2009SenkororuIt is commonly seen in the character string "Movie Revolution Tokyo". If it is only a name, it looks like an animation production company in Tokyo, but its actual condition was a magnificent project aimed at sending creators to the world.

Tokyo International Anime Fair 2010So, conferences and symposium on activities and supporting works of this video revolution Tokyo opened, and I was able to know what kind of works are being sent out to the world.New TV animationAlthough it has an impression that there are many original animated cartoons when chasing only, the creators of the world realize that the original work is made day and night from here and there.

Details are as below.
"Movie Revolution Tokyo" performs video production, etc.Sink CorporationSubsidiary · limited company This is a project operated by Anime Innovation Tokyo, whose purpose isSupporting an advanced creators, send out to the worldIt is a grand thing.

Although creators have various ideas in their minds, there is no capital to shape it, there is no production environment, even if they make up, work is buried without knowing how to do business I will do. In the Movie Revolution Tokyo, we provide funds and production environments to such creators, first produce pilot images, and produce the images. This type of business seems to be common in Europe and the United States, and it is a model that develops large scale works and develops it to the world as a sponsor arrives by looking at the pilot version.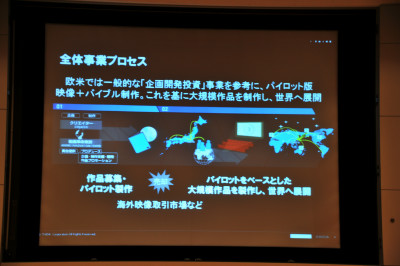 Video Revolution Tokyo finished recruitment for all 12 terms by December 2008. All the submitted entries were 166 pieces, of which 14 pieces, about 10% of which were eligible for support. Approximately 67% of these entries were made by individuals. Most of the entries from corporations were from people of the production company, and there seems to have been something considered as internal planning. Meanwhile, many students and teachers submitted applications, some said that they wanted to do creative work while working in general corporations. Although it is actually named "Movie Revolution Tokyo" and actually received support from the Tokyo metropolitan area, applications other than Tokyo seems to have been OK even overseas, but mostly it is Tokyo when I opened the lid. It seems that Kansai stayed at only 5% in many numbers.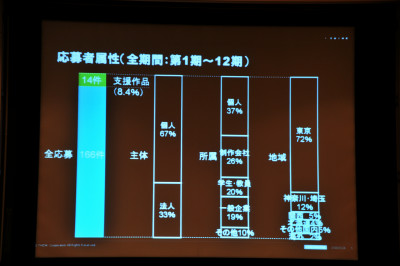 Supporting all 14 works so far, starting from the first period "Senkororu" "Corbecco" etc.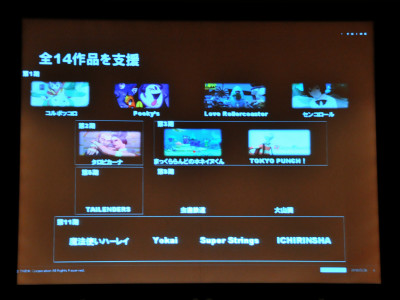 In particular, "Cencorol" became a big hit work such as being released to theaters in 2009. The same workAtsuya UkiMr. 's hands, a work that Aniplex bought and left the hands of the video revolution Tokyo.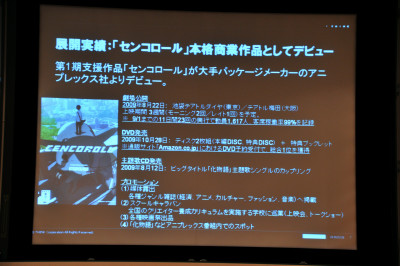 Movie Revolution From the support work of Tokyo, "Senkororu" and "Tobacco Railroad" were selected as the recommended work of the judging committee of Agency for Cultural Affairs Media Arts Festival 2010, and "Talopicana" has been screened by Japan Film Festival 2009 .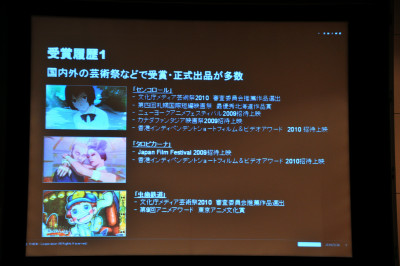 In addition to this, we will introduce some of the works supported by Movie Revolution Tokyo.

First phase work "CorbeccoIsKenzo Ito'S work. A 14 - year - old girl · bell, who is living nature after giving priority to the development of culture and science, a princess in the city but starting to lose his place, happens to meet the spiritual Colbecco of nature accidentally one day. The secrets of the city, the identity of Corbecco and the fate that the bell carried on each other intertwine and we will spin one truth. The leading role is "Bakemonogatari" role of Mr. Yakutsuji and "Lucky Star" role of Kagami HiragiEi Mi KatoMr.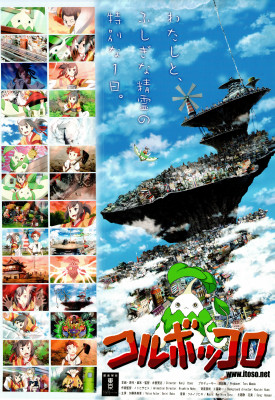 According to the 2007 flyer when Corbecco was completed, the number of videos is more than 10,000, which is three times that of TV animation. In pursuit of the original warmth of the animation, it seems that the background and animation are almost hand-drawn. From 15th October 2009Everybody's Theater WiiDistribution is being done at.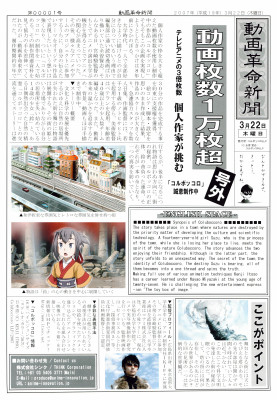 Also the first phase work by Hirochumi Horie "Love Rollercoaster". A 10 - year - old cowboy, John, who knew that precious treasures are loaded on rockets in a message from a dead mother, is a slapstick adventure play seeking rockets with friends.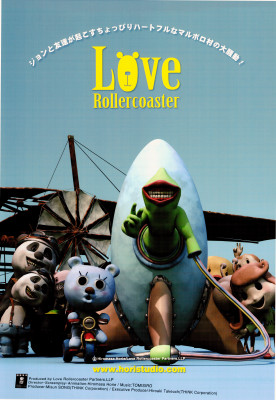 Broadcasting was done at NHK in December 2008 and November 2009,Everybody's Theater WiiIt is delivered with.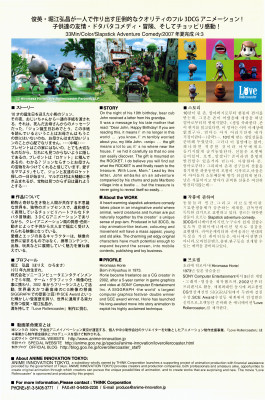 "TAILENDERS (Tail Enders)Planning, supervision, planning, animation productionPicographHe is in charge. It is a group composed of graduates of Hokkaido University of Education and has anecdotes that sold out sold out in 7 minutes when we exhibited deformed toys to the Wonder Festival.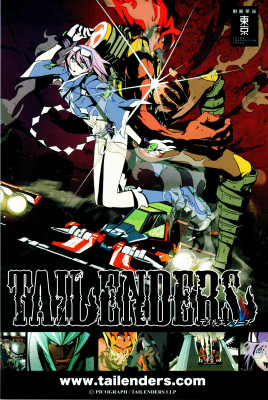 Sha Shiro who was a racer expected of the future will be caught up in a serious accident and will wander the boundary of life and death. Mr. Shiro who is regarded as a part of the car due to the engine due to its regulation has lost the qualification to appear in all the races though regretfully by replacing the heart with a dedicated new engine called "Tomoe Drive". The only unexpected rally of racially unique racers and Shiro who gathered for the sake of their pride and aiming at prize money is allowed to participate in the redevelopment planetless redevelopment race that opens undeveloped land The story begins .......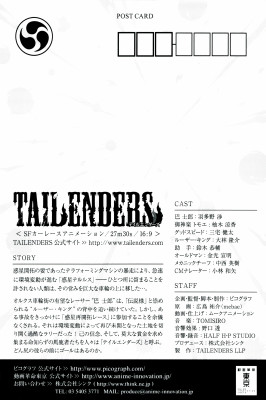 This is a new postcard made for TAF 2010.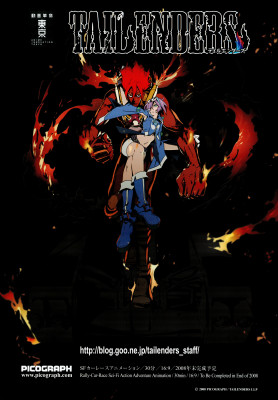 "TAILENDERS" was screened at SAPPORO Short Fest 2009 and is also available for "Minna no Theater Wii".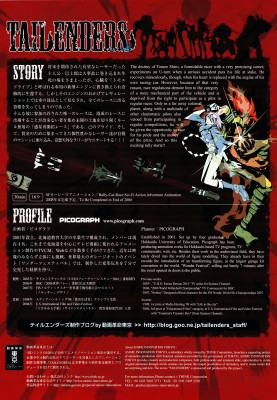 Koji Mikami"Yokai" planned by. In order to explore the secret of the Japanese youkai, the youkai family was sent to the Japanese spirit from the American youkai empire. There, the Japanese youkai is living a normal life with people, and the family quickly becomes a popular person. It was my father, Hank who is trying to fulfill his duties, but it was not going to work well due to the emergence of disturbing people and cultural differences ... ....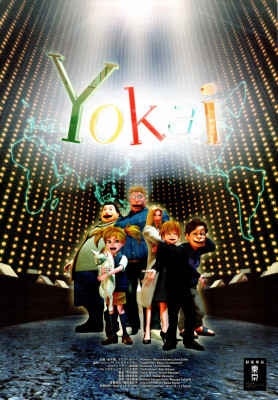 Due to differences in culture, religion, and thought, the world can not get along well, but it seems that the thought is putting in mind that such things can be friends with everyone by laughing away with youkai.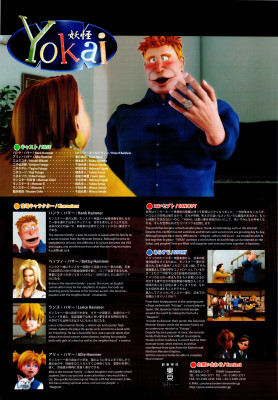 Yoshitaka Yoshitaka'S "SUPER STRINGS" presents a new form of SF, "Aya Toi Action" "Nature Punk".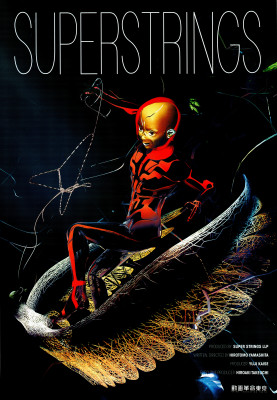 In the future where all creatures can no longer leave descendants, the oasis of the desert lived with the three animals that were the last human beings and plants and animals that survived a little. They continued research to immortalize all life forms on the planet ... .... The pilot image is 7 minutes, but it seems that it assumes a movie of about 100 minutes as a work.



Executive Producer Hiroaki Takeuchi says that there are also works that have already been talked about from around here and it was said that people who thought that it was a good idea to contact us more quickly. Besides the regrettable work to keep only the pilot image as it is, including the "war soldier legacy". I think that there are various ways to make it into TV animation and movie, but I hope the completed work will be born more and more like "Cencorol".