The Nihon Keizai Shimbun starts the electronic version on March 23, and if you become a charged member you can view and use all contents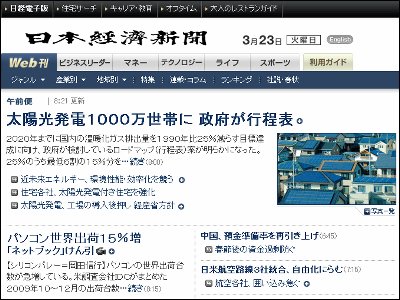 Economic newspaper "Nihon Keizai Shimbun" which is well known as one of the nationwide five major national newspapers but also a newspaper read by students who are finding jobs from the expertise on March 23, 2010 ( Fire) to start the electronic version from. Nickname is "Web publicationThat's right.

As a news site in the Nikkei newspaperNIKKEI NET (Nikkei Net)Although it is opening, Web publication seems to be one that succeeds and develops this, and it can be used for free, but it seems that it is necessary to become a paid member in order to view and use all the contents .

Details are as below.
Nikkei Electronic Public Relations Division | Web publication of Nihon Keizai Shimbun.
http://pr.nikkei.com/

The Nikkei newspaper was founded this year in 135 years. As an economic newspaper, the position is immovable, but with the arrival of the global economic age, there is an increasing need to acquire domestic and foreign information anytime, anywhere, among young people, from articles printed on paper Also tended to prefer browsing the contents on the Internet, he said that this electronic version (Web publication) was launched.

Web publication is a nickname attached with meaning to deliver up-to-date information to readers even between morning newspaper and evening publication, full article article of Nikkei Shimbun morning / evening paper, domestic and foreign news and features updated on 24-hour system, Nikkei It seems that you can enjoy professional information, data and images provided by group companies.

Web publication subscription fee is 1,000 yen per month as a subscriber of the Nikkei Newspaper. A total of 5383 yen in the morning and evening set area, and 4568 yen in the full day version area. In addition, the electronic version only subscribers will be 4000 yen per month. The URL is "http://www.nikkei.com".

The top screen for general readers (unregistered readers) and free registered members is like this.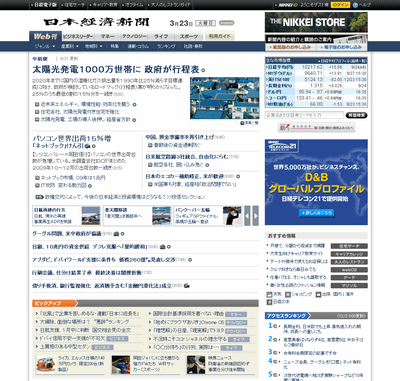 It will look like this for a paid member (subscriber).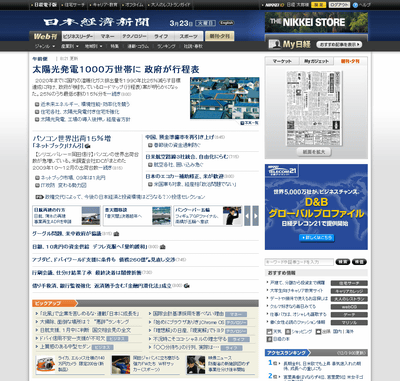 List of articles of morning and evening publications where only paid members can be seen. The morning newspaper is readable at 4 o'clock, and the evening paper is readable at the 15 o'clock final edition story.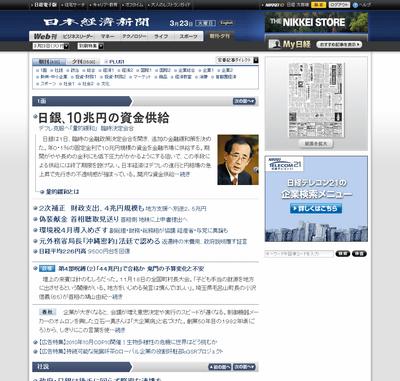 Similarly, a paper viewer that can only see paid members. You can see how it was posted on the actual page.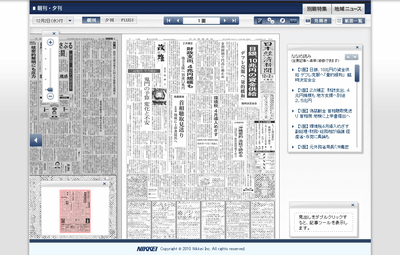 List of individual articles on the Web.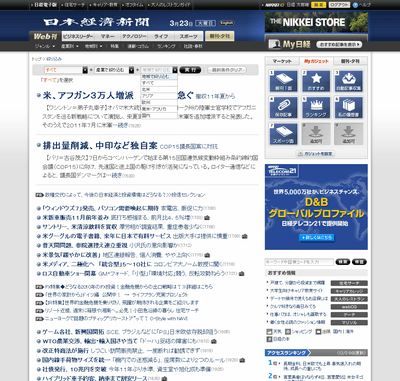 And individual articles.



There is also a mini commentary on such terms.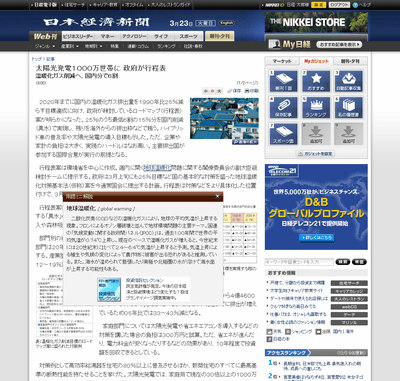 Article access ranking. You can see the rankings by reader's profile.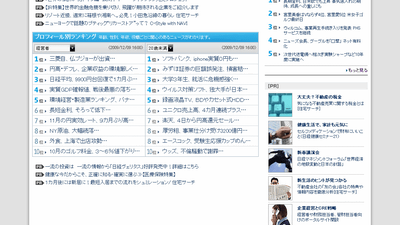 One of the features of Web publication is "My Nikkei." Personalization function makes it easier to utilize the electronic version according to the purpose and interest of each person. This is a "recommendation" function that picks up recommended articles from the trends of the fields that are registered and that are interested and the articles read in the past.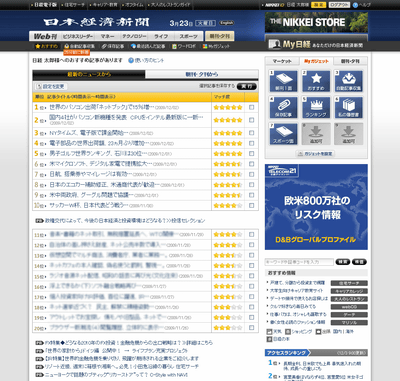 "Automatic article collection" that collects articles automatically when you register keywords.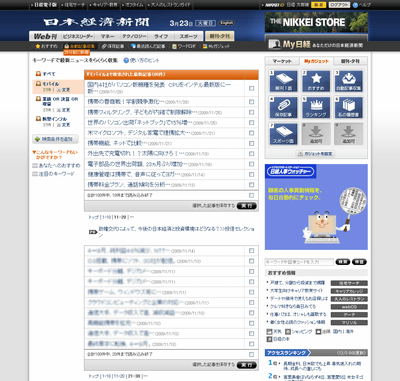 Analyzing and focusing on keywords that are being focused on, visualizing the relevance of keywords as a map and displaying a list of articles that contain keywords "wordrobo". In addition to this, My Nikkei also has the function of saving articles and recording the history of the articles read.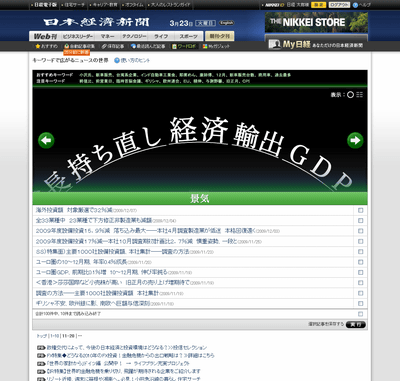 Photo viewer.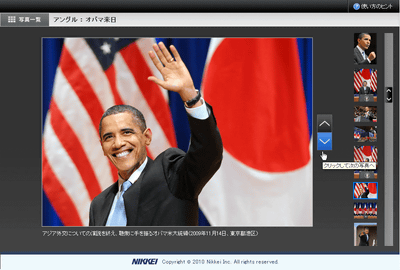 Videos will also be seen like this.



The service starts from March 23 (Tue). It is said that the electronic version will be available for free until April 30, and the launch commemorative campaign will be held from March 1st (Monday) with gorgeous prizes.

(Image = provided by Nihon Keizai Shimbun)