"Eating log" I tried eating soy sauce noodles of Osaka prefecture top ramen shop, "Kimigonemon"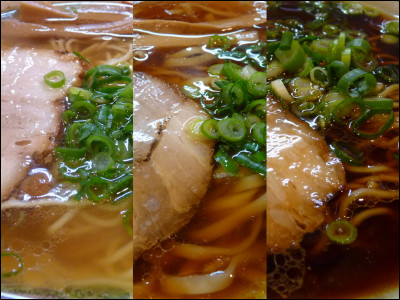 Gourmet information of all area / genre is gathered in the eating and drinking comparison site "eating log", but the top in the Osaka prefecture · ramen section is the ramen shop located in Osaka-shi Higashinagu district " Kimukyemon (Kinkōemon) ".

Despite being exposed to terrible competition as being a representative of mass gourmet, ramen is tasty how tasty it is to take the top! Is it? So I actually went to eat.

Details are below.
Displayed in the order of points in "Osaka Prefecture Ramen" as of January 30, 2010. Personally I think that there are many shops recommended by people that the shop which is taking 3.5 or more is "delicious", but 4.09 is a considerably high score in competitive ramen shop.
Osaka Gourmet · Restaurant Information Search Sort by Score [Eat Log]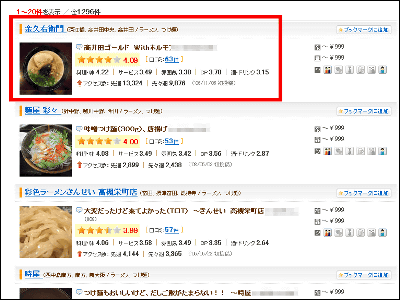 The place is here. For trains, it is convenient to walk along the elevated road from Fukaebashi Station No.4 Exit of Chuo Line. In the case of cars it will soon be getting off Takaida exit of Hanshin Expressway No. 13 Higashi Osaka line.

View Larger Map

So, as I walked along the road along the elevated we walked, but I do not feel like there is a shop that I aim for.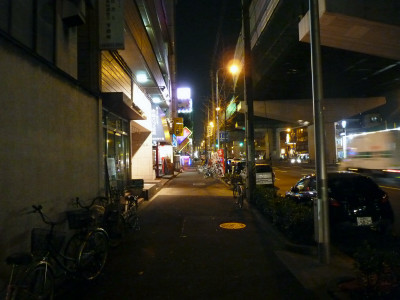 Is it really the right way? When I started thinking, I found a shop of white goodwill between Izakaya and yakitori shop.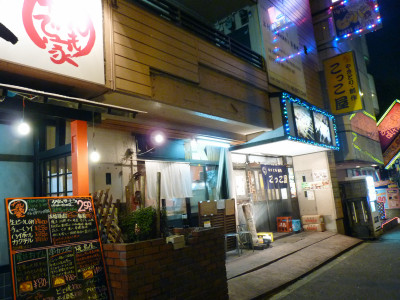 At first glance I do not know what store it is. However, it seems that there is no doubt that it is open.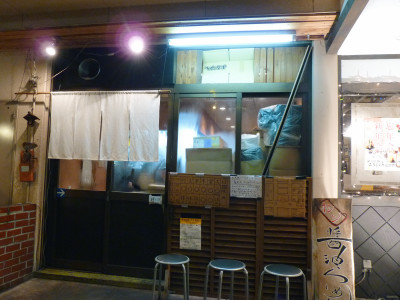 When I observed the surroundings, I found a signboard with the letters "Sauce Ramamen" written.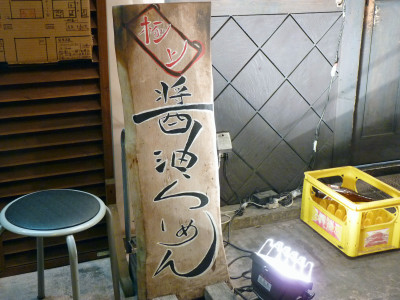 In the recruitment advertisement, the letters "Kin Kyonemon Brothers Store Open!"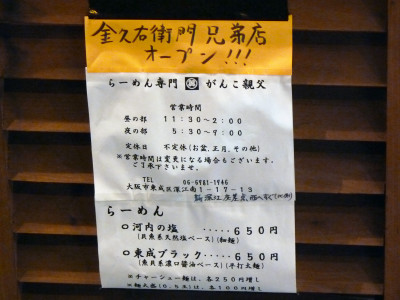 I found a signboard or a nameplate. It certainly seems like "Kimigyeonemon" which this is seeking.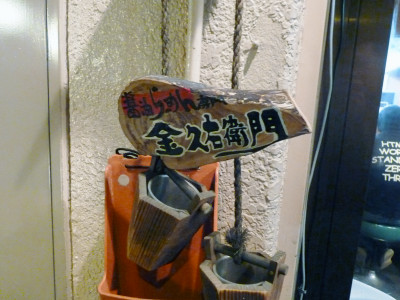 Go inside. The menu basically chooses from among a total of 6 types of soup 3 kinds (black · red · gold) × 2 types of noodles (thick · fine) in your favorite combination. When there is no designation in particular, the combination of "red soy sauce fine noodles" appears to come out.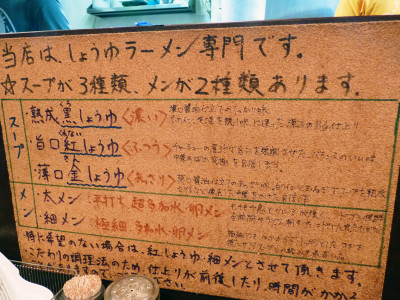 In addition to this basic menu, "Osaka black" which made the flavor of squid or shrimp based on "black soy sauce" based, and "Naniwa black" which is the development system of Osaka black were prepared. As "creative system" there is also a menu called "spicy cabbage ramen". This time I tried to order various mixes.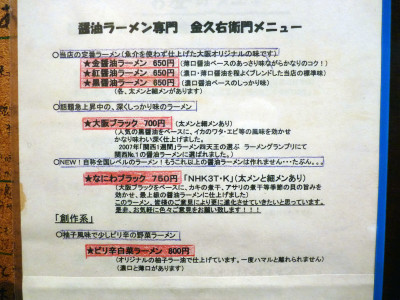 Garlic and hawk's claw with condiments.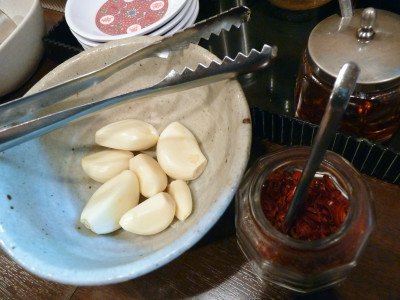 Topping can be added like this. This neighborhood is very orthodox.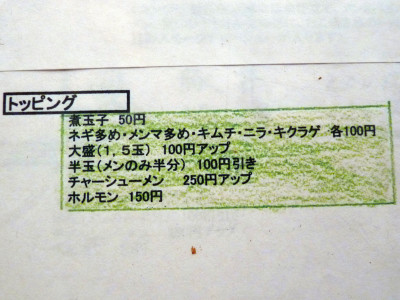 Various dishes were prepared in various ways. I am ordering pork bowl this time because it is noisy.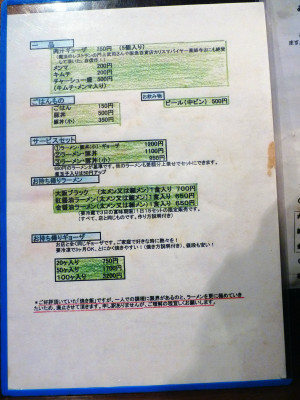 Ramen WalkerIt seems that it is becoming a candidate shop for the Ramen Hall of fame store organized. Expectations will increase.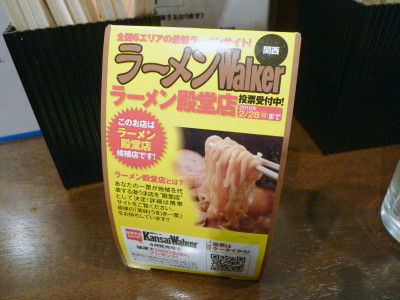 When waiting for a while, ramen was brought one after another. The first impression is "Ramen made with carefree looks, carefree." Although it was not outstanding glitches, it was gathered up with orthodox soup and ingredients.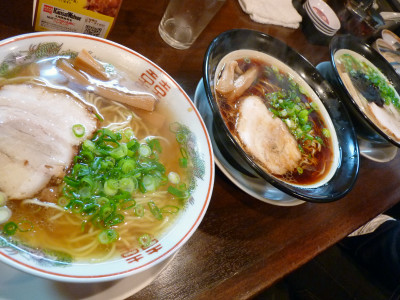 Among the three basic soups, the most delicious "gold soy sauce ramen"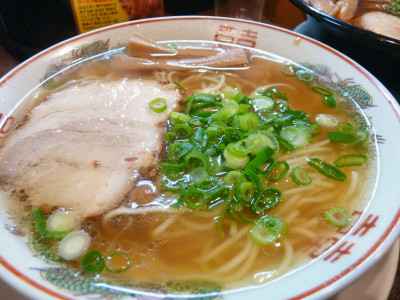 "Soup of gold soy sauce ramen". It is transparent like salt ramen, but the smell is surely soy sauce ramen.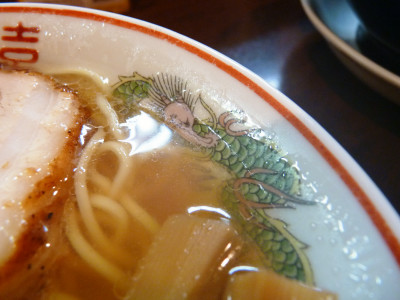 I tried to make thin noodles.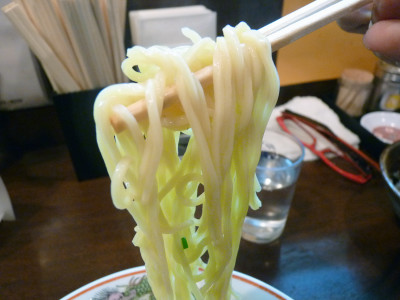 Because it is based on thin buttery soy sauce, although there is firm umami, eating comfort is quite easy. In addition to the fact that the amount is not so much, it has flattened for a while.

"Red Soy Sauce Ramen" will be the middle of three soups. I tried thick noodles here.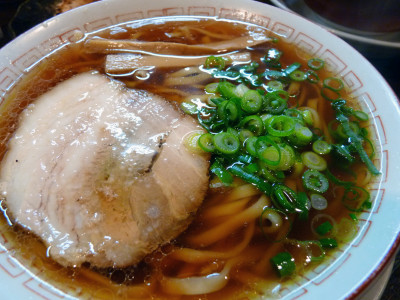 Soup looks like this. A color that is not too dark and not too thin.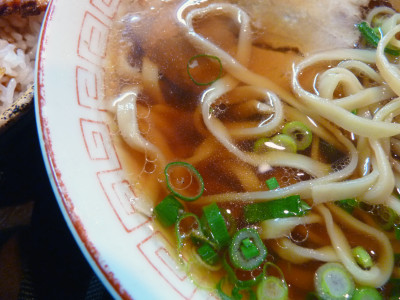 It becomes thick like thick noodles.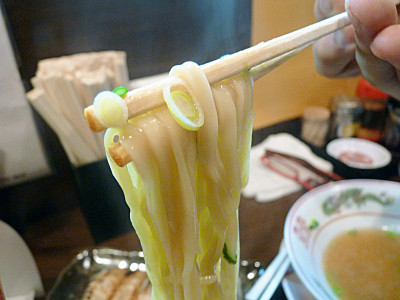 This is the basic taste of soy sauce ramen. The soy sauce is so effective that it does not result in garbage, conversely it is exquisite balanced soup that is not watery and unsatisfactory. In the second half, when I tried to crush garlic and eat it, the flavor became stronger and I enjoyed two kinds of taste.

Next is "Osaka Black". Based on heavy-duty soy sauce based on deep-color "black soy sauce" soup which tastes red wine and others, it is based on soup of seafood added.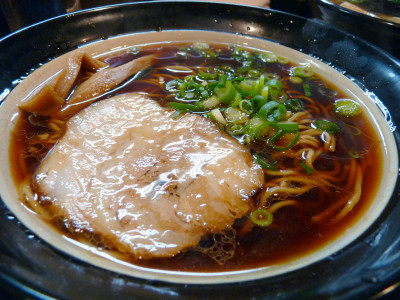 "Osaka black" soup is pretty black, different from "gold" and "red", it is exactly the color of soy sauce.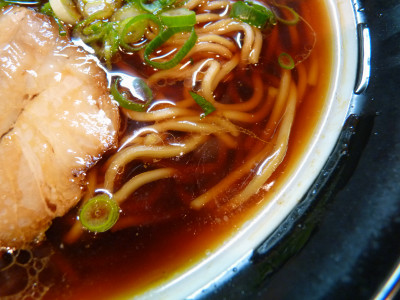 As I did not understand what it tasted, I was sipping a bit briskly. As a result, the soup, fat, and rich soy sauce became united, and it had become a deep flavor with considerable punch. I can recommend it to those who say "I want to eat snack ramen!" Pretty well.

"Naniwa black" changes with a sauce that the normal soup condensed shellfish flavor such as oyster and clams of clams.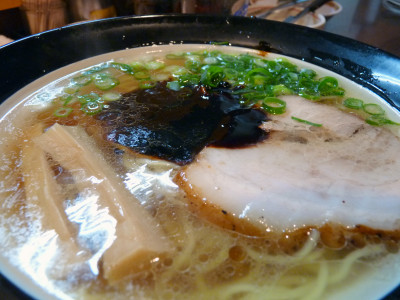 Soup feels clearer than "gold" at first.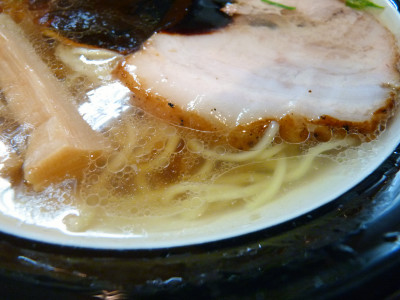 I mixed the sauce and it got a good blackness. It certainly looks delicious.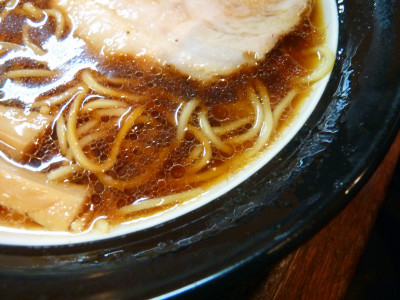 Compared with "Osaka black", the rising soy sauce Feeling that the richness of the soup became deeper without changing the flavor of anyone. Because the ingredients are simple, the complexity of soup stands out extra. It was a neat impression soup, with no disadvantages such as too salty and too sweet, writing with "delicious" and kanji matches neat

This is one dish dish of pork. It is just right amount to match with ramen.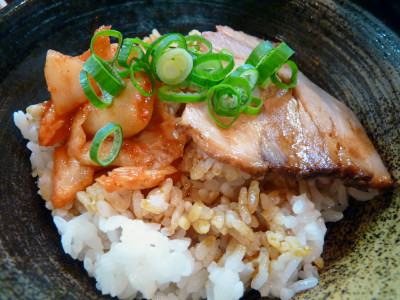 I finished it in no time. Overall the volume is small, so it may be more satisfying if you eat a lot of people eat well.



When a little hungry is empty "gold soy sauce", "Anyway, I will definitely eat ramen today!" It is good to eat "black soy sauce" system when it is full of motivation mode. Even though there is no big fault, I can recommend any kind of ramen because it is a high degree of completeness that each personality is inevitable although it is well-balanced. Eat log ranking Osaka prefecture No.1 was not Date.

There seems to be a menu called lunch only · Takeda gold with hormone. Combination of extremely thick noodles, soy sauce soy sauce and hormones. Is it a menu that enjoys the hormone's salty fat like a moto-nabe? Now I want to try this too.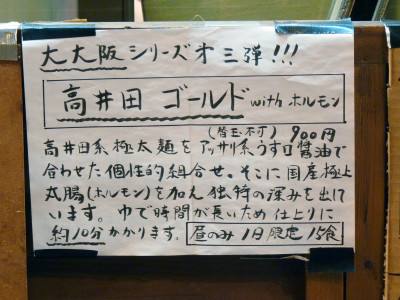 There are several coin parking within walking distance of 5 minutes, so there is no problem even if you go by car.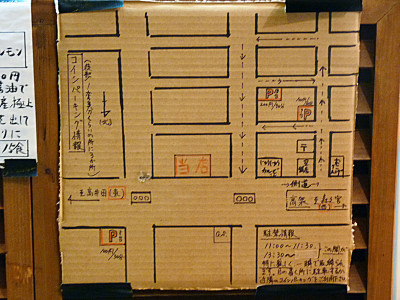 Business hours are somewhat irregular, so please be aware that night business will be only Thursday and Friday.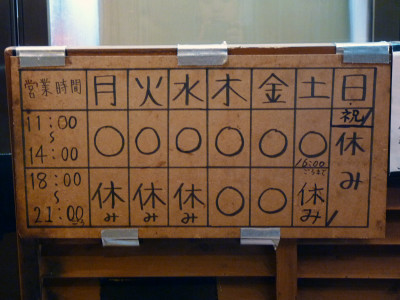 The official page of the shop is here.
Naniwa's strongest soy sauce ramen and dumplings "Kin Kyuemon" [Kinugumemon]