"Avatar" achieved worldwide box office revenue of more than 1,855 million dollars, it is obvious that it is expected to finally exit Titanic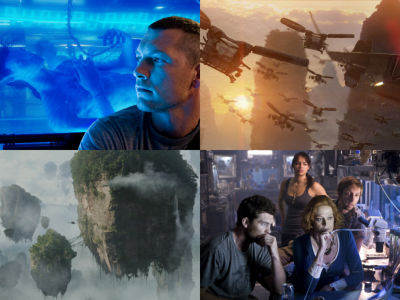 Director James Cameron's latest work, which has recorded amazing hits all over the world "AvatarIs expected to achieve more than 1,855 million dollars at the worldwide box office revenue as of Monday, January 25, and is retained by a big hit work "Titanic" (1997) also co-directed by Cameron It was revealed that we surpassed 1,842,990,000 dollars, which is the record of all the world's worldwide box office revenue which had been in record, to achieve successive new records.

"Titanic" record was achieved over a period of about a year and a half while "Avatar" was painted only 39 days after it was released, the hit of "Avatar" was a phenomenal thing I understand that.

Details are as below.
Movie "Avatar" Official Site

"Avatar" achieved the record of "Worldwide box office revenue exceeded 1 billion dollars" that has recorded only 4 pieces so far in 17 days after publication, which is the fastest in history. In the 21 days after the release, the income reached 1,113,165 million dollars (about 102 billion yen), it surpassed the 11,191 million dollar of "Lord of the Rings / Return of the King" to the second place in history It was. It was said that it was a matter of time to reprint the record of "Titanic" which is the first place in history, but finally the number achieved by "Titanic" over about a year and a half, finally only 39 days from the release We achieved a phenomenal speed record of repainting with.

Director James Cameron has accomplished a unprecedented achievement that the work monopolizes the second place in the world ranking box office revenue ranking first.

In Japan as well, the revenue of "Avatar" broke through 7 billion yen (about January 26) in about one month after publication as early as possible, and ranked first in 5 consecutive weeks in the income survey ranking. In the 2009 open work, "ROOKIES (Rookies)"Or"Harry Potter and the Mysterious Prince"It is the fastest ever 7 billion yen breakthrough in history.

In addition, the total box office revenue in the United States has exceeded 552 million dollars as of January 26, and it has come to overtake the first titan of "Titanic" (about 600 million dollars). Although "Titanic" took over 98 days to surpass 500 million dollars, "Avatar" was achieved in one-third, only 32 days. This is the fastest record of surpassing US $ 500 million. In addition to that, we have reached the highest revenue of successive 3D movies, the first prize for all nationwide public release in 2009, every week from the 2nd week to the 6th week of the public release achievement of the Xinhua new record.

It was announced the other dayReceived two major divisions of the 67th Golden Globe Award Drama Division, Work Award and Director's AwardMoreover, even at the 82nd Academy Awards, many nominations are expected in the division. Although Titanic won a number of prizes at the time in 1997 and won a total of eleven sectors which is the highest in the academy awards, "Titanic" won a total of 11 sessions, but how much award "avatar" Whether it won the award, it is a very worrisome place.

"Avatar" is on sale at TOHO Cinemas Day plays and other nationwide theaters as well. (Distribution: 20th century Fox movie)

© Twentieth Century Fox. All rights reserved.
in Movie, Posted by darkhorse_log