Theater version "Fate / stay night UNLIMITED BLADE WORKS" The first day of the opening greeting, "Before screening, ask one question, this is not a Lyrical Nanoha Theater"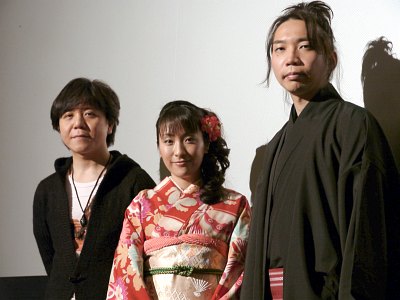 Teaser site opened in July 2009,Trailers are announced in December 2009And it seems that many fans were longing for the release dateFate / stay night UNLIMITED BLADE WORKSFinally started publishing at the National Theater from today. In the Ikebukuro Sunshine Cinema, three actors, Noriaki Sugiyama, Kana Atsushi Ueda, Junichi Suwabe, who starred in the Ikebukuro sunshine cinema, performed the first day stage greetings and talked about the stories of the episodes and works being recorded.

Details are below.
Ikebukuro Sunshine cinema that became the venue.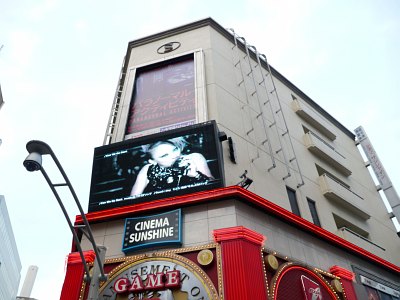 It was full until the last round.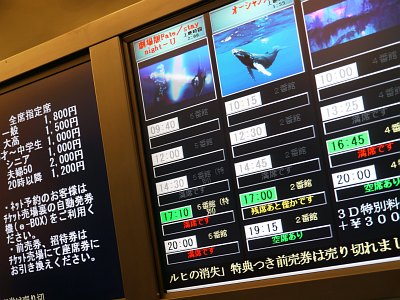 Poster that was pasted.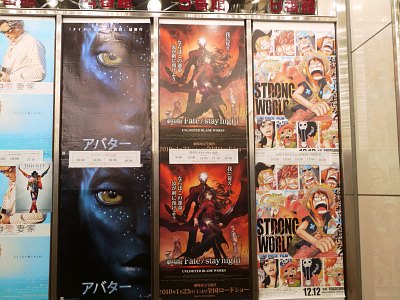 Goods store is like this.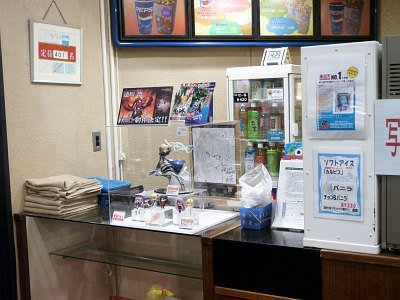 From the Good Smile Company scheduled to be released in July 2010 "Saber ~ promised victory sword (Excalibur) ~"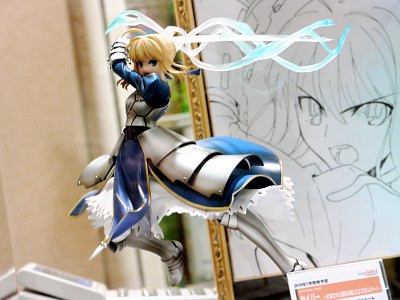 This is scheduled to be released in June 2010 "Nendoroid Petit Fate-stay night"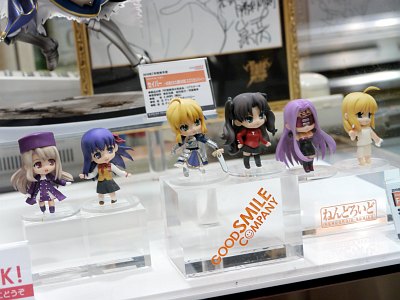 There was also a production announcement of 1/7 scale PVC painted figure "Rin Tozaka".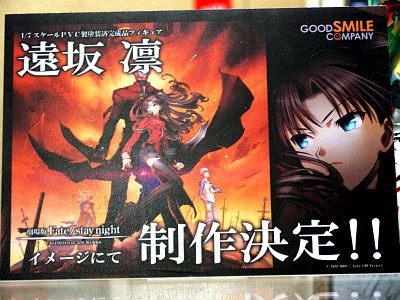 I was in charge of the original character designTakashi TakeuchiMr. signature colored paper.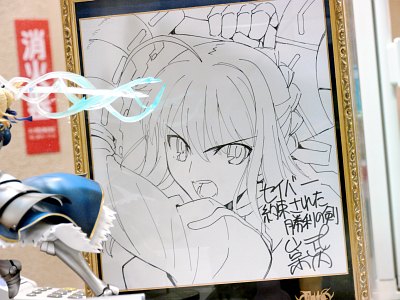 Brochure has a regular version (800 yen) and one with limited edition DJCD (2000 yen).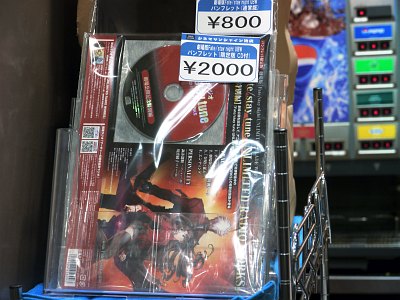 The stage greeting finally began.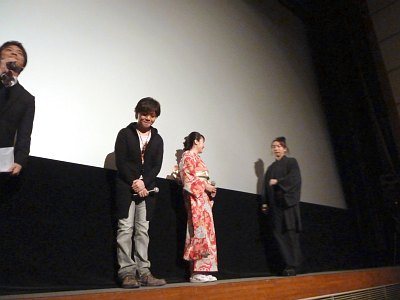 · First of all, please give us a greeting.

Shirow Shiroi, Noriaki Sugiyama:
"I think that I am truly grateful that you can be in this space with you all because it's the first day of the movie today.Moreover, if you look at the first time, maybe also the second time, the third time Although I think that you may come, though I think that there are many people who will see from now on, I hope to spend good time today with you avoid spoilers and I hope that you will have a good time today. "

Mr. Rin Tohsaka, Mr. Kana Ueda:
"It is Uenida Kana in the role of Rin Tozaka.I am really pleased that we can deliver this to everyone so we can deliver theatrical version as we are having a good time today.Thank you very much for having a good time. Please give me a favor. "

Archer role, Junichi Suwabe:
"Ask one question before screening. hereLyrical NanohaIt's not the Theater (laugh).Is there no human being wrong? are you okay.This is Fate. Even if I say Fate, Nana will not come out.All right? Fate / stay night Welcome to the UNLIMITED BLADE WORKS theater. It is Junichi Suwabe. Thank you"

Noriaki Sugiyama, starring Kana Aya, and Mr. Junichi Suwabe, who are starring voice actors from the left.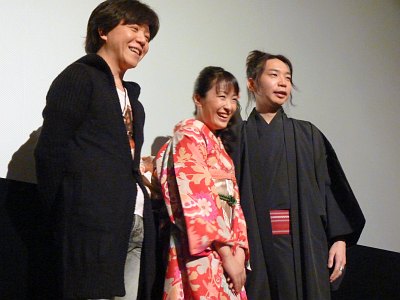 Mr. Kana Ueda and Mr. Junichi Suwabe have gathered together in kimono.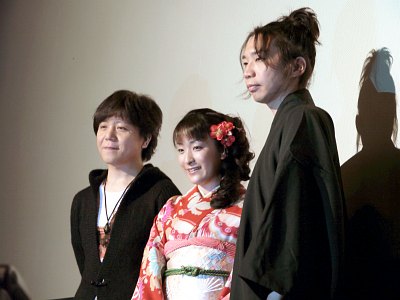 · So what did you think when you heard that "I will make a movie version?"

Archer role, Junichi Suwabe:
"Truly ... (laughs) After the TV series, there was a story about people from the stakeholders saying" I want to do it. "There have been rumors all the time, but since there is no contact, I got a schedule inquiry etc. when I thought that it was gone, I got it really done in the movie version.I was really happy with the feeling that the long-awaited"

Shirow Shiroi, Noriaki Sugiyama:
"When you meet someone involved with Fate at another work site, when you hear" Do you want to move soon "? In a story that" it seems to be like "I heard that it is not a feeling" Eh! " ,finally,At last the movie version came, I felt happy with feeling. "

Mr. Rin Tohsaka, Mr. Kana Ueda:
"I was also saying" I am looking forward to Fate "from staffs other than Fate's work, and about a year was" I'm dreaming again, is not it a rumor? Listen to it one or two months ago to really dubbing,It really came true, I'm glad I was not dreamingI was very glad that there was a part that I did indeed. "

· Do you have any episodes or hardships about this theater drama?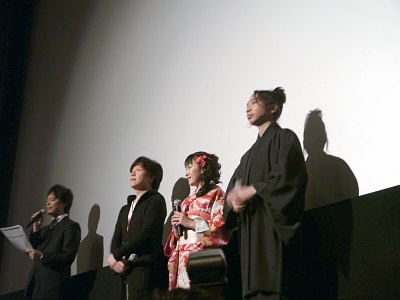 Archer role, Junichi Suwabe:
"I think that it was a nice recording scene for the actor with the feeling that tension and physical fitness will continue as it was recorded finely for each scene.Something intense action scenes" Let's leave some surplus for the next scene " Without thinking anything like itI was able to do it with complete combustion. I think that there are more people to see for the first time so I do not want to spoil too much,No way to say that galaxy patrol will appear in that place ... (lol)AndWhere Shiro stood up to pinch by the appearance of the Dark Demon King, ... (lol)Well it's a lie, though. "

Mr. Rin Tohsaka, Mr. Kana Ueda:
"There were also two scripts (and fingers open about 3 to 4 cm) around them, so it is difficult for them to have it, so Mr. Acoustic Director says" Do not break from scripts " .The first thing I did was make a script for each part! It was to break. It turned out a good change (laugh). Since it does not fit for years, it seems that it will fit neatly, or since there are many parts of myself, so what if I did not end today's recordings ... I was worried and felt quite tense, I was glad that I felt quite calm, either because I felt a little clearer by breaking it. "

Archer role, Junichi Suwabe:
"In the recording of the game after the TV series was over, we recorded each one separately, but this time we are doing it with other casts is different, there are still different motivation, Whether it can make a persuasive power as a character well or not, since it is a movie version, it is bigger than a television screen because it is bigger than the television and it is conspicuous when the mouth and voice are not matched, I used it more than usual. Although I think that it is not easy to have people with home theaters that can get out hereDo not be surprised Please let me call Junji Nakada (laugh). I will resound ~ Because it comes with heavy bass (laugh).It may lightly leak out urine, so please be careful. "

Shirow Shiroi, Noriaki Sugiyama:
"There was a tension before I started with the movie version, but when I entered the studio and the people of the cast at the time of the television version got together, I felt relieved and felt quite relieved. I'm sorry, I can not say something funny (Lol)."

Archer role, Junichi Suwabe:
"Everyone put themselves in the character and they did not say" I want to see the TV version because the feeling is different ".I made it at once and put it in a role so it was a really comfortable scene"

Shirow Shiroi, Noriaki Sugiyama:
"Mr. Tsujitani (of sound director) also does not have to do this (and acting guidance) compared with the TV version ah"Because I think everyone knows ~" FeelingI was able to feel pleasantly positive. "

· I think that everyone is watching once, but please do not spoil the thought of the movie version

Archer role, Junichi Suwabe:
"First of all, I'd like to ask you, but who enters with zero knowledge about the work Fate ... (Overlooking the venue) Welcome ~.Do not think about it anymore, let me feel it.I can not sleep because I am short of sleep. I will expand rapidly, I think that I want to follow Guigui so as not to lose its momentum. Surely a wonderful goal in the end ... ... No way that the archangel Michael will come down in that place ... ... (laugh) I would like you to not miss it. "

Shirow Shiroi, Noriaki Sugiyama:
"As Ms. Suwabe said,There is a tremendous speed feeling, together with the battle scenes, "Ah! Feeling that I finished watching while I entered my workis not it. After the preview, the director says, "Are you all right or were you not asleep?" I thought it was a funny story, though I think that it is finished in a work full of tension and speed feeling that there is not any drama attacking drowsiness, so I hope you will enjoy screening from now on I think"

Mr. Rin Tohsaka, Mr. Kana Ueda:
"The action is cool, but this theater version,All men are coolI guess. Both Shiro and Archer are, of course, Lancer, Gilgamesh, Shinji ...... Well Shinji will not fight, but it should be sadistic and cool ...... Because it is a development that echoes to the resounding person very much,Women, I think you can expect. I am glad if you can see the men's success"

· Finally, please give a message to the fans who gathered today one message at a time.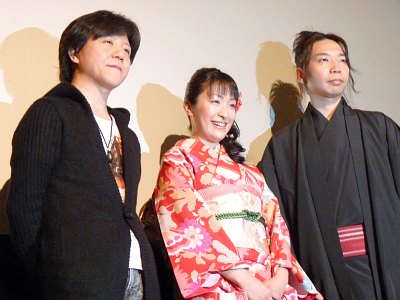 Archer role, Junichi Suwabe:
"Thank you very much for having visited us at the theater today, I am very glad that you can say this kind of greetings in such a place because it is a person who loves movies originally. I would like to enjoy the world of.I think that you can image well. Max yourself to the rear"

Mr. Rin Tohsaka, Mr. Kana Ueda:
"Thank you very much for today, Those who played the" Unlimited Blade Works "route think that they are looking forward to" That scene, what's going on? ",I will never betray your expectations. It's awesome speedy feeling that you missed 2 actions, 3 actions while you are blinking from beginning to end, so I'm happy if you can see it tightly until the end. Thank you for your time today"

Shirow Shiroi, Noriaki Sugiyama:
"I'd like to tell you that we really thank everyone who came to the theater on the first day like this today.When I saw it in the preview, the more I'd like to see it once more (the impression) comes outSo I think that if you think so to you all, it will be exhausted as an actor. And I hope you like seeing your friends again if you like it after watching it. Since I think that I would like to continue raising the work called Fate with everyone, I thank you. Thank you very much today"

Three people who waved their hands toward the fans at the end.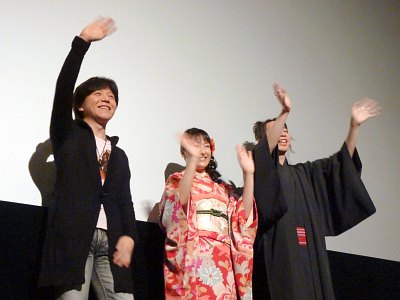 Mr. Suwabe shrieked as "a big hit ~!" And was laughing.