Voice Actor Daisuke Gori of Robin Mask and Mister Satan Passes Away in Suspected Suicide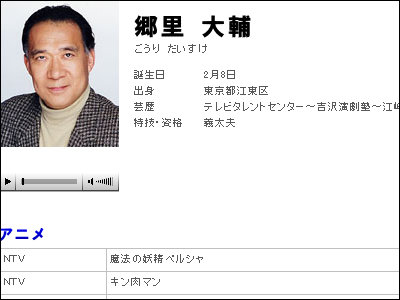 Renowned voice actor Daisuke Gori known for his role as Robin Mask (Kinnikuman), Mister Satan (Dragon Ball) and Dozle Zabi(Mobile Suit Gundam) has passed away on January 17, 2010.

Read on for details.
(Japanese)Tokyo Shimbun::Voice actor Daisuke Gori dead in suspected suicide (TOKYO Web)

According to Tokyo Shimbun's report, voice actor Daisuke Gori(57) was found bleeding from his arm on a street in Nakano, Tokyo on January 17 at around 3 p.m., reportedly already dead when spotted by a passerby.

Gori was lying face down on the street, apparently after cutting his wrist, according to Nakano police Station. A knife as well as a suicide note was found near the scene.

Gori known for his deep energetic voice was often casted as antagonist like Dozle Zabi(Mobile Suit Gundam) and Bask Om(Mobile Suit Zeta Gundam), but he was also great at comical roles like Mister Satan(Dragon Ball) and Jimbei(One Piece).


in Note, Posted by darkhorse_log