Sydney · Harbor · Bridge closed for breakfast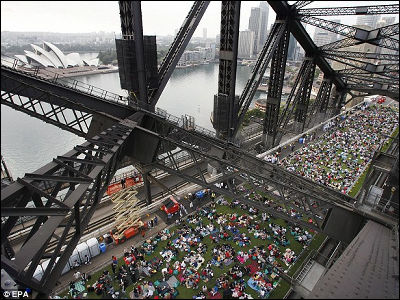 In SydneyHarbor BridgeIs also known as a bridge with 8 lanes and a double track railway and sidewalks and is known as the bridge with the largest number of lanes in the world but closing this bridge for only 12 hours, spreading artificial turf over the whole area and doing a breakfast picnic An event was held.

Details are below.
Thousands eat breakfast on Sydney Harbor Bridge as busy highway becomes grassy picnic ground | Mail Online

This breakfast picnic is an event taking place throughout Sydney city,Crave SydneyIt was done as part of. It is said that there were 45,000 people submitted for the recruitment of 6000 people.

The place is here. famousSydney Opera HouseIt is near by.

View Larger Map

Prior to the start of 6 o'clock in the morning the bridge was closed at 1 am and the work of spreading the lawn was done.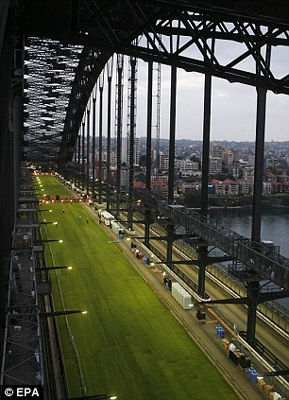 From this angle it is hard to imagine that it is on the iron bridge.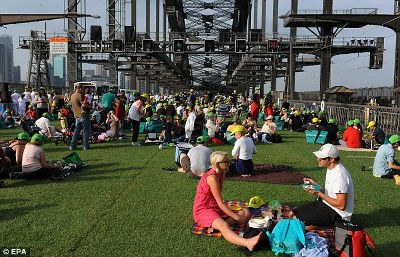 There are plenty of people across the bridge.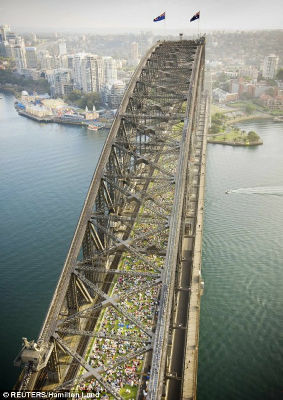 It seems that it is very crowded usually because it is an important transportation road, but only the railway passes through this afternoon at 1 pm.



Cows were also brought to the picnic, and it seems that freshly squeezed milk was acted on by participants.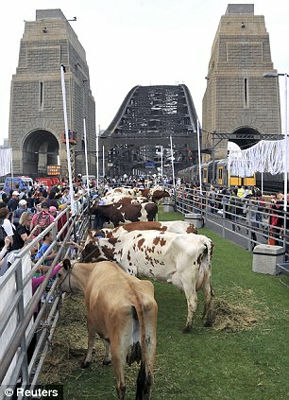 A local man, Sid Elias, propose to this unique opportunity. "I do not yet know if a similar event will be held every year, but I will come if I do it."

It is said that it costs about 60 million yen on this whole event,New South WalesIt seems that the authorities have recognized that the value was satisfactory, such as Nathan Leeds's Prime Minister's contact with the possibility of doing next year.
in Note, Posted by darkhorse_log