Toshiba's Mobile Fuel Cell Charger "Dynario" Hitting the Market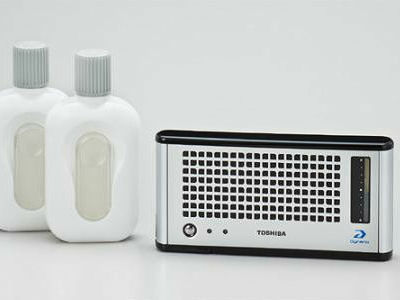 It's only been a fortnight since Toshiba showcased their fuel cell-powerd cellphone prototype for KDDI at CEATEC JAPAN 2009, and the fuel cell age is becoming real already!

Their first direct methanol fuel-cell product "Dynario", an external power source for mobile consumer electronics, is to come out in Japan on October 29, 2009.

Read on for details and pics.
Toshiba : News Release 22 Oct, 2009 -Toshiba Launches Direct Methanol Fuel Cell in Japan as External Power Source for Mobile Electronic Devices

Direct methanol fuel cell "Dynario" will go on sale on October 29. Limited 3,000 units will be available online exclusively at Shop Toshiba(1048).

Once fueled with methanol solution from its cartridge, Dynario starts to generate electricity that is delivered to mobile digital devices via USB. On a single refill of methanol which can be made in an instant period (around 20 seconds), Dynario can generate enough power to charge two typical mobile phones.

Toshiba's state-of-the-art fuel cell technology allowed Dynario to operate with only a small volume of concentrated methanol solution, reducing the size and weight of the fuel tank and the overall product. An ingenious fuel feed structure realizes uniform methanol delivery, and stable output to any attached device is fine-tuned by a built-in microcomputer. Performance is also optimized by Dynario's hybrid structure, which uses a lithium-ion battery charged by the fuel cell to store electricity.

"Dynario" and its fuel cartridges.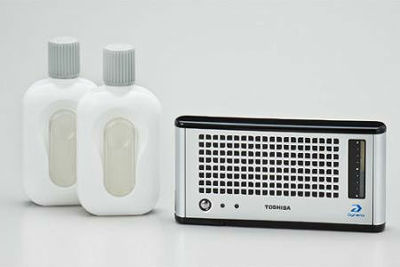 Injecting the fuel.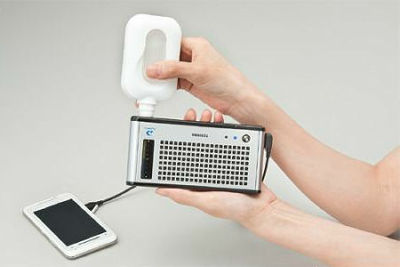 It can charge cellphone, digital camera, digital audio player, e-book reader, mobile game console...pretty much anything with USB port.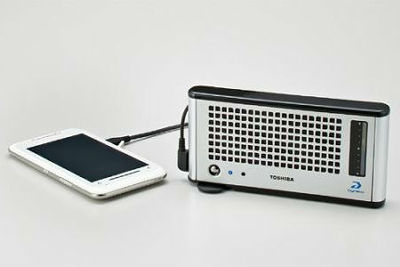 Dynario is priced at 29,800 yen (about $324), the fuel cartridge 3,150 yen ($34) for a set of five. It might be still expensive and carrying around methanol tanks might not sound convenient, but the privilege to play with fuel cell technology might be worth it.