"Monthly pole group" and "foundation" merged, "Monthly Standing Holdings" birth, becoming one of the biggest companies in Japan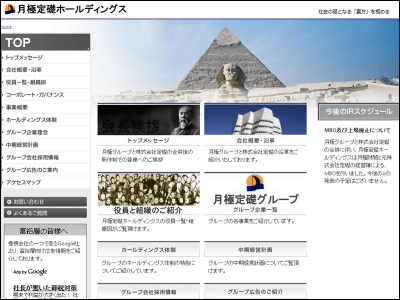 One of the leading companies in Japan, "the largest enterprise in the parking lot industry"Monthly Group"The largest real estate company in Japan famous for having a plate that owned company's name written in every building in all over Japan is owned"FoundationIt was revealed that the merger occurred.

The new company name is "Monthly Standing Holdings (GTHD)"Official page with detailed overview of overwhelming capital of 22 trillion yen and business outline etc. is opened. The average annual income of employees is 70 million yen.

By the way, the "Monthly Group" is a person who has thought that "Moon Group" exists by looking at the parking lot written "Mukukibetsu" in various parts of Japan, the "foundation" is embedded in the building etc. It is a fictitious existence created by a person who thought that a company called "foundation" exists, "the foundation board" that carved out the construction date, etc.

Details are as below.
Monthly Group and Foundation Corporation Take a New Step | GTHD Monthly Perspective Holdings

According to the newly released official page, on September 1, 2009, the monthly pole group and corporate foundation were merged and "Monthly Standing Holdings" was born. The capital is 22,287,773,370 7200 yen, and the number of employees is 423.

History of the Monthly Group. He said that he / she is collectively managing the vacant lot around the metropolitan area.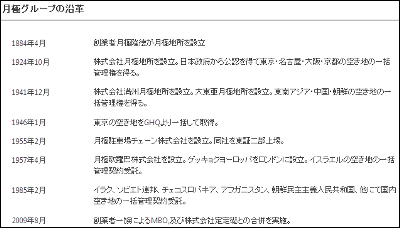 History of the corporate foundation. As of 1978, it has become a worldwide company, such as acquiring the ownership of the basic part of 10% steel frame building (3 stories or more) in the whole world.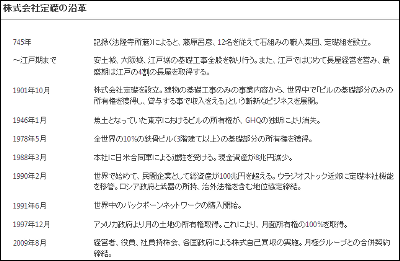 According to the following business outline page, it is said that the main business of the monthly pedestrian base group is "parking lot business", "building business", "asset management development business", "trade business", "military business" due to the merger.

Business Outline | GTHD Monthly Perspective Holdings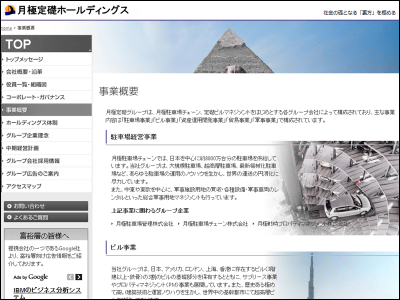 Employment information on monthly pole foundation holdings whose average annual income of employees exceeds 70 million yen is as follows. Prior to submission, "possession of the medal of Japan, the UK, France and the United States", "organization management experience of more than 30 people (over 3 months)" "business language skills over 5 languages" "some doctor's degree holders" "3000 or more It is imposed strict requirements such as "supporters of".

Recruitment Information | GTHD Monthly Perspective Holdings
in Note, Posted by darkhorse_log