Tamaki Uena with a single whole eel and "Surprised Weight" Tasting Review


A month agoUnagi shop opened at midnight "Tenpo ya"I went to eat an eel don bowl of 3000 yen or more per person, but at this price it is something that we can not go to eat it. As I thought, I would like to eat wallet-friendly ones a bit more ...With Minami UnaI decided to go to. It is crowded that you can eat eel bowl from 500 yen and it seems to have been taken up also in TV programs etc, but because the big eel is good after all it is still good to eat, the eel is protruding from the vessel Surprised Weight "and" Double Upgrade "were ordered.

Review from below.
With Minami Una
http://www.unatoto.com/

There are 6 stores in Tokyo and 3 stores in Osaka, but this time I went to the Kujo branch.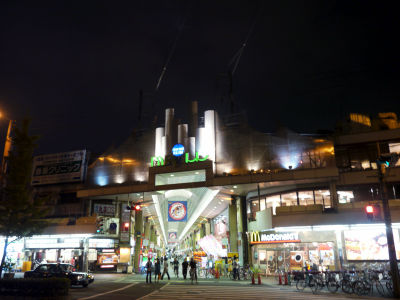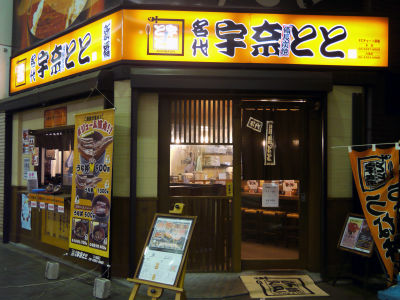 In the menu that was out in front of the shop, the site such as "Unaro don"menuThere are also things that are not on.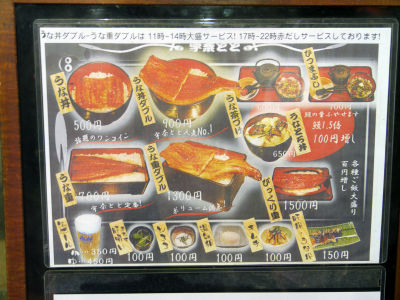 This is what it's like inside the store.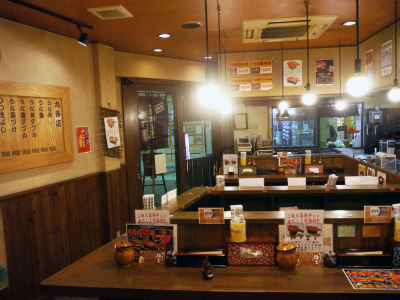 Each menu may have its own menu.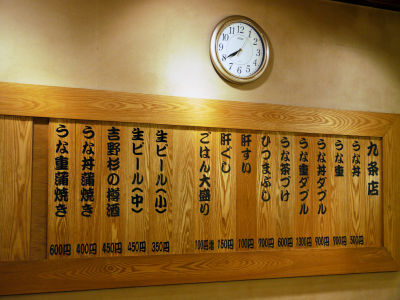 Towards the shopping street there is a window for take-home ordering, and the odor baking the eel is shaped to draw customers.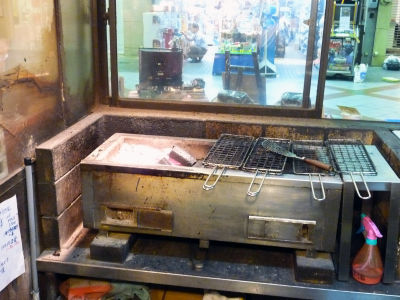 Charcoal grilling properly.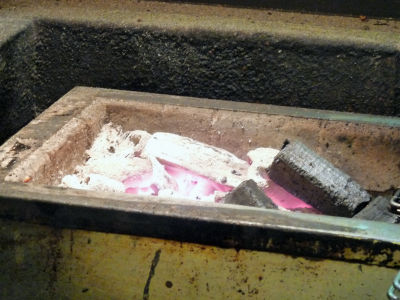 Rice and sauce.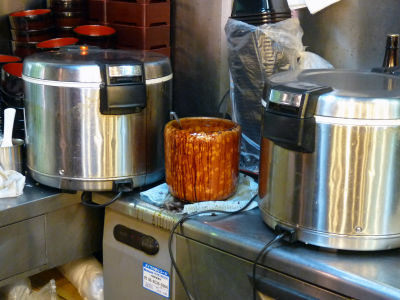 "Double double weight" I ordered was 1300 yen. Since it means that rice rich or red soup comes free, select red soup stock.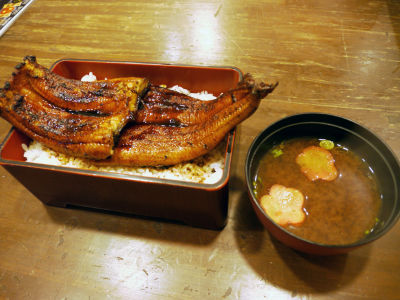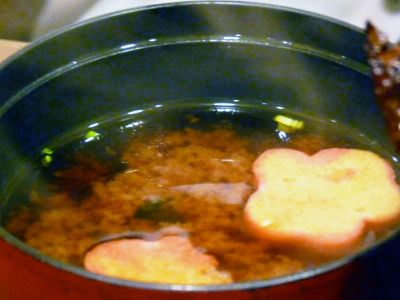 The eel is riding two and its size is twice the usual weight. Because Unagusu is 1.5 times bigger than Unadori, when considering Unadon as a base, it is said that 3 times as much eel is used.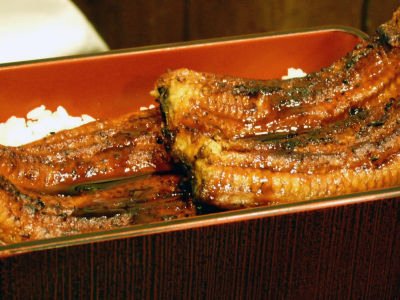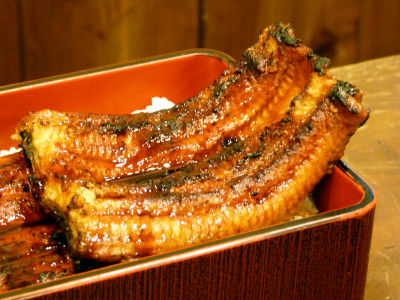 Pretty thick eel is used.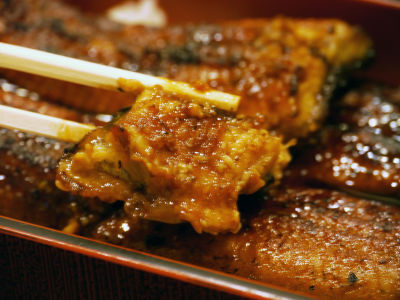 And this is "surprisingly heavy" 1500 yen.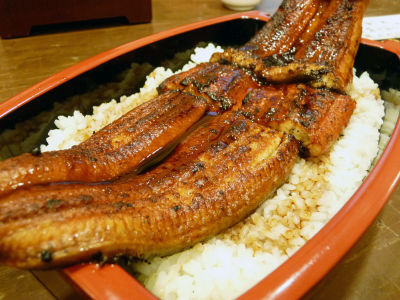 The eel is divided into three, but this is a special measure for the fact that the surprising eels are sold out. According to a clerk, the eels are surprisingly heavy eel with a size of double uneven bowl, this time we had them made for Unadoru and Double Daiei.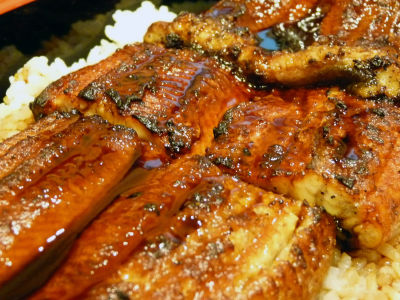 The eel which protruded from the vessel.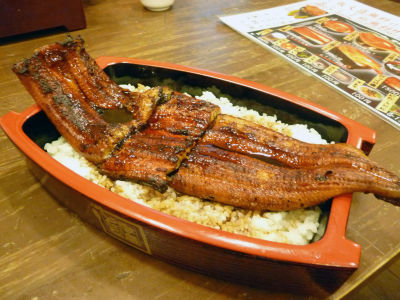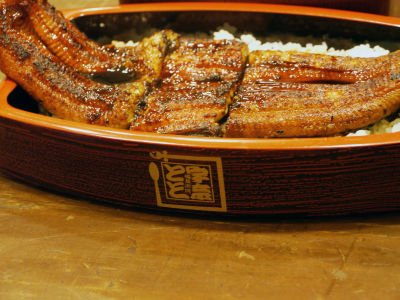 The foreground is surprised heavily, the back is double ingun.



Liver breathing, 150 yen.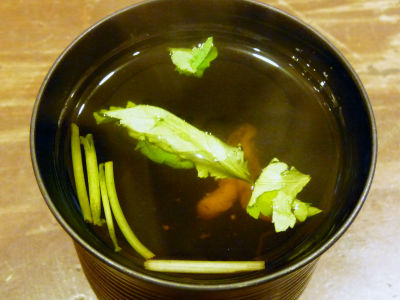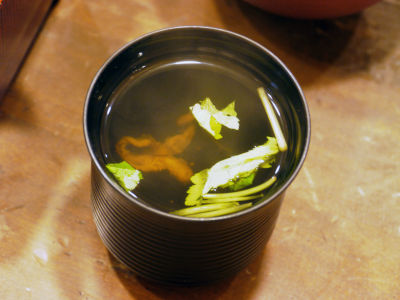 Liver skewers, 150 yen per book.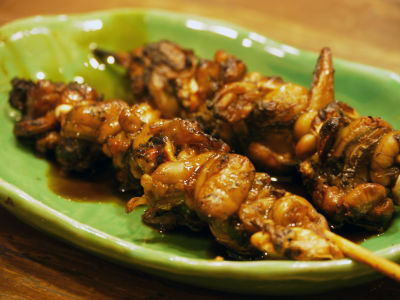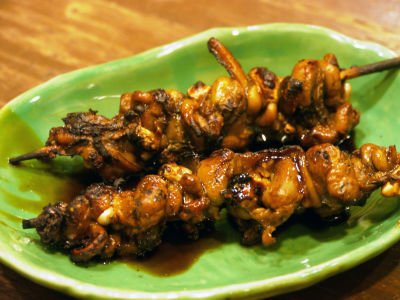 Although the taste is not complicated, I feel rice is short for the volume of eel. I am convinced that there is a great service of rice. Considering that the fee for two servings, including liver sore and liver skewer, becomes one serving of the heavenly shop, is not it a good price setting?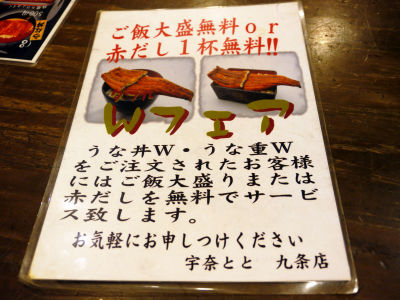 It is also nice to be able to distinguish themselves, such as a bowl of 500 yen when the contents of the wallet is subtle, when you are hungry, double undon. Thank you for the meal.