Saint Seiya's "Libra's Gold Cloth" reconstructed in Life Size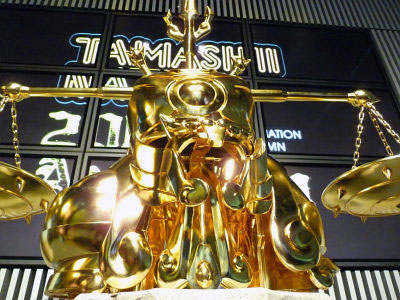 From tomorrow in Akihabara, Bandai is to run "TAMASHII NATION 2009 Autumn AY YEAH! SAY YEAH!" the great exhibition event which features BANDAI's spirited toy products.

Today is the press day for the event and there we found the life size "Gold Cloth" worn by characters of the fighting manga and anime Saint Seiya, which is truly realistic in size and weight.

Read on for detail.

The 2nd floor of Akihabara UDX is the site.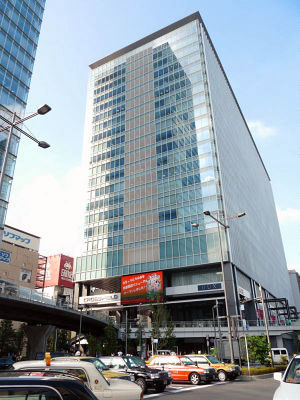 So many press personnel.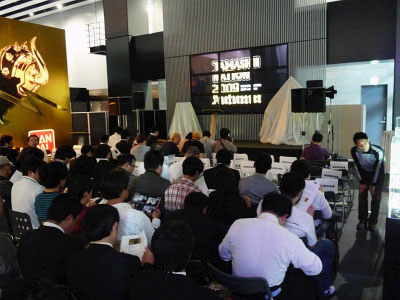 Something is veiled on the stage.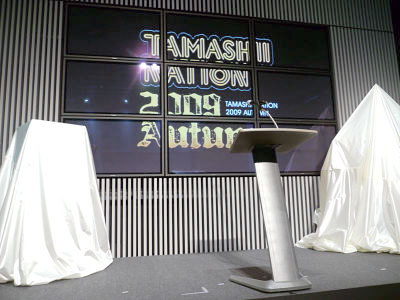 The...Cloth Box of the Saint?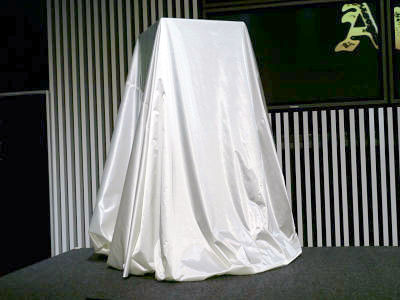 The...Gold Cloth?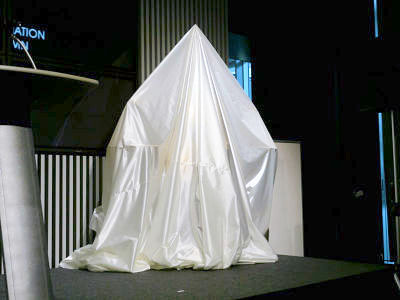 Unveiled by Bandai's president and guest comedian Kirin.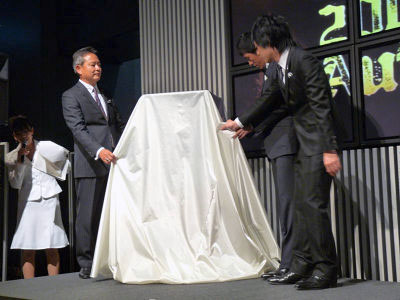 "1/1 Life-Sized Pegasus's Cloth Box". The inner box is made of wood, while relievos are made of FRP and urethane. Sized H700*W500*D500mm(about 2.2*1.6*1.6 ft.) and weights about 20kg(about 44 lbs.).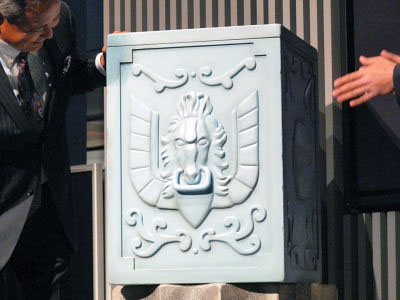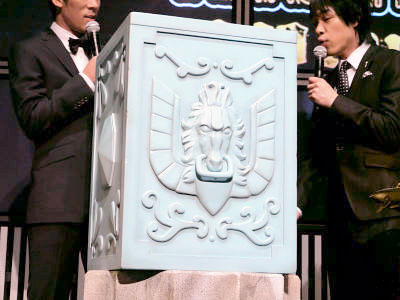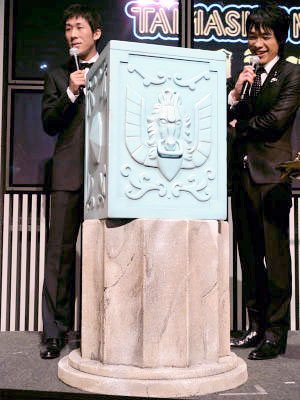 The belt is made of genuine leather.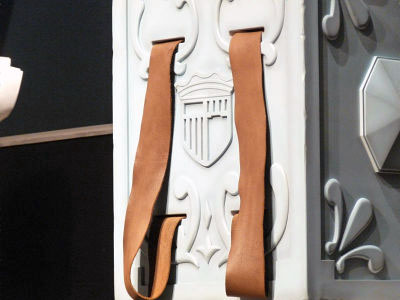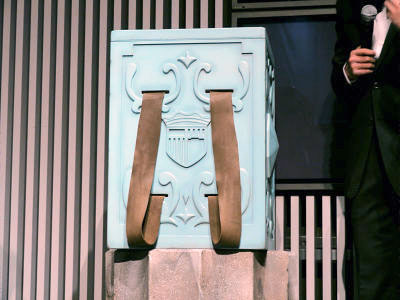 Can be shouldered just like manga.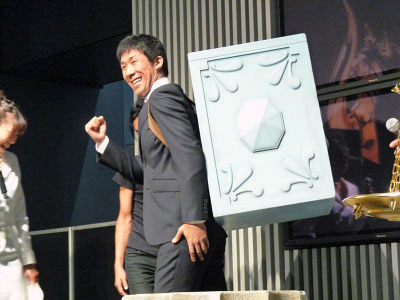 You too can shoulder this from tomorrow at Akihabara UDX.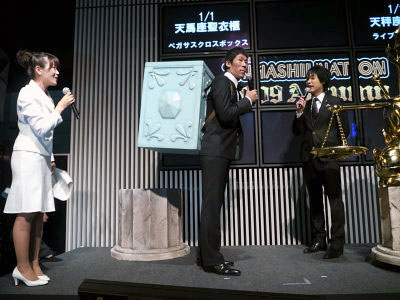 Never mind the foamed polystyrene in the box.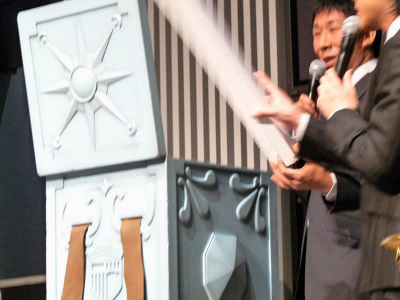 The main dish coming!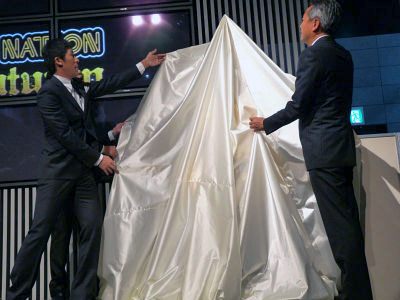 "1/1 Life-Sized Gold Cloth of Libra"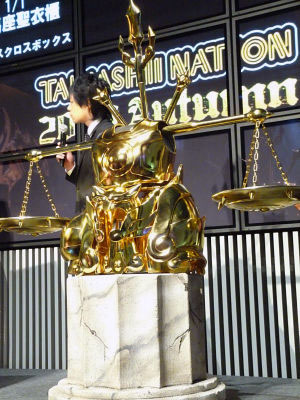 The Cloth was worn by Libra Dohko, the 7th Gold Saint of 12 Palaces in Sanctuary, and also a master to protagonist Dragon Shiryu.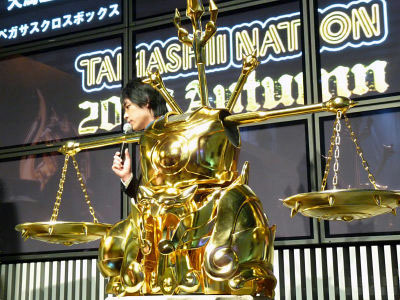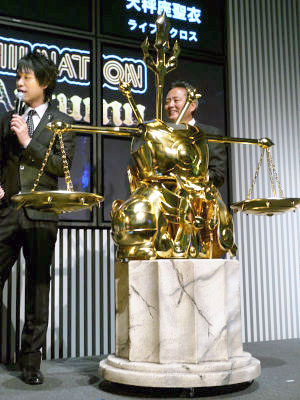 Bandai drafted the Cloth not only for exhibition but also for actual wearing in this reproduction.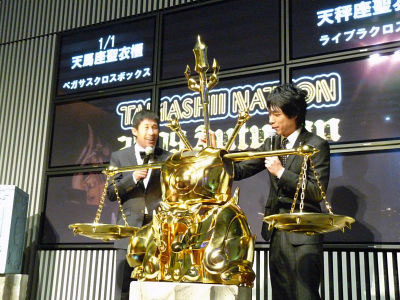 Each parts are made of FRP and gold plated or painted.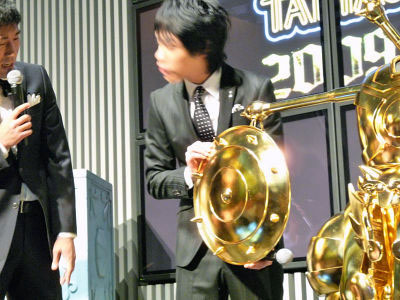 What a celestial light it projects. Sized H2200*W1600*D700mm(about 7.2*5.2*2.3 ft.)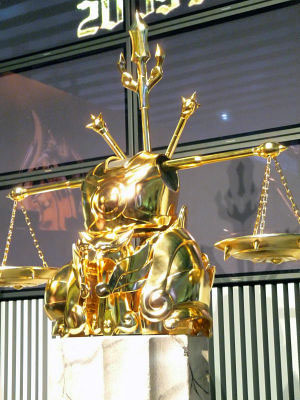 Great detail.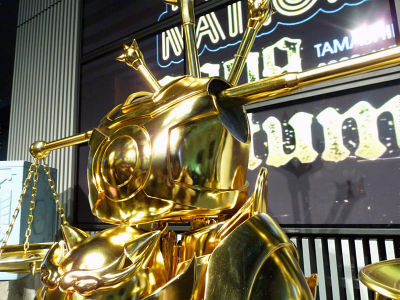 The chest armor.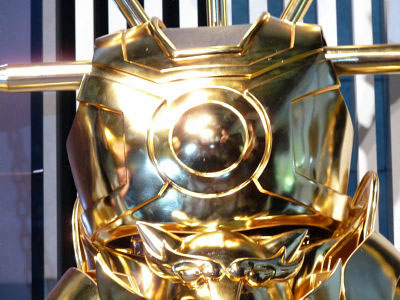 The helmet.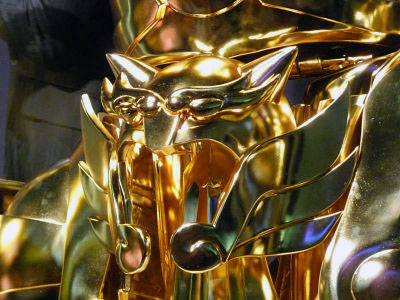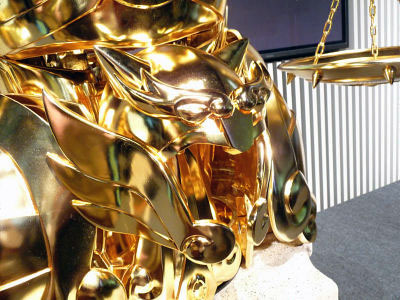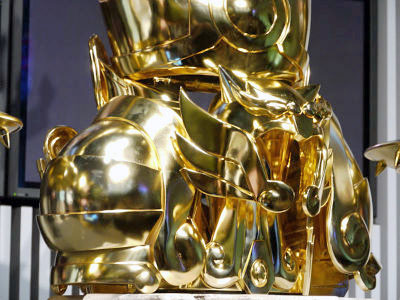 The scale symbolizing the Libra.


The Libra is the only Gold Saint who is allowed to use weapons by the goddess Athena, so many weapons like clubs and swords are embedded in the Cloth.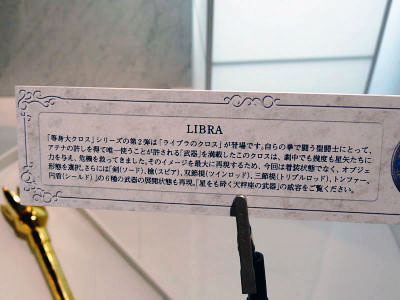 Displayed in disassembled form.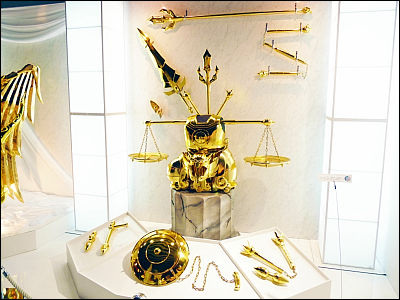 Each weapon is constructed neatly to detail.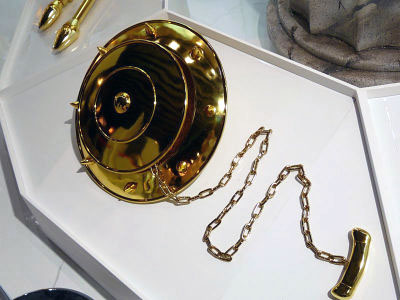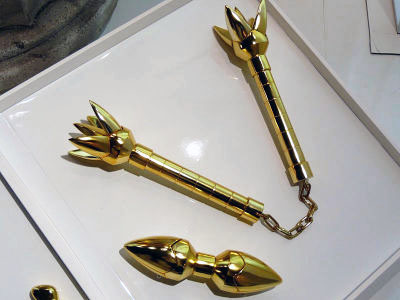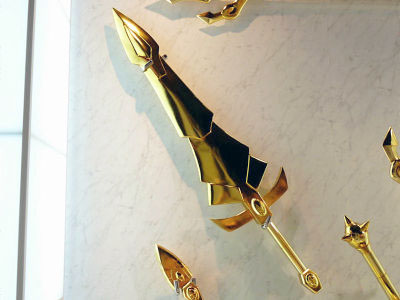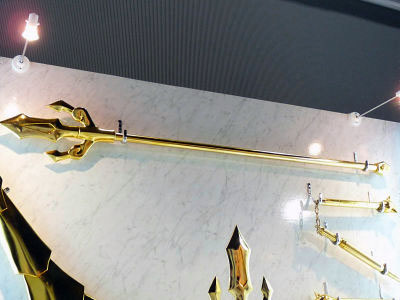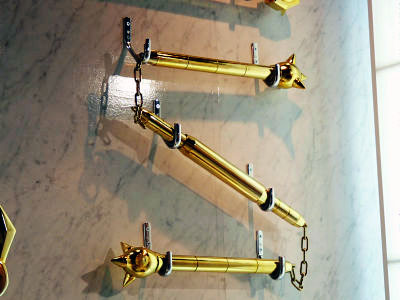 This is the 1/1 Life-Sized Gold Cloth of Sagittarius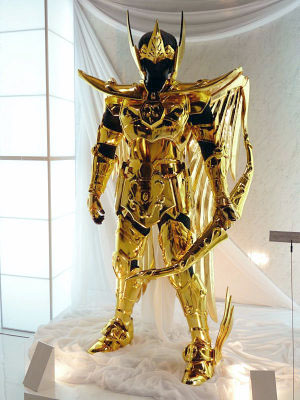 Made for TAMASHII NATION 2008 event and displayed all over the world. Regarding wearer Sagittarius Aiolos's tallness(about 6.1ft.) the cloth is made rather big. Also designed to be actually worn.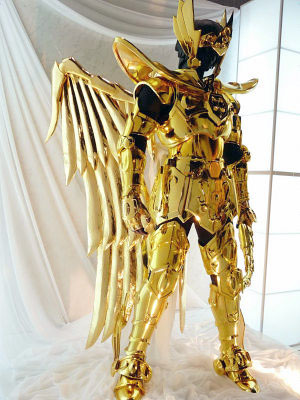 Continuation:
Find Your Star Sign! Complete Collection of Saint Seiya's Gold Cloth Figure - GIGAZINE

Related Post:
"Godzilla 5th Form Pattern" is more than amazing, with Kamata, Shinagawa, Kamakura Form Figures - GIGAZINE

Interview with Mamoru Oshii: Details of Releasing "The Next Generation -Patlabor-" Director's Cut - GIGAZINE

Highway Night Bus "COCOON" by WILLER EXPRESS Secures Private Spaces For All Passengers - GIGAZINE

"Nissin Cup Noodles Matcha Seafood Flavor" Review: What Does Green Noodle Taste Like? - GIGAZINE

Interview with Fumito Ueda, "The Last Guardian" Game Director and Designer - GIGAZINE

Find Your Star Sign! Complete Collection of Saint Seiya's Gold Cloth Figure - GIGAZINE

History of Bronze Saints Action figure from Saint Seiya - GIGAZINE

Painstakingly Detailed Action Figures of the "Hades" Arc of Saint Seiya - GIGAZINE

Beautiful Dioramas by Saint Seiya Enthusiasts Capcinteam from France - GIGAZINE

Not-For-Sale; collector's action figure of Saint Seiya - GIGAZINE

TAF 2009: Illustrations, Stills and Figurine from "Saint Seiya: The Lost Canvas- Hades Mythology" - GIGAZINE

Another Chinese rip-off? Online Game "Saint Warrior" bears striking resemblance to a Japanese Anime - GIGAZINE

Photo Coverage on LIFE SIZE Gundam in Odaiba, Tokyo - GIGAZINE

The REAL SIZE Gundam in TOKYO looks even cooler on night - GIGAZINE

Life size "Tetsujin 28-go" now under construction at Kobe - GIGAZINE

Battleship "Mikasa", a museum ship who survived Russo-Japanese War - GIGAZINE

HOWTO: Curve out life-size anime characters with CHAINSAW - GIGAZINE

Life-sized model of Natsuko from the iron work manga "Natchan" - GIGAZINE

Animated Panel and Life-Size Figures of CURE PASSION from "Pretty Cure"- TOKYO TOY SHOW 2009 - GIGAZINE