New book of netbook does not appear in the second half of 2009? But is Android model released?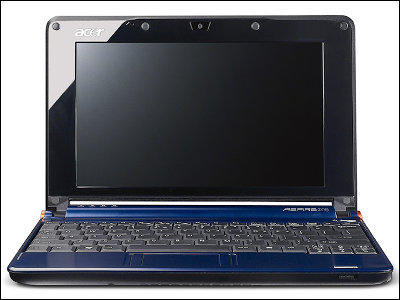 Although it is inexpensive and compact, it is a low-priced mini-note "Netbook" that is highly popular because it can be easily used, but it became clear that major manufacturers are unlikely to release new products in the latter half of 2009 It was.

However, the specification is the same as before, and a model adopting Google 's mobile phone OS "Android" may appear. It may be good news for those who can not measure the time to buy a Windows XP model netbook.

Details are as below.
No new netbooks from Asustek, Acer in 2H09; Acer pushes back Android netbook

According to this article, it is clear that ASUS, one of the leading Internet maker manufacturers known for the "EeePC" series and Acer, familiar in the "Aspire One" series, intends to not release new netbook products in the second half of 2009 It seems to have become.

This is a release of next generation Atom processor Intel has realized low power consumption and improved performanceSchedule as soon as October this yearASUS announced in January this year that it postponed to the first quarter of 2010Touch screen model "EeePC T91", "EeePC T101", and Google's mobile phone OS "Android" will be released, but on the hardware side unchanged from the previous ones, unexplored new products will be released at the moment It seems there is not.

In addition, Acer is reducing the marketing and R & D budget of netbook, and it is studying to launch a model that adopted Android as "Aspire One" of current model with 10.1-inch liquid crystal in the second half of 2009 about.

By the way Acer planned to launch a netbook capable of dual booting of Android and Windows XP in August, but it is said that the release was postponed as it became clear that demand for Android was not high.

Sony installed a liquid crystal display with higher resolution than beforeVAIO "W series"Domestic manufacturers are entering full-scale into the netbook market, such as announcing the move, but will overseas manufacturers move forward with the market share reversal by introducing new products while ahead of the release of new products . It is worrisome.