Does Apple's netbook with touch screen support the new music format?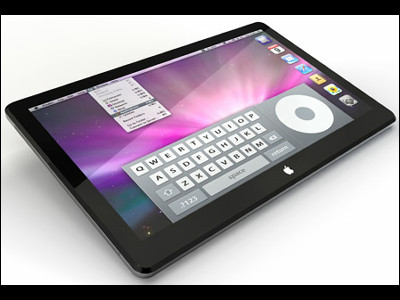 At the beginning of this month at GIGAZINEApple could possibly officially announce netbook with touch screen in OctoberI told you that the terminal was compatible with the new music format became clear.

The above image is an image image.

Details are as below.
FT.com / Technology - Apple joins forces with record labels

According to FINANCIAL TIMES coverage, Apple is planning to launch a device with a touch screen in time for the holiday shopping season.

The newly released terminal does not have a telephone function like the iPhone, it is said that it can access not only the iTunes Store but also the App Store, and in addition to the new music format called "Cocktail" codename It is said that it corresponds.

"Cocktail" is a new format that integrates lyrics cards and video clips into music files, aims to boost interest in users' music albums, and Apple is collaborating with EMI, Sony Music, Warner Music, Universal Music It is said that we aim to start service in September.

Incidentally, as a background for the appearance of "Cocktail", the music download sales in 2008 has remained at 428.4 million songs, which fell by 14% from the previous year.

The fact that the service of "Cocktail" starts in September means that the announcement of the touch screen terminal will be around September. Because it is a terminal with a different concept from portable music player and MacBook, we are concerned about future development.