Whether Square Enix announces two new games in the year, composition is Nobuo Uematsu of the FF series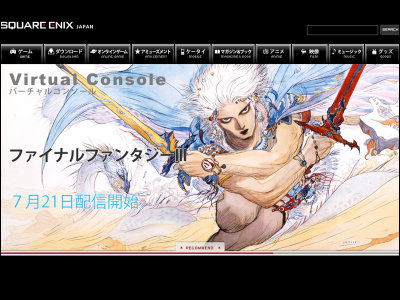 In addition to releasing "Dragon Quest IX" on the 11th of this month, Square Enix, who plans to release the latest Final Fantasy XIII of the Final Fantasy series this winter, will be able to release two new games within the year It became clear that there is sex.

Also, working on the music of the new game is handling the majority of the Final Fantasy series,Koichi KoyamaHe is a composer known as a great master of the game music world with Mr.Nobuo UematsuIt is said that it will be Mr..

Details are as below.
An Evening With Uematsu, Final Fantasy's Music Man | GameLife | Wired.com

According to an interview conducted by American news website "Wired.com" against Nobuo Uematsu, Mr. Uematsu who was away from the Final Fantasy series because he left Square Enix in 2004"FINAL FANTASY XIV" was announced in JuneIt is supposed to work on the composition of the series again as a composer for the series, but it has become clear that Mr. Uematsu is going to work on the music of two new works of Square Enix, which will be announced later this year is.

In addition, Mr. Uematsu said that it is planning to release a solo album containing music for children, and released in both English and Japanese, with a meaning of thanks to fans around the world as well as to Japan It is said that.

It was announced the other dayFinal Fantasy Gaiden's new work RPG "Light 4 warriors"Mr. Uematsu was not the name of Mr. Uematsu, but the work to be newly announced worried whether Mr. Uematsu will be a work related to the Final Fantasy series which he has worked on for many years, or it will become a completely new work That's where it is.