Nintendo's "Wii Fit" sales volume exceeded 20 million units, about 40% of Wii users purchased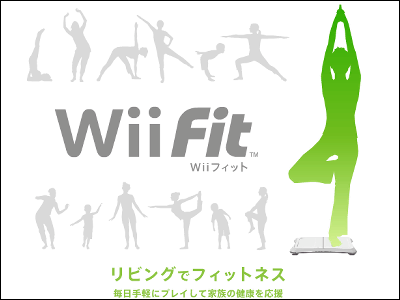 Nintendo's Wii software which can enjoy games to strengthen the balance ability of the body and muscle training that tightens the bodyWii FitIt has become clear that the number of units sold exceeded 20 million units.

In March this yearWorldwide sales of Wii exceeded 50 million unitsTherefore, the penetration rate is expected to reach approximately 40%, it can be seen that "Wii Fit" gathers tremendous support from health-conscious users.

Details are as below.
Wii Fit Sales Top 20 m Worldwide, Revenue Nearing $ 2 billion - VGChartz - Video Game Charts News Reviews Cheats Tips FAQs Walkthroughs Forums

According to this article, it is said that Nintendo's "Wii Fit" sales volume reached 20 million units in the first week of June 2009.

"Wii Fit" is about 3.5 million units in Japan (released in December 2007), about 8.4 million units in the Americas (released in May 2008), in other areas (released in April 2008) including Europe etc. He said that he sold approximately 8.3 million units.

Incidentally, "Wii Fit" is sold for 70 pounds in the UK (about 11,000 yen), 80 euros in Europe (about 1750 yen), 90 dollars (about 8700 yen) in the United States and 8800 yen in Japan, Sales totaling other markets including Australia are said to be close to $ 2 billion (about 193.3 billion yen).

In autumn it will be the latest work introducing six mini games including six new training, skate board, jogging"Wii Fit PLUS"It is planned to be released, will it further accelerate popularization?