Yamakan's Revenge?? "Tonari no 801 chan" goes anime, directed by Yutaka "Yamakan" Yamamoto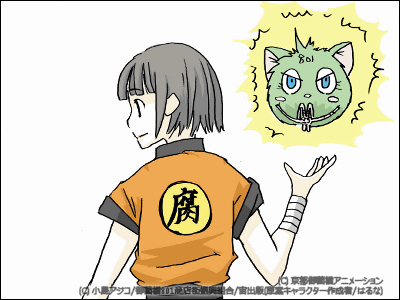 Ajiko Kojima's web comic "Tonari no 801-chan(My neighbor 801-chan)" is a story about Yaoi girl(or Fujoshi) told from the view of 801 chan's boyfriend Chibe.

The adaptation will be a fateful confrontation to Kyoto Animation as the anime adaption by Kyoto Animation canceled in 2008. Also director Yutaka "Yamakan" Yamamoto was sacked by Kyoto Animation "for his inadequacy" in directing the first four episodes in "Lucky Star". So this adaptation would literally be their revenge to Japanese anime giant.

Read on for detail.

"Fujoshi"(lit. rotten girl) is a female otaku who prefers "BL(abbreviation of Boys Love)", stories of homoerotic male relationships. Their behavior might seem unfamiliar but many female otaku tend to be Fujoshi. There even is a saying "Homoga Kiraina Jyoshi wa Imasen!(There are no girls disliking BL!)" as you can see in Genshiken.

Reflecting silent favor of fujoshis, "Tonari no 801-chan" has sold 4,500 thousand copies in total. It was adapted to live-action show in 2007 and drama CD
in 2008.

On Sept.10 the 4th volume will be published. The anime "Tonari No 801-chan R" DVD will be attached to it. The anime is only 90 second long but it's long enough for Yamamoto to show his talent, as you can see in ending animation of "Haruhi".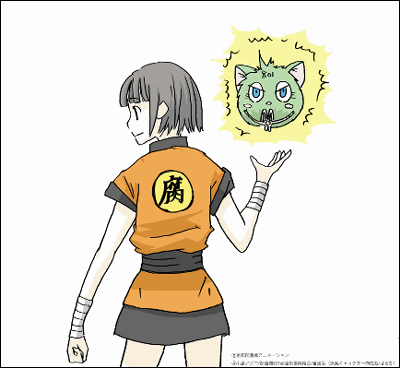 The public audition for theme song singer will start on "NicoNico Anime Channel" from June 19. The result will be announced on July 16.


Staffs:
Original Comic:Ajiko Kojima("Tonari no 801-chan", Ozora Shuppan)
Character Drafts: Misonobashi 801 Shotengai Shinko Kumiai / Haruna
Director: Yutaka Yamamoto("Kannagi", ED animation of "Haruhi Suzumiya", OP animation of "Lucky Star")
Character Designs: Satoshi Kadowaki
Color Composition: Kazuko Nakajima
Cinematographer: Gaku Hirooka
Music Production: Slowcurve
Sounde Producer: Masatoshi Nishimura(FENCE OF DEFENCE)
OP song composed and edited by A-bee("Lucky Star", "Sgt. Frog") Lyrics: Karayabon
Planning and Produce: Ozora Shuppan 1st. Editorial Office / Try-o
Special Cooperation: Ordet
Production: A-1 Picture("Big Windup!", "Kannagi")


© Kyoto Misonobashi Animation

Related Post:
Fanatic's choice, "Lucky Star" Credit card accepts application from today - GIGAZINE

Haruhi's New Episode Aired! With New Ending Song! - GIGAZINE

Tezuka's Darkest Manga "MW" adapted to Live-Action Film - GIGAZINE
in Anime, Posted by logc_nt