Poster of Awa Dance Festival featuring Shiki and Mikiya from "Kara no Kyokai"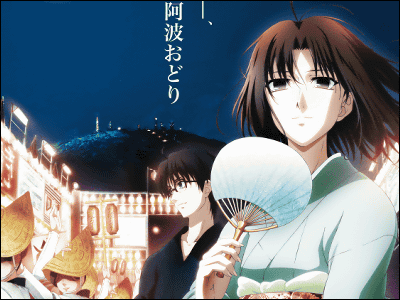 The Awa Dance Festival is held from 12 to 15 August every year in Tokushima Prefecture. Adorning this year's poster of the festival are Shiki Ryogi and Mikiya Kokuto from anime film Kara no Kyokai (The Garden of Sinners) heptalogy.

This unlikely but beautiful poster came together thanks to anime studio Ufotable of Kara no Kyokai establishing a new branch in Tokushima this April.

Read on for details and the entire image of the poster.

(Japanese)Tokushima City: Awa Odori

(Japanese)Kara no Kyokai Official Webite

"Ufotable Tokushima", the new studio of Ufotable opened this April in Tokushima city, hometown of Hikaru Kondo, president and founder of Ufotable. A branch of Ufotable cafe will open July on the second floor the same building (a fetching classic building called Old Takahara Building, registered as a cultural heritage by The Agency for Cultural Affairs).

Shiki and Mikiya in summery kimono. Click to enlarge.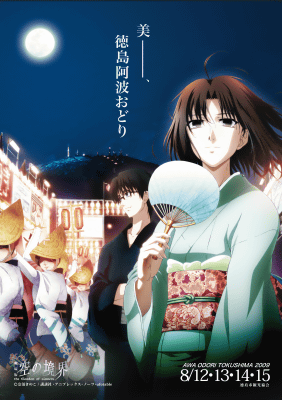 Awa Dance Festival this year might attract even more attendance than usual, with this gorgeous poster and the boosted tourism by NHK's oncoming Asadora set in Tokushima.