That Michael Moore's planned a new work, this time the collapsed American economy theme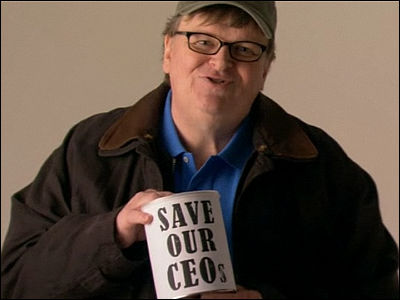 Yes, it is Michael Moore. Instead of talking about new movies, I would like to ask you to save my loved ones with me.

The deterioration of the economy has hurt many people. People were forced to receive government assistance. Welfare-related ministries and agencies are doing their best but there are limits. That's why I would like to ask you to give out what you have in your pocket and call for help. With this canned can go to your company,CitibankAndBank of AmericaAndAIGAndGoldman SachsAndJP MorganI would like to ask for a donation to a bank or a company that needs other help or something like that. Please show me your generosity. I know, I know what you are thinking right now. I already pay taxes for public funds. Of course I know that as well. But if you could have done it in the past, would you please do a little more this time? At least you feel good?

The trailer of the shock which endlessly talks about the fact that it is the following is from the following.
Untitled Michael Moore Project Teaser Trailer - Trailer Addict

YouTube - 'Save our CEOs' Teaser for Michael Moore's New Film Hits Theaters!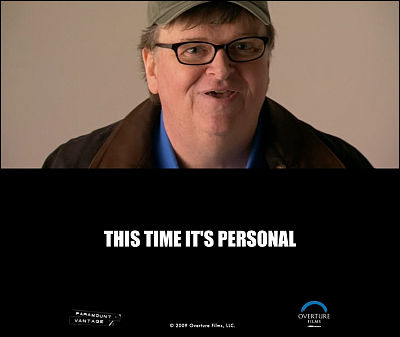 In the theater where this trailer was released, volunteers with donation cans actually appeared as the following feeling.

Volunteer "ushers," including Stephanie Blind (far right) and Maryam Riazian ... - Washington Times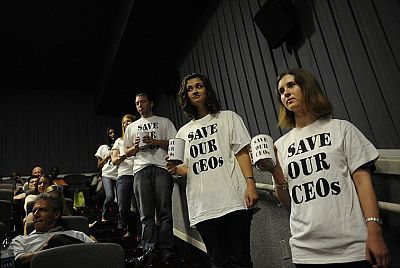 Michael Moore's Next Movie - Movie Mom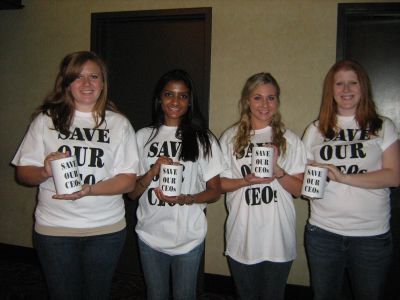 Publication in the United StatesOctober 2, 2009We planned,WikipediaAccording to the story it seems to be like the following.


· October Surprise (to be released in October 2009)

According to the co-distributors Overture Films and Paramount Vantage of the movie, this movie has highlights with huge corporate remedy determined in 2008 "A work that captured the corporate and political penetration from a comical perspective."
Also,This entryAccording to Moore coach about the next work, he explained as follows.

"From the time of the rich, wealthy people began to think that they were not yet well-off ... they thought they wanted more money ... so they are more and more, so they celebrate the lifetime of American citizens I tried a mechanism to organize the gold that I worked hard and organized.What they did, I will reveal it by my next work. "
This title undecided movie is currently being filmed, and on March 27, 2009New York Stock ExchangeWe are conducting an assault-free interruption to the traders who came out of them.

It seems to have interviewed with such a feeling



It seems to be undecided yet in Japan, but this time it is a familiar topic for Japan as well, so I would like you to publish it by all means.