The protagonist is a human bomb, light novel of Yamagata Ishio "fight lizard" series decided to animate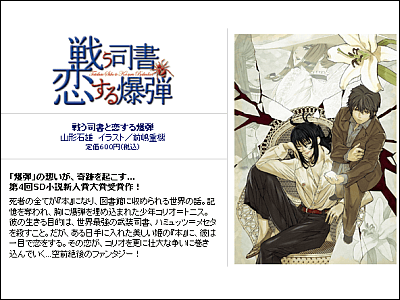 It is said that an animation of the "Fighting Guy" series published from Shueisha's light novel label Super Dash Bunko was announced.

A story that a hero who was made a human bomb is going to kill the most powerful armed librarian in the library which manages the handling of "book" in the world that the soul of a deceased human is called "book" I wonder what kind of anime it will be.

Details are as below.
2009-06-14 - Light Novel Weekly Report When I Feel

Light Novel Weekly NewsAccording to the announcement of animation was announced on June 14th "First love limited."&" Well-being Magical Magic "joint festival, it seems that the opening of the official website is scheduled for July 10.

As an animated work of Super Dash Bunko, Kurata Hideyuki's "R.O.D"Hiroyuki Kawasaki"Happy Seven, Oihara zero "Silverware Kaleidoscope"Kentaro Katayama's"deep red", Indigo landing"Akkan!"Kentaro Katayama's"Radioactive girlfriend"From the summer of 2009, Hiroshi Okazaka's"Well-known Magical Magic"TV anime will also be broadcasted.

Up to now, eight volumes of 'Fighting lures' series are released as books. WEB manga siteUltra jump eggOkay.Shinohara NineAlso in the series of cartoonized works by the series, in January 2009 one volume of comic version was released. I do not know the details about the content of the animation yet, will the story be the first volume of the bunko, "what is the bomb in love with the fight librarian" will be expanded?
in Anime, Posted by darkhorse_log