Fujitsu is implementing a sale that allows you to buy "Wake-Ali Items" of the latest PC at affordable prices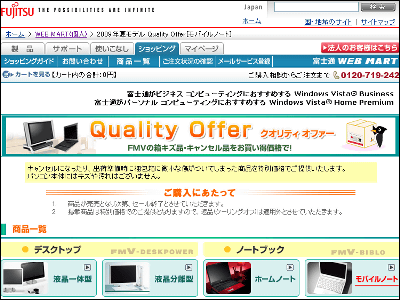 At Fujitsu's online shopping site, we launched a sale that allows you to buy "Wake Eli items" for summer 2009 models at affordable prices.

Even if it says "wearing items", there are no scratches or dirt in the personal computer itself, only when a packing box is slightly scratched when it was canceled or prepared for shipment.

Since a wide range of items are lineuped up to a liquid crystal integrated type personal computer and a mobile notebook, it may be good to check a person who wants to purchase a new personal computer cheaply.

Details are as below.
[Fujitsu Direct Sales WEB MART] Summer 2009 Quality Offer [Home Note]: Fujitsu

An example of lineup. High-end personal computer with 23-inch full high vision liquid crystal integrated type is sold at 178,800 yen, which is reduced by 54,000 yen from the normal price.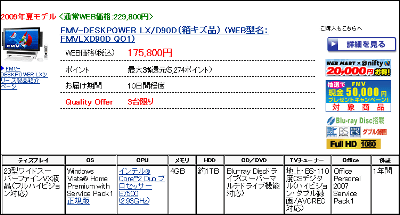 The mobile notes are also reduced to 50,000 yen by 160,000 yen.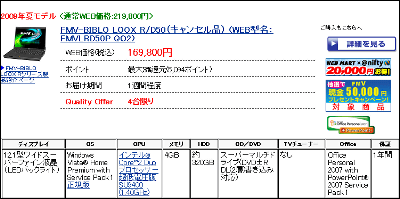 The ultra-small notebook with Intel's Atom processor also pays 17,000 yen.



Although bold discounts are carried out quite a bit, since it is sold as a limited number of pieces, paying attention to purchasing.
in Note, Posted by darkhorse_log