Finally Apple announces the new "iPhone 3G S" officially, the operating speed has doubled compared with the past, and also the large capacity model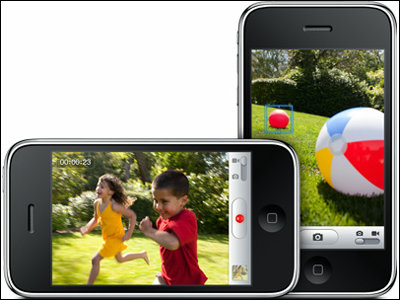 At "Worldwide Developers Conference 2009" held in the United States since 2:00 on June 9, Japan time, Apple announced the new "IPhone 3G SWe officially announced.

In addition to being refined in functions, such as achieving twice the operating speed of conventional systems, system software that makes it possible to use the latest functions even for existing iPhone users "IPhone OS 3.0It is announced that it will be launched.

Details are as below.
Apple - iPhone - iPhone 3G S All of the new features

According to this article, Apple says "iPhone 3G S" will be released from 8 o'clock on June 26th. There are two types of lineup, 32GB model and 16GB model.

Operating speed of "iPhone 3G S" has greatly improved, "All actions are up to twice as fast and react more agileIn addition, it has a 3-megapixel camera that can also take pictures of 640 × 480 VGA movie with built-in auto focus that can focus on any position using the touch panel.

It also supports hands-free function that allows you to call a person saved in a contact by simply talking to the iPhone by pressing and holding the Home button for a while, and playing a favorite artist's song .

Audio control function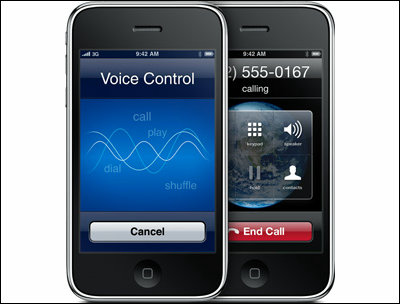 A new electronic compass function is also installed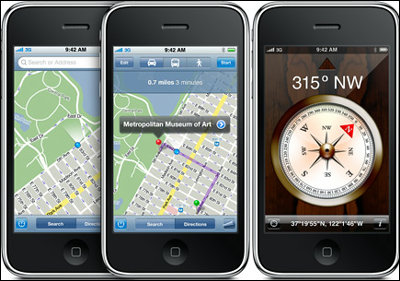 According to the following link, system software "iPhone OS 3.0" will be available free of charge for existing iPhone users from June 17 on which the latest functions etc. will be available.

Apple - iPhone - iPhone 3.0 S Software Update

In "iPhone OS 3.0", in addition to letter copy and paste function, if you connect your computer and iPhone with Bluetooth or USB, you can use functions that can be used instead of modem and Bluetooth headphones, shake the iPhone, In addition to being able to use functions such as shuffling certain songs, the latest version of the browser "Safari" which became faster is included.

The copy & paste function looks something like this. It also supports input in landscape orientation.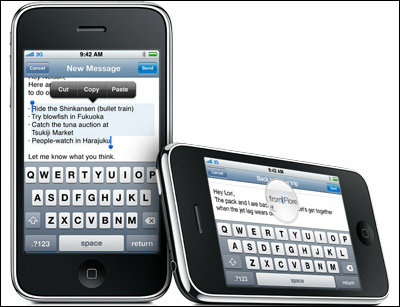 Internet tethering function which can make iPhone as a modem instead. In addition, it is undecided whether it can be used in Japan.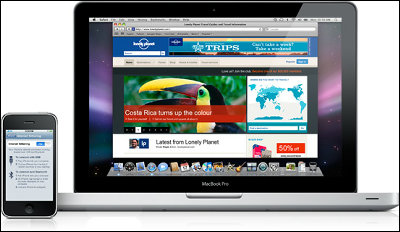 By the way, according to the following link "iPhone 3G S" corresponds to the longest 5 hour call or the Internet connection using the longest 9 hours wireless LAN, the 16 GB model is $ 199 (about 19,600 yen), 32 GB The model will be sold for $ 299 (about 29,500 yen). In addition, the 8GB model of the old model "iPhone 3G" is also sold together for 99 dollars (about 9800 yen).

Phil Schiller keynote live from WWDC 2009